Stand up for the facts!
Our only agenda is to publish the truth so you can be an informed participant in democracy.
We need your help.
I would like to contribute
Says, "In the last four years we've cut $36 million in ongoing revenue."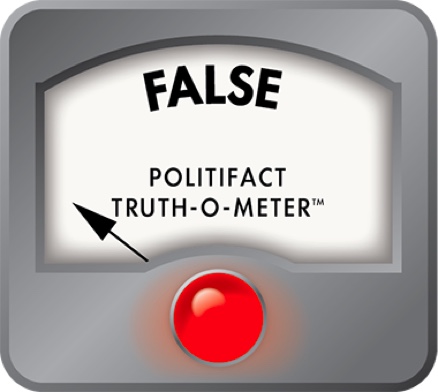 Did Sam Adams cut $36 million from the budget?
PolitiFact Oregon has been around government budgets long enough to know that they're hard to decipher. There are add-on packages and inflationary costs, general fund dollars and one-time dollars and all-funds budgets. Numbers by themselves don't mean much without context.

So, naturally, our ears perked right up when Portland Mayor Sam Adams made this statement in a budget work session shortly after the Nov. 6 election: "In the last four years we've cut $36 million in ongoing revenue." He also tweeted the number Nov. 13and used it again in a year end-interview with the Portland Mercury.  

Sounds gloomy, right? But remember, this is the same mayor who once hooted about a one-time $22 million budget surplus in February 2011, and we found that claim to be Half True. So we wanted to know more about these dollar "cuts." We decided to give his statement the full Truth-O-Meter treatment.

We were aided by one of The Oregonian's Portland City Hall reporters, who immediately pointed out that the $36 million was really closer to $25.6 million because the city had added $10.3 million for new programs over the same period.

In other words, Adams had to "cut" as much as he did because he chose to spend money elsewhere. Apparently this was not news to anyone at the budget meeting because Andrew Scott, the city's financial planning manager, clicked through a PowerPoint presentation with a slide that outlined $25.6 million in "ongoing shortfall" and $10.3 million in new program additions.

Now, we bet you're asking for the definition of an "ongoing shortfall." Government budgets don't stay flat, obviously. The cost of maintaining the same programs goes up every year, sometimes beyond the cost of inflation, whether due to increases in demand for services or steep hikes in health and retirement benefits.

When projected revenue falls short of dollars needed to maintain services, that's the shortfall. State and local governments can't print money like the federal government, so they have to fix the shortfall by raising revenue (usually taxes) or cutting services, pay, etc.

Elected officials may always choose to add new programs. But if they don't have enough money, they have to reduce or eliminate other programs. We call that making choices; we could even call that "budgeting." We've called out politicians previously for talking about "budget cuts" when government has had more money than the year before, just not enough to cover a shortfall and pay for new programs.  

We also bet you're asking for some hard numbers.

The city's total annual budget is in the $3.5 billion range, but Adams is talking about the much smaller amount known as the general fund. The general fund includes property taxes and business license fees, but does not include gas taxes, sewer and stormwater charges or water fees.

The numbers vary, depending on how you slice them, from $349.5 million to $472 million in 2009-10, to 352.5 million to $490 million for 2012-13.. But no matter how you look at the numbers, if you compare apples to apples, the figures today are higher, even slightly, than what they were in 2009-10, with ups and downs along the way. In other words, today's budget is not $36 million less than the 2009-10 budget, which is what the average person probably thinks when the mayor says that he has "cut $36 million in ongoing revenue."

Scott, the city's financial planning manager, disapproves of our simplistic way of looking at numbers. He says that you can't compare dollars to dollars because that doesn't account for steep growth in government costs, such as participation in the Public Employees Retirement System or health insurance. The cost of running government doesn't stay the same from year to year.

He's right about that, but taxpayers and non-wonks don't live in a world where buying everything you did the previous year, even if it costs more, is considered spending the same in dollars.

Had Adams just said the city had cut services, he'd be on more solid ground. Of course, he'd also have to mention that the city had added services. But that's not what the mayor said either.

He stated $36 million in ongoing cuts. That's not true, even if his spokeswoman stands by the statement.
His statement contains some connection to reality: The city has not been able to spend $36 million that it needed to maintain current services over the four years. Part of the reason is because the mayor and council chose instead to spend $10 million on other programs. The remaining $25 million was based on an expectation of maintaining the status quo.

We rate the statement False.
The Oregonian, "Did Portland cut $36 million from its budget, as Mayor Sam Adams said?" Nov. 13, 2012
PolitiFact Oregon, "Has Multnomah County had to cut for 11 straight years?" April 16, 2011
City of Portland, 2012-13 adopted budget
The Oregonian, "How did Mayor Sam Adams balance Portland's budget?" June 3, 2012
The Oregonian, "Mayor Sam Adams' final budget props up schools, protects public safety," May 3, 2012
The Oregonian, PolitiFact Oregon, "Portland bureau's 'cuts' are sleight," Nov. 13, 2011
PolitiFact Oregon, "Sam Adams says Portland's finances show a one-time $22 million surplus," March 7, 2011
Emails from and interview with Andrew Scott, financial planning manager, City of Portland, Nov. 15-16, 19, 2012
Email from Caryn Brooks, spokeswoman for Sam Adams, Dec. 11, 2012
Browse the Truth-O-Meter
More by Janie Har
Support independent fact-checking.
Become a member!
In a world of wild talk and fake news, help us stand up for the facts.