Stand up for the facts!
Our only agenda is to publish the truth so you can be an informed participant in democracy.
We need your help.
I would like to contribute
"President Obama is shrinking our military."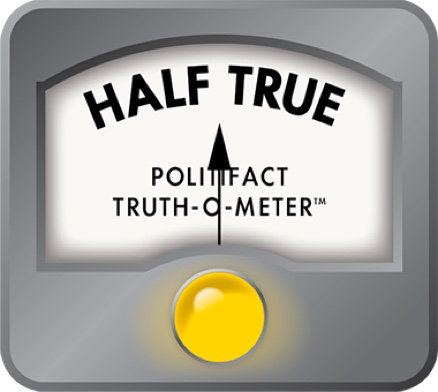 Mitt Romney says Barack Obama is "shrinking our military"
Is President Barack Obama weakening America's military?

As part of our analysis of a typical Mitt Romney presidential campaign speech, we'll look at a line he has used about spending on the U.S. military.

"President Obama is shrinking our military and hollowing out our national defense," Romney said in a speech after winning the Nevada caucuses on Feb. 4, 2012.

First, the president's official proposed budget for fiscal year 2013 is scheduled to be released later this month. After that happens, Congress will have to pass spending bills and present them to the president for his signature. So there's a long way to go before the future course of military spending becomes official.

In addition, we're at an unusual period in federal budgeting. On Aug. 2, 2011, the Budget Control Act of 2011 became law (P.L. 112-25). That was the bill that was passed to head off a looming crisis over the federal debt ceiling. The bill -- which cleared the House, 269-161, and the Senate, 74-26 -- established limits on discretionary spending between fiscal years 2012 and 2021.

Some of the budgetary caps mandated by the law were to become effective right away. Other reductions were to be worked out later by a handpicked "supercommittee" made up of House members and senators from both parties. However, the supercommittee failed to reach an agreement on how to make the additional cuts, meaning that -- barring some intervening development -- the required budget reductions will be automatic, across-the board cuts. Though some items such as Social Security benefits were exempted from the automatic cuts, the military budget is not exempt.

In other words, a reduction in the military budget was all but destined once the Budget Control Act passed and the supercommittee failed to prevent across-the-board cuts.

It's important to remember that -- despite Romney's explicit criticism of Obama -- these actions were carried out by both parties. When the House voted on the Budget Control Act, Republicans voted for it by a 174-66 margin, and when it came up in the Senate, Republicans voted for it by a 28-19 margin. And seats on the supercommittee were equally divided between Democrats and Republicans.

"The administration's hands are essentially tied," said Todd Harrison, a fellow with the Center for Strategic and Budgetary Assessments. "Plenty of Republicans voted for this bill, so they are equally culpable."

Finally, this is a notable moment for the military budget because the Obama Administration has wound down the U.S. combat presence in Iraq and is aiming to do the same in Afghanistan. This means that money required to fund these operations is poised to decline significantly over the next few years. Iraq cost about $600,000 per troop per year, Harrison said, and Afghanistan costs twice that, once you consider factors including fuel, ammunition, food and support services.

Since war funding isn't subject to Budget Control Act caps, the distinction between war funding and the regular Pentagon budget needs to be noted. Even so, reductions in overseas operations has historically had an impact on the U.S. military budget.

"Throughout American history, defense spending has risen and fallen in irregular cycles driven in part by changes in the security environment," Harrison wrote in a new paper. "Since the end of World War II, the defense budget has experienced three such cycles following the end of the Korean War, Vietnam War, and the Cold War." (We took a closer look at this phenomenon last year, in a fact check here.)

Now let's look at the numbers.

The Budget Control Act requires $487 billion in defense cuts over 10 years relative to the level of spending the Pentagon was anticipating a year ago. "This means that the Obama administration must for the first time propose a real decrease in defense spending from the previous year's enacted budget," Harrison wrote. By contrast, he wrote, the administration proposed real increases for defense in each of its previous budgets.

On top of this initial round of cuts come the automatic cuts required because of the supercommittee's failure. These amount to $472 billion in the defense budget, to be evenly spread across nine years, from fiscal 2013 to fiscal 2021. (That works out to an additional annual reduction of $52 billion a year.) The cuts are to take effect Jan. 2, 2013.

The administration has not yet developed a blueprint for living under the across-the-board cuts set in motion by the supercommittee's failure, but it has discussed some details of its proposal for living under the Budget Control Act's initial round of spending caps.

Here's a summary table reproduced from Harrison's report, showing the "base discretionary Defense Department budget" in non-inflation-adjusted dollars. (This chart excludes funding for overseas military operations such as Afghanistan.)
| | | | | | | |
| --- | --- | --- | --- | --- | --- | --- |
| Fiscal year | 2012 | 2013 | 2014 | 2015 | 2016 | 2017 |
| Budget request made in fiscal 2012 | $553 billion | $571 billion | $587 billion | $598 billion | $611 billion | NA |
| Budget request made in 2013 (initial Budget Control Act caps only) | $531 billion | $525 billion | $534 billion | $546 billion | $556 billion | $567 billion |
| Budget under additional across-the-board cuts | NA | $472 billion | $482 billion | $491 billion | $502 billion | $515 billion |
So even before factoring in across-the-board cuts, the administration is requesting $46 billion less for fiscal 2013 than it had projected would be needed when it released its 2012 budget proposal and $6 billion less than Congress enacted for fiscal 2012. Factoring in the across-the-board cuts only makes these declines steeper.

The fiscal 2013 request for overseas military operations -- which is not included in this chart -- amounts to $88.4 billion, mostly in Afghanistan. That's down from $115 billion for overseas military operations in 2012.

How do these reductions translate into boots on the ground and planes in the sky? On Jan. 26, 2012, Defense Secretary Leon Panetta unveiled highlights of the administration's budget proposal.

Harrison summarizes it this way: "Army and Marine Corps end strength will decline by 72,000 and 20,000 respectively, bringing them back to roughly the level they were in 2005. The Army will lose at least eight brigades, two of which will come from Europe. … The Navy will lose some 17 ships ... and the Air Force will cut 10 percent of its 60 fighter squadrons. Overall, $60 billion of the proposed reductions are projected to come from unspecified 'efficiencies,' on top of $178 billion in 'efficiency' savings projected in last year's budget. DOD also announced it will propose another round of base closures. Such a move is likely to cost money in the near term and thus does not help the Department achieve the savings it needs" in the short term.

It's worth noting that despite the cuts, the size of the base defense budget -- that is, the budget outside of overseas operational costs -- is poised to increase eventually from its low in 2013, at least in non-inflation-adjusted dollars. Still, if the across-the-board cuts are adhered to, the base defense budget in fiscal 2017 would still be $16 billion lower than it was in fiscal 2012.

Our ruling

Romney is right that the military is "shrinking," partly due to a winding down of overseas wars and partly due to congressionally enacted budget limits. But to say, as Romney did, that this is being done by Obama -- without acknowledging Republican actions -- ignores what really happened. A majority of House and Senate Republicans voted for the initial caps in the Budget Control Act, and the supercommittee was evenly divided between the parties, meaning that its failure was bipartisan. So we rate Romney's statement Half True.
Mitt Romney, transcript of victory speech after Nevada caucuses, Feb. 4, 2012

Budget Control Act of 2011 from THOMAS

Center for Strategic and Budgetary Assessments, "$trategy in a Year of Uncertainty," (paper by senior fellow Todd Harrison) February 2012

Defense Department, "Panetta Announces Fiscal 2013 Budget Priorities," Jan. 26, 2012

Defense Department, budget fact sheet, accessed Feb. 8, 2012

New York Times, "Debt Bill Is Signed, Ending a Fractious Battle," Aug. 2, 2011

USA Today, "Defense Secretary Leon Panetta defends a leaner military," Jan. 26, 2012

Email interview with Todd Harrison, fellow with the Center for Strategic and Budgetary Assessments, Feb. 8, 2012

Email interview with Michael O'Hanlon, senior fellow with the Brookings Institution, Feb. 8, 2012

Email interview with Laura Peterson, senior policy analyst in national security for Taxpayers for Common Sense, Feb. 8, 2012
Browse the Truth-O-Meter
More by Louis Jacobson
Support independent fact-checking.
Become a member!
In a world of wild talk and fake news, help us stand up for the facts.