Stand up for the facts!
Our only agenda is to publish the truth so you can be an informed participant in democracy.
We need your help.
I would like to contribute
Says Mitt Romney supports a plan "to slowly and gradually raise the retirement age of Social Security."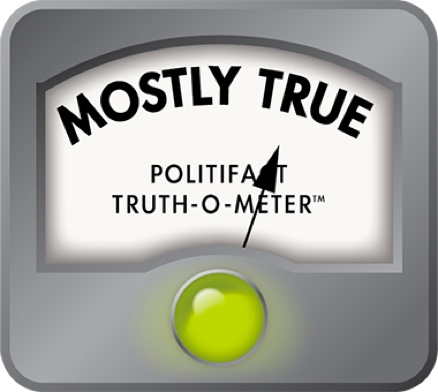 Ohio Dem chair Chris Redfern says Mitt Romney plans to raise retirement age for Social Security
Ohio Democrats have a two-tier approach when discussing the looming Super Tuesday Republican presidential primary. They delight in the roller coaster nature of the Republican nominating race, and would really like to see Rick Santorum win because they think he would be an easier opponent against President Barack Obama in the fall

But they think that Mitt Romney is more likely to wind up as the eventual nominee, and they see Romney as tougher in the November election. So even while Santorum, the former U.S. senator from Pennsylvania, has been riding high in the polls, Ohio Democratic Party Chairman Chris Redfern has been sending email targeting Romney.

Urging Democrats to share his messages on Facebook and Twitter, Redfern uses this headline: "Stuff Mitt Romney Supports."

One of those things that Romney supports, Redfern said in an email to Ohio Democrats on Feb. 15, is raising the eligibility age for collecting Social Security. Redfern cited a Romney quote from Feb. 10, when the former Massachusetts governor addressed the Conservative Political Action Conference, or CPAC, in Washington:

"We are going to slowly and gradually raise the retirement age for Social Security"

Did Romney really say he would raise the retirement age? PolitiFact Ohio took a look.

On the retirement age, Redfern is mostly accurate. Romney has said a number of times, in speeches and position papers, that he would deal with eventual Social Security viability issues by slowly and gradually raising the age at which a senior could collect the retirement benefit. He also has said he would not support increasing taxes as part of the solution. And he has said that high-income retirees might not see the same growth in their benefits as other retirees would.

But he has said as clearly as can be that current seniors would not be affected.

We watched a video replay of Romney's CPAC speech and read the full transcript. We read his campaign's economic plan. We exchanged email with a campaign spokesman to see if there was more.

Here is an example of how Romney has described his intentions, from his "Plan to Turn Around the Federal Government," issued on Nov. 4:

"Social Security: No one at or near the retirement age will see any changes and tax hikes cannot be on the table. Instead, Social Security can be placed on a sustainable trajectory with commonsense reforms:
Gradually raise the retirement age to reflect increases in longevity
Slow the growth in benefits for higher-income retirees"
And here is what Romney told CPAC: "Under my plan, no one near retirement age or currently retired will see any of the changes I'm going to describe. But people in their 20s and 30s and 40s and early 50s are going to see some changes.

"And by the way, tax hikes are off the table.

"We're going to slowly and gradually raise the retirement age for Social Security and we'll slow the growth rate in benefits for higher-income retirees."

Everything we have reviewed shows that Romney would, as Redfern says, raise the Social Security retirement age.

Knowing, though, that present day seniors would be unaffected is important, though. Elsewhere in his note, Redfern quips: "Here's just five (words) that almost every Ohio senior knows: 'Hands off my Social Security.' So, good luck with that, Governor."

Ohio Democratic Party spokesman Seth Bringman said in an email, "It was already implied by the words 'slowly and gradually' of the quoted statement that Governor Romney was referring to raising the retirement age for future retirees, and we did not mean to suggest otherwise. The point here is that Social Security is a critical issue to Ohio's seniors – both present and future – and tinkering with Social Security benefits is a threat to their economic security."

Bringman added, "We raise this point because Social Security is a compact between the federal government and Americans that if they work hard, pay their taxes and play by the rules, they'll have something to fall back on when they retire. We have to honor that compact and stop the threats to the program that so many rely on today and so many others will rely on in the future."

Bringman's explanation goes beyond even his boss's words, let alone Romney's words. Romney talked of protecting current seniors' benefits. Yet Redfern invoked a spell known to  every political pro: Scare the seniors and you lose their votes. It's why Social Security is called the third rail of American politics.

Redfern's claim about Romney is accurate. Romney has said repeatedly that he would gradually raise the retirement age for Social Security. But that Romney specifically has excluded people already retired and those near retirement age is additional information that helps clarify the statement.

On the Truth-O-Meter, Redfern's claim rates Mostly True.
Email from Ohio Democratic Party Chairman Chris Redfern, Feb. 15, 2012

Mitt Romney, speech to the Conservative Political Action Conference, Feb. 10, 2012

Transcript of Romney's speech, CQ Transcriptwire (subscription requited)

Mitt Romney presidential campaign, Romney position on Social Security

Mitt Romney presidential campaign, "Romney presents plan to turn around the federal government," Nov. 4, 2011

Email from Seth Bringman, spokesman, Ohio Democratic Party
Browse the Truth-O-Meter
More by Stephen Koff
Support independent fact-checking.
Become a member!
In a world of wild talk and fake news, help us stand up for the facts.