Stand up for the facts!
Our only agenda is to publish the truth so you can be an informed participant in democracy.
We need your help.
I would like to contribute
"You can't put a gun rack in a [Chevrolet] Volt."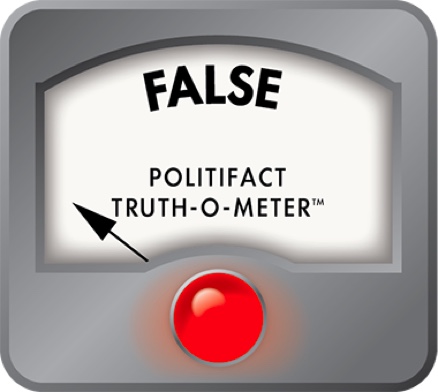 Gingrich's gun rack quip about Volt shot full of holes
Republican presidential hopeful Newt Gingrich recently went gunnin' for greenies.

Gingrich's target is the Chevy Volt, an electric car that also can run on gas. During a recent Republican presidential campaign swing through Georgia, he revved up crowds by calling it the car that rich, liberal environmentalists think you ought to drive.

President Barack Obama would make you ditch your gas guzzler at the side of the road for the Volt, if he had his way, Gingrich warned.

"This is an administration that is deeply opposed to Americans having the right to choose the kind of car or truck they want to drive," the former Georgia congressman told a crowd in Cobb County on Saturday. "And I keep trying to get across to my liberal friends: You cannot put a gun rack in a Volt."

Slow down there, Mr. Speaker. You can't put a gun rack in a Volt?

Is Gingrich taking us for a ride?

We realize this is not a pressing policy issue. And Gingrich was obviously trying to inject a little humor in what has been a demolition derby of a campaign.

But PolitiFact Georgia decided it was time for a little detour from our typical GOP primary coverage.

We set the Truth-O-Meter's sights on Gingrich's high-voltage claim.

We contacted the Gingrich campaign for a comment, but did not get a reply by the time this article went to press.

The Chevy Volt is a $40,000 electric car. The midsize sedan can travel about 35 miles on battery power alone, but if you need to go a few hundred miles farther, the gas tank kicks in.

To charge the Volt, you hook the battery to an orange cord stored under the trunk carpet. The other end plugs into an electrical outlet.

Chevy designed the Volt with so-called "early adapters" and green technology fans in mind, company spokesman Robert Peterson said. Owners tend to have high incomes and are concerned about the environment and U.S. energy dependence.

Chevy manufactures cargo nets, floor mats, a sunshade and an ashtray for the Volt, but nary a gun rack, Peterson said.

"It's not something we normally consider," he said. He lent us a Volt for our fact check.

Car experts weren't sure a gun rack would fit.

"You certainly CAN put a gun rack in a Volt, if you're talking about a tactical shotgun with a dash-mounted rack, as in a police cruiser," said Dan Neil, Pulitzer-winning car columnist and author of the "Rumble Seat" column in The Wall Street Journal. "A window rack, like in pickups? No, that would be difficult."

Gingrich took his gun rack quip on the road. He repeated it in Tulsa, Okla., on Monday before a crowd of 3,000 at Oral Roberts University.

We heard Gingrich say it again as we sat behind the wheel of a borrowed Chevy Volt, listening to the Sean Hannity radio show. We were hunting for a gun rack, and the Volt did its best to help. It started with the push of a button, and greeted us with a melody that sounded like a harp on Auto-Tune. A screen showed us the location of nearby stores.  

The Volt's pearly center console glowed under buttons lit up in cobalt blue. We felt as if R2-D2's younger, sexier brother was our co-pilot.  

Local gun store salesmen told us we could get a truck accessory store to customize a rack. We found a video online that showed a Volt owner rigging one up with plastic piping and plywood.

We don't think these were what the former House speaker had in mind. PolitiFact Georgia opted to test products we could buy off the shelf. We returned to the newsroom parking lot with three gun racks and a stick as a gun stand-in.

The stick was a precaution. We didn't want our co-workers to get the wrong idea. It was about 40 inches long, or roughly the length of a shorter shotgun.

The first contraption suspended guns on two racks behind the Volt's seats. They hooked onto the car's rear headrests and handily balanced the stick.

It was designed to fit two long guns.

The second used two camouflage neoprene slings to cradle up to two guns behind the car's front seats. They fit, but not well. The slides of the Volt's heated seats were in the way. We tied the slings' bottom attachments to the front seat belt anchors instead.

That's four long guns.

The third rack was designed to show off guns in the car's rear window. The kit came with two plastic hooks with long adjustable bases. Each end was shaped like a wedge.

They fit snugly in the space between the upholstery and window, but were about 8 inches too short.

It was nothing that duct tape and PVC pipe couldn't fix, but no self-respecting Georgian would display his guns that way. We checked online and found window racks that we think would work.

How do we rule?

Gingrich said you can't put a gun rack in a Chevrolet Volt. We installed two gun racks that tote four guns combined.

Our own research shows Gingrich's claim is a lemon. We give him a False. 
https://www.sharethefacts.co/share/6b893c6f-adb9-4a69-a7f7-3eb4edc24e73
Newt Gingrich campaign speech, Cobb County, Feb. 18, 2012

YouTube.com, "Chevrolet Volt Gun Rack Installation," Feb. 20, 2012

Chevrolet Volt website, accessed Feb. 21, 2012

The New York Times, The Caucus blog, "In Georgia, Gingrich Campaigns on Guns and Gas," Feb. 18, 2012

The Atlanta Journal-Constitution, "Gingrich hedges on winning Georgia, campaigns with Cain," Feb. 18, 2012

The Atlanta Journal-Constitution, "Gingrich hopes Oklahoma can be fertile ground," Feb. 21, 2012

G-LOX outdoor products website, vehicle gun racks page, accessed Feb. 21, 2012

Telephone interview, Robert Peterson, spokesman, Chevrolet, Feb. 20, 2012

Telephone interview, Rob Douthit, blogger, Atlanta Auto Beat, Feb. 21, 2012

Email interview, Dan Neil, author, "Rumble Seat" blog, Feb. 20, 2012
Browse the Truth-O-Meter
More by Willoughby Mariano
Support independent fact-checking.
Become a member!
In a world of wild talk and fake news, help us stand up for the facts.