Get PolitiFact in your inbox.
Says that when Republicans held Congress and the presidency, they "doubled the size of the (U.S.) Department of Education."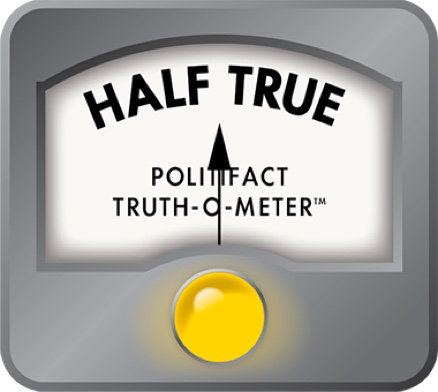 Ron Paul says when Republicans held Congress and presidency, they doubled the size of the education department
A day after Texas U.S. Rep. Ron Paul finished second in the Republican Party's New Hampshire presidential primary, Charlie Rose of CBS News asked Paul to comment on the view that as conservatives fail to coalesce behind an alternative to former Massachusetts Gov. Mitt Romney, they're making it easier for Romney to win the party's nomination.

"Yeah," Paul replied, "but what if you coalesce with big spending and you elect somebody like that and you do the big spending? This is what we've done. When we've had the House and the Senate and the presidency, we coalesced, and we increased the (national) debt, and we increased the spending, we doubled the size of the Department of Education, we passed (the) No Child Left Behind (Act), we passed Sarbanes Oxley.

"Why should we coalesce behind conservatives who aren't conservative?" Paul continued. "They're just big government conservatives. That's why there's frustration out there. That's why people have started the tea party movement. So I don't know why people don't understand this."

We don't doubt that federal spending and the debt were increased by Congress in past sessions and that Republicans aligned with Democrats to create the No Child Left Behind Act, which President George W. Bush signed into law in January 2002, though Paul did not note that Democrats held a narrow Senate majority when the act advanced through that body in 2001.

In July 2002, Bush signed into law the Sarbanes Oxley act, which was intended to enhance corporate responsibility and financial disclosures while combating corporate and accounting fraud.

But were Republican majorities in Congress and a Republican president responsible for doubling the size of the education department?

To our inquiry, Paul's campaign manager, Jesse Benton, reminded us that PolitiFact in 2007 rated True this Paul statement: "It used to be the policy of the Republican Party to get rid of the Department of Education. We finally get in charge and a chance to do something, so we double the size of the Department of Education."

The GOP controlled the House from 1995 through 2006, the Senate for most of those years and the presidency from 2001 through 2008.

Significantly, the earlier fact-check weighed spending over years when Republicans controlled the House and Senate, regardless of who was in the White House. And the education department's appropriation was $100 billion in 2006, nearly quadruple the $27 billion appropriated in 1994. Adjusting for inflation — the 1994 budget rises to $36.8-billion when calculated in 2006 dollars — the increase was 172 percent.

Much of the increase came as a result of the No Child Left Behind Act. In return for implementing a regimen of student testing and teacher accountability, states received an infusion of federal funds.

Some perspective: The $100 billion education department appropriation in 2006 was by far the largest up to that year, and something of an anomaly. It marked a substantial increase from the 2005 funding level of $71.5 billion. In 2007, indeed, the budget fell to about $67 billion, a 75 percent increase over 1994 levels in inflation-adjusted terms — big, but not doubled.

That 2006 bump was the result of a massive increase in mandatory spending related to student loan processing and to a one-time infusion of $4.3 billion to cover shortfalls in funding for grants to university students. Student loans make up the bulk of the mandatory spending, meaning that federal law compels the department to cover the cost of guaranteeing and directly making loans to students no matter how the cost fluctuates due to interest rates or the number of student applications. Most other programs — including No Child Left Behind funding — are considered discretionary, meaning the amounts get decided each year.

Fast forward: Paul outlined more restrictive partisan conditions to CBS News, saying there was a doubling in the department when Republicans controlled both houses of Congress plus the presidency.

Accordingly, let's focus on spending over much of the first six years of Bush's presidency when Republicans controlled Congress. From June 2001 into November 2002, Democrats narrowly held the Senate.

So, how did the education agency's funding change during Republican dominance?

According to the department, its funding in fiscal 2001, which began before Bush became president, was $42 billion, which adjusting for inflation would have been $49.2 billion in 2007 dollars. The comparable figure for fiscal 2007,  the last budget year over which Republicans held full sway, was $67 billion -- nearly 60 percent higher than such spending in 2001, 36 percent adjusted for inflation.

This indicates that such spending went up under Republicans, but did not double.

Still, there remains a way to suggest Republicans more than doubled the department's funding. Cutting off the comparison in 2006, the year with the highest spending, results in an increase of 138 percent compared with 2001. Adjusted for inflation, the 2006 spending was 109 percent more than the agency was appropriated for 2001.

Then again, the 2006 appropriation shakes out as the second-highest amount spent through the department for any year since 1980, according to the agency. It was later outpaced only by about $138 billion appropriated in fiscal 2009, an amount driven by nearly $100 billion in education spending included in the economic stimulus package approved that year.

Excluding the stimulus year, appropriations to the department from 2007 through 2011 ranged from nearly $44 billion in 2011 to $68.5 billion in 2008.

David Dunn of Austin, who was chief of staff to Bush's secretary of education, told us in an interview that he considers the 2006 appropriation an aberration. Broadly, Dunn said, "we never felt like we doubled spending" on the department. "We knew spending increased significantly. We were proud of that."

Paul's campaign manager, Jesse Benton, stood by the PolitiFact check of Paul's 2007 claim, saying by email: "...you are pathetic. You are about to contradict something that PolitiFact (al)ready fact checked. Why don'(t) you get a life?"

Our ruling

Paul's comment to CBS News, reflecting on a shorter period than his 2007 claim, holds up by comparing spending in 2006 and 2001. However, in the last budget adopted when Republicans held full sway, the department's appropriation was 60 percent higher than in 2001, 36 percent accounting for inflation.
That's an increase, but not a doubling. One could also say Republicans cut the department's appropriation between 2006 and 2007.
Paul's recent statement rates Half True.
Telephone interview, David Dunn, lobbyist, Austin, Jan. 11, 2012

U.S. Department of Education, web page, "Budget History Tables Education Department Budget History Table: FY 1980—FY 2012 President's Budget " (accessed Jan. 11, 2012)

U.S. House, web page, "House History, Party Divisions of the House of Representatives (1789 to Present)" (viewed Jan. 11, 2012)

U.S. Senate, web page, "Party Division in the Senate, 1789-Present" (viewed Jan. 11, 2012)
Browse the Truth-O-Meter
More by W. Gardner Selby
Support independent fact-checking.
Become a member!
In a world of wild talk and fake news, help us stand up for the facts.