Stand up for the facts!
Our only agenda is to publish the truth so you can be an informed participant in democracy.
We need your help.
I would like to contribute
In July 1996, Mitt Romney helped locate the missing teenage daughter of a partner at Bain Capital.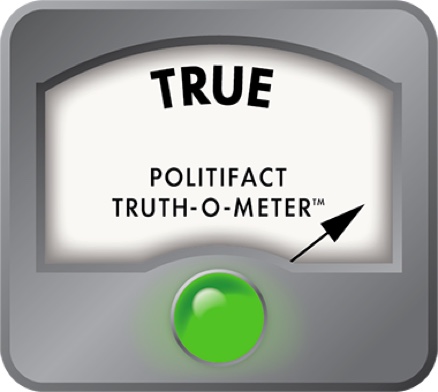 Viral Internet story says Mitt Romney helped locate missing teen daughter of Bain Capital partner
A number of readers recently have asked us to fact-check a story about Republican presidential candidate Mitt Romney. The story, currently circulating on email, Facebook, and blogs, says that Romney helped a colleague of his at Bain Capital locate his missing teenage daughter.

"In July 1996, the 14-year-old daughter of Robert Gay, a partner at Bain Capital, had disappeared," the story reads. "She had attended a rave party in New York City and gotten high on ecstasy. Three days later, her distraught father had no idea where she was. Romney took immediate action. He closed down the entire firm and asked all 30 partners and employees to fly to New York to help find Gay's daughter. Romney set up a command center at the LaGuardia Marriott and hired a private detective firm to assist with the search. He established a toll-free number for tips, coordinating the effort with the NYPD, and went through his Rolodex and called everyone Bain did business with in New York and asked them to help find his friend's missing daughter. Romney's accountants at Price Waterhouse Cooper put up posters on street poles, while cashiers at a pharmacy owned by Bain put fliers in the bag of every shopper. Romney and the other Bain employees scoured every part of New York and talked with everyone they could – prostitutes, drug addicts – anyone.

"That day, their hunt made the evening news, which featured photos of the girl and the Bain employees searching for her. As a result, a teenage boy phoned in, asked if there was a reward, and then hung up abruptly. The NYPD traced the call to a home in New Jersey, where they found the girl in the basement, shivering and experiencing withdrawal symptoms from a massive ecstasy dose. Doctors later said the girl might not have survived another day. Romney's former partner credits Mitt Romney with saving his daughter's life, saying, 'It was the most amazing thing, and I'll never forget this to the day I die.'

"So, here's my epiphany: Mitt Romney simply can't help himself. He sees a problem, and his mind immediately sets to work solving it, sometimes consciously, and sometimes not-so-consciously. He doesn't do it for self-aggrandizement or for personal gain. He does it because that's just how he's wired."

We can't speak to what this episode says about Romney's deeper character, but we can verify the facts of the episode. In fact, we did so when this story came up during the 2008 presidential election season.

Back then, the story was circulating because of television ad created by Romney's campaign. It featured Gay crediting Romney with helping reunite him with his daughter.

As we reported then, based on contemporary news reports, the girl sneaked away on July 6, 1996, to go to a rave party in New York City, where she took the drug Ecstasy. She had told her parents she was playing tennis.

When she didn't return, Boston-based Bain Capital, where Romney was founder and CEO, essentially shut down to help search for Gay's 14-year-old daughter Melissa.

Bain Capital's 50 employees went to New York, where they convinced more than 200 other people to help search the streets for two days. They printed and passed out fliers. Romney clearly had a leading role in the company's operations, but news reports from the time also said other Bain partners helped coordinate the search effort.

According to news reports, the teen was found in suburban New Jersey. A teen-aged boy, who took her in after her partying, called authorities late on July 11.

Lt. David Peterson of the Montville Township Police told PolitiFact four years ago that police reports do not mention Romney personally. But Peterson, as well as reports at the time, agreed that the Bain Capital search generated important attention to the case of the missing girl.

"The thing was it was a 911 caller that saw her on Channel 7 and called in," said Peterson, who recalled waiting for the girl to be picked up from Montville police station.

Gay says Romney helped "save" his daughter, though previous reports have differed on the condition she was in. The line in the retelling now circulating -- that doctors told Gay she might not have lived another day -- comes from a Boston Globe report in 2002.

Newsday, for its part, reported in July 1996 that "Melissa's parents said she was physically unharmed though she appeared 'very fragile.' The family's doctor had examined the girl and pronounced her in fairly good condition. ..."

"She was not harmed," Robert Gay said at news conference after she was found, according to the New York Daily News. "She was in tears. We just gave her hugs and brought her back home."

By all accounts, the effort by Bain employees was central to the effort to locate the girl, and Romney reportedly played a significant role in that effort. We give the account now circulating a rating of True.
AmericaNeedsMitt.com, "Governor Mitt Romney's Secret Compulsion" (blog post), Nov. 10, 2011

Snopes.com, "Star Search," Jan. 30, 2012

PolitiFact, "Romney did 'help save' teen," Dec. 28, 2007

Mitt Romney for President, "The Search" (television ad), Dec 18, 2007

Interview with Lt. David Peterson, Montville Township Police, Dec. 27, 2007.

New York Times, Missing Teen-Ager Found in New Jersey, July 13, 1996.

New York Times, Volunteers Search for Missing Girl, 14, in Party Underworld, July 12, 1996.

Boston Globe, "Romney Seeks High Office with Confidence, Pedigree," Aug. 11, 2002.

Boston Herald, "Bain staff swung into action for child search," July 13, 1996.

New York Daily News, "Missing teen rave fan is home," July 13, 1996.

Newsday, "Missing 14-year-old found in New Jersey," July 13, 1996.

New York Daily News, "Fearful kin seek missing teen," July 12, 1996.
Browse the Truth-O-Meter
More by Louis Jacobson
Support independent fact-checking.
Become a member!
In a world of wild talk and fake news, help us stand up for the facts.