Stand up for the facts!
Our only agenda is to publish the truth so you can be an informed participant in democracy.
We need your help.
I would like to contribute
Sixteen thousand new Internal Revenue Service agents will be "empowered to enforce" the new health care legislation.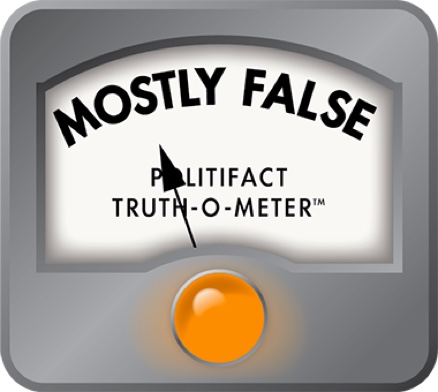 Price: 16,000 IRS agents will enforce Obama health care law
Now that the U.S. Supreme Court has let President Barack Obama's signature health care law stand, Republicans are grousing like it's 2009.

The law's foes are dusting off 3-year-old talking points they used in their unsuccessful attempt to squelch it in Congress. U.S. Rep. Tom Price, a Republican from Roswell, recently revived this retro claim about Internal Revenue Service agents as he emphasized the court's finding that the bill is constitutional under the federal government's taxing powers:

"This is indeed a tax. We talked about it at the time with the 16,000 IRS -- new IRS agents -- that will be empowered to enforce this new tax," Price said during a C-SPAN call-in show June 29.  

Sixteen thousand new IRS agents? That claim sounded awfully familiar to us here at PolitiFact Georgia.

As presidential hopefuls, Ron Paul, Jon Huntsman and Michele Bachmann used versions of this claim, as have other politicians, including Georgia's own U.S. Sen. Saxby Chambliss.  

Even the most accurate versions of this talking point earned mediocre ratings on the Truth-O-Meter. They ranged from Pants on Fire to Half True.

Did this claim improve with age like a fine wine? We contacted Price's office, dug through past PolitiFact research and looked at a recent IRS budget request.

The main reason that past claims earned low Truth-O-Meter ratings is that the number comes from a partisan estimate based on squishy assumptions.

This is how the IRS talking point came to be:

On Dec. 19, 2009, the Congressional Budget Office, a nonpartisan referee on budget questions, released an analysis of the Senate version of the health care bill that became the basis for the health care law.  

The CBO wrote that it had not completed cost estimates for the IRS and other federal agencies responsible for implementing the law. But it did say the IRS "would probably" need to spend "between $5 billion and $10 billion over 10 years."

The CBO suggested nothing about how those costs would translate to jobs, PolitiFact National found.  

Republicans with the U.S. House Ways and Means Committee, which handles federal tax legislation, used the high end of the IRS' rough budget number to estimate 16,500 employees might be hired to implement the bill.
   
PolitiFact ruled that Republicans cherry-picked the high number to favor their case. Also, even Ways and Means Republicans acknowledged that the figure could be less than 16,500 new jobs. Their calculations do not take into account the possibility that some of the money would buy things such as desks and office supplies for new workers.
     
In other words, it's fair to assume the IRS will need to hire new employees. It may need thousands of them. But using such a specific figure suggests a degree of certainty that does not exist.

Furthermore, Ways and Means Republicans did not find that the IRS would have to hire 16,000 or more new "agents," as Price and other Obama health care bill foes have said. That number was for "employees," a broader category that can include other workers such as administrative assistants, phone operators and staff attorneys.

Now the IRS is hiring staff to implement these changes. Price spokesman Ryan Murphy told PolitiFact Georgia that current hiring numbers suggest that the 16,000 estimate is reasonable.

We took a look at the IRS budget requests to check out this assertion.

For the current fiscal year, the IRS requested funding for more than 1,250 employees to prepare for the health care tax changes, according to its budget proposal. Most would fill support roles in areas such as information technology or customer service. Fewer than one-quarter would be agents.

For next fiscal year, the IRS requested funding for nearly 860 employees. Fewer than 10 percent would be agents.

This places the agent tally for fiscal years 2012 and 2013 near 375.

How do we rule?

Price said that 16,000 new "agents" would be empowered to enforce the health care law. His claim carries a kernel of truth. The IRS will have to hire agents to implement these changes.

But his statement misstated the findings of a partisan estimate. Ways and Means Republicans said that about 16,000 "employees," not "agents," may be hired to enforce the bill's provisions. They also acknowledged that the actual number of hires may be lower.

IRS budget requests for the 2012 and 2013 fiscal years show they asked for about 375 more agents so far --  far less than 16,000.

And like other pols who have used versions of this talking point, Price used such a specific figure that he suggests a degree of certainty that doesn't exist.

Price therefore earns a Mostly False.
Browse the Truth-O-Meter
More by Willoughby Mariano
Support independent fact-checking.
Become a member!
In a world of wild talk and fake news, help us stand up for the facts.