Stand up for the facts!
Our only agenda is to publish the truth so you can be an informed participant in democracy.
We need your help.
I would like to contribute
U.S. Rep. Paul Broun has not authored any legislation that has been adopted by Congress.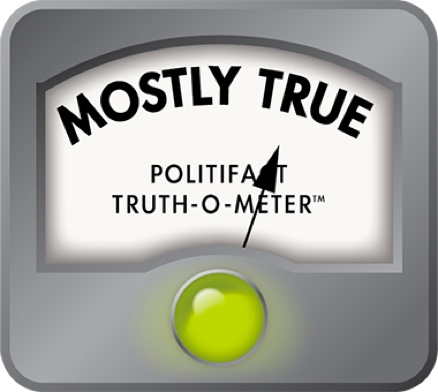 Ga. congressman's record skimpy, opponent says
One of the many criticisms of this Congress is it's not getting anything done.

A candidate hoping to replace one congressman from Georgia is using that argument in an attempt to unseat the incumbent.

The contender, Stephen Simpson, said U.S. Rep. Paul Broun, R-Athens, has not authored any legislation that has been adopted by Congress, according to an article in The Walton Tribune.

"Nothing he has introduced has ever passed," Simpson, who will face off with Broun in the Republican Party primary on July 31, told PolitiFact Georgia. "That's a statement of fact."

Not true, Broun's office said.

PolitiFact Georgia wondered who was correct here?

Broun has successfully added several amendments to bills that his office says could have been done as separate legislation. The congressman's representatives also say those amendments have an impact. Simpson said amendments are added to bills in Congress like sugar in coffee. Broun's amendments, Simpson said, aren't that impressive.

Broun was first elected to the House of Representatives in July 2007 in a special election after the death of Charlie Norwood. He has served three terms.

Simpson's campaign website describes the challenger as a retired U.S. Army lieutenant colonel who says he will be "a patriot, not a politician."

"I think the message [Simpson is] trying to get across is Broun is ineffective," longtime University of Georgia political science professor Charles Bullock said.

The congressman has a near-perfect lifetime score of 99.2 on his voting record, as determined by the American Conservative Union, whose board consists of former GOP members of the George W. Bush administration and former Republican members of Congress. Broun's score was higher than U.S. House Speaker John Boehner.

Broun has proposed resolutions to make 2010 the year of the Bible and pushed for a Ten Commandments week and authored such legislation. He also authored a resolution to amend the Constitution to allow for the castration of anyone convicted of raping a child under age 16. The resolution was referred to the House subcommittee on the Constitution, civil rights and civil liberties. He's been a vocal proponent of major cuts in federal spending.

Bullock said being ultraconservative may have helped Broun in his former district. Broun's new district has portions of metro Atlanta counties that are less rural and, perhaps, less conservative, Bullock said.

"Certainly, Broun is one of the most conservative members [of Congress]," Bullock said.

Simpson sent us a link to the website Open Congress, which tracks legislation. It says Broun sponsored 21 bills in the current congressional term and none passed. Georgia's 12 other House members have sponsored 157 pieces of legislation since January 2011. Only three have been made into law.

PolitiFact Georgia reviewed each piece of legislation Broun has filed since 2007. Most of his bills were forwarded to various House committees. There were a handful of amendments to bills and resolutions that Broun sponsored that did pass. They included:
 
House Amendment 353, which reduced the funding for the Office of the Under Secretary for Management in the State Department by $600,000 and applied the savings to the spending reduction account. It was agreed to by a voice vote on June 1, 2011, congressional records show. The amendment was to a continuing appropriations act that was introduced on May 26, 2011, for spending through October 2011.
House Amendment 647, which reduced the operating budget of the Office of the Secretary of Energy by $2.5 million and applies the savings to the spending reduction account. It was agreed to by a voice vote July 13. The amendment was to an energy and water bill filed June 24.

Broun's congressional office sent us other amendments that were approved by the House. Some, it said, are effectively legislation and as important as a standard bill. One agreed to in 2009 required that the Energy Department give Congress an annual report describing activities taken in the prior year, a strategic funding plan and other details. Other amendments reduced spending in the Office of the Secretary of Energy by $2.5 million, cutting funding by $181,500 from the Marine Mammal Commission and reducing $878,000 in spending by the Congressional Research Service.

Simpson said the amendments are not comparable to standard resolutions because the amount of money involved is minute in comparison to the federal budget, which is more than $3 trillion.

"In the scheme of things, it's not that much money," Simpson said.

Kyle Kondik, who follows House races at the University of Virginia's Center for Politics, noted that the House was under Democratic control during Broun's first three years in Congress. It's very difficult for a younger member of the minority party to get legislation passed, Kondik said. Broun's position on some issues to the right of GOP House leadership may not have endeared the congressman with those who have the power to shepherd his legislation into law, Kondik said.

The number of bills authored by Broun that have passed "may or may not be a true measure of his performance as a congressman," Kondik said.

Bullock said there may be some reasons why the representative has not had more resolutions passed.

"He's not particularly [a senior member of Congress]," Bullock said. "He's not chair of a committee. He's not really in a position to enact legislation."

Broun has authored some amendments that have been approved by the majority of his fellow House members. There have been a handful of resolutions that passed as well. The experts we spoke with offered some context that offers the congressman a defense, such as the difficulty of being a Republican attempting to get legislation passed when Democrats controlled Congress. With that context, we rate Simpson's claim Mostly True.
The Walton Tribune, "Broun, Simpson race heats up," posted June 6, 2012.
American Conservative Union congressional ratings.
Email from Meredith Griffanti, spokeswoman for U.S. Rep. Paul Broun, June 13, 2012.

Open Congress database of bills sponsored by U.S. Rep. Paul Broun during 112th Congress.
Open Congress database of bills sponsored by U.S. Rep. Paul Broun during 110th and 111th Congress.
Telephone interview with Charles Bullock, professor, University of Georgia, June 11, 2012.

Telephone interview with Kyle Kondik, Center for Politics, University of Virginia, June 11, 2012.

Telephone interview with Stephen Simpson, June 13, 2012.

U.S. Library of Congress link to review legislation sponsored by members of Congress.
Browse the Truth-O-Meter
More by Eric Stirgus
Support independent fact-checking.
Become a member!
In a world of wild talk and fake news, help us stand up for the facts.