Stand up for the facts!
Our only agenda is to publish the truth so you can be an informed participant in democracy.
We need your help.
I would like to contribute
David Perdue supports Common Core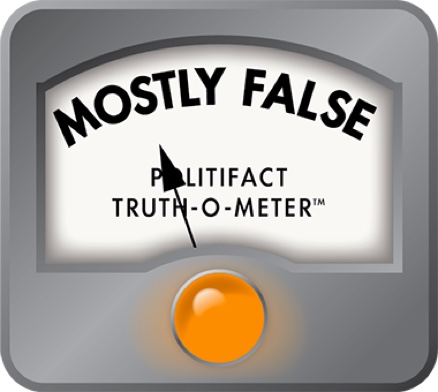 Common Core claim doesn't make the grade
Republican U.S. Senate candidate David Perdue is now on a list that shows he's truly arrived in politics -- he's the subject of a website attack.
It's called "The David Perdue Files," and it accuses the political newcomer of being a RINO -- Republican in Name Only -- with "liberal positions and establishment ties."
The Atlanta Journal-Constitution's Political Insider column brought the website to our attention with a post about it. The website included several "facts" about Perdue. One caught our attention, since it's an issue that many conservatives have been as strident in their opposition to as the federal health care law, aka Obamacare.
"David Perdue supports Common Core," it says.
True?
The website cites a Marietta Daily Journal interview with Perdue done in February. The article, though, offers some context that's not offered on the web post about the candidate. The people who put the website together haven't identified themselves (the website's author is Truth Be Told), so we couldn't talk to them about it.
Perdue is part of a crowded field of Republicans running this year for an open seat in the U.S. Senate. The current senator, Saxby Chambliss, a Republican, is retiring. Perdue, a former CEO of several larger companies and a cousin of former Georgia Gov. Sonny Perdue, has risen to the top of some polls and, thus, become a target of his opponents and others leery of some of his positions. The Republican Party primary is set for May 20.
The campaign for the GOP nomination has largely been a contest among the candidates to prove who is the most conservative. On one issue, Common Core, the candidates have largely spoken against it. The anti-Perdue website, though, says he supports it. If true, it could mean trouble for Perdue.
Common Core is a set of educational guidelines aimed at creating uniformed standards for student proficiency in several subjects. They were created by governors and education officials and adopted in nearly every state. Sonny Perdue helped spearhead the effort and has said it was a way to prevent the federal government from interfering in state education policies. The Common Core standards were released in June 2010 with the support of the National Governors Association and other groups.
"We felt like we needed to take steps as governors to actually prevent a federal mandate that came in this area. We saw No Child Left Behind as somewhat of an intrusion in state business," the former governor said in a 2013 Washington Post interview. "We didn't want another federal mandate that came in and said: 'Here's what your state looks like compared to Switzerland' or wherever."
The Common Core plan was adopted by Georgia GOP leaders in 2010.
This past June, however, the state Republican Party voted unanimously to urge state leaders to withdraw from the program because it "obliterates Georgia's constitutional autonomy." Tea party leaders and others say Common Core was adopted with little debate, and they worried it would be a federal takeover of education. The Obama administration has awarded extra points in its Race to the Top funding program for states that have worked to create common college- and career-ready standards.
The Republican-led state House of Representatives passed legislation this year to create a study committee on Common Core and the federal government's "increasingly greater role in public education."
David Perdue, whose wife and parents were teachers, said he has talked to his cousin about the issue.
"The original intent, I agree with that. It's where it gets into the details, into the weeds of how it's going to be administered, that's where I have a problem with that," Perdue said in the Marietta Daily Journal.
The candidate said Georgia should determine how it sets its standards, and the newspaper reported that Perdue said he agrees with Gov. Nathan Deal's position opposing the testing component of Common Core.
Perdue made similar comments in an interview posted on YouTube.
The candidate said he didn't have a problem with Common Core's original intent. "When they start trying to legislate and dictate curriculum and that sort of thing, and that includes how you measure up in the test, I have a major problem with that," he said. "I'd really like to get the Department of Education out of this and get that money back to the states and put the power back into teachers and parents, which is where it belongs."
Some conservatives question Perdue's explanation. Erick Erickson, a prominent conservative commentator and radio show host who has endorsed former Georgia Secretary of State Karen Handel in the Senate race, asked Perdue about his comments in the Marietta Daily Journal. Perdue said Common Core had gotten "convoluted" when the federal government got involved. His campaign said Perdue supports what was put together by the National Governors Association.
"I want to clear the air. I think Common Core is overreaching right now and should be abandoned in its current form," Perdue said in a radio interview with Erickson on News 95.5 and AM 750 WSB.
News 95.5 and AM 750 WSB is owned by Cox Enterprises, which also owns The Atlanta Journal-Constitution.
Perdue spokesman Derrick Dickey told PolitiFact Georgia that the candidate believes "Common Core has become overreaching and should be abandoned." Dickey called The David Perdue Files "a crass, politically motivated effort to misrepresent many of David's positions."
Judging from The David Perdue Files website, Perdue has not convinced some conservatives about his position on Common Core.
To sum up, a website claimed Perdue "supports Common Core." Perdue has said in several interviews that he believes in the initial intent of Common Core as a means of states setting their own educational goals by what was proposed by the National Governors Association. Perdue, though, has said he is concerned about federal involvement in the effort.
The website is correct on some level. Perdue did initially support the concept of Common Core, like many other Republicans.
But he has made it very clear he has soured on the details and now opposes it.
There is a kernel of truth here, but just a kernel.
We rate the website attack on Perdue as Mostly False.
The David Perdue Files website.
The Atlanta Journal-Constitution, "Ga. GOP rejects Common Core," June 23, 2013.
Atlanta Journal-Constitution Political Insider, "Karen Handel's tax return gets two takers -- but not the big fish," April 21, 2014.
Email from Perdue spokesman Derrick Dickey, April 28, 2014.
Georgia TipSheet, "Perdue on Common Core and likability," Feb. 19, 2014.
Marietta Daily Journal, "Senate hopeful Perdue weighs in on hot-button issues," Feb. 16, 2014.
Red State, "David Perdue Is Wrong For Georgia," March 27, 2014.
Speech by U.S. Department of Education Secretary Arne Duncan on Common Core, June 25, 2013.
The Washington Post, "The Republican Case for Common Core," Aug. 23, 2013.
YouTube video of David Perdue discussing his position on Common Core, Feb. 1, 2014.
Browse the Truth-O-Meter
More by Eric Stirgus
Support independent fact-checking.
Become a member!
In a world of wild talk and fake news, help us stand up for the facts.