Stand up for the facts!
Our only agenda is to publish the truth so you can be an informed participant in democracy.
We need your help.
I would like to contribute
Says Georgia Democratic Senate hopeful Michelle Nunn supports higher taxes.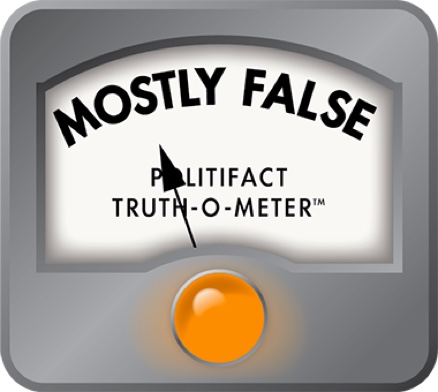 Group attacks Michelle Nunn on tax position
Michelle Nunn has been frequently described as the Georgia Democratic Party's best chance in a decade to capture a U.S. Senate seat, but many voters don't know much about her positions on a range of important issues.
One group recently decided to educate Georgians about Nunn in a television ad, making a claim about her that PolitiFact Georgia thought should be measured on the Truth-O-Meter.
"Michelle Nunn wants to be your senator," a male voice in the ad says. "She supports Obamacare and higher taxes."
The 30-second ad continues with the narrator saying that you may pay a penalty if the Internal Revenue Service does not like your health insurance plan.
"Michelle Nunn, the last thing Georgia taxpayers need," the narrator says at the end of the ad.
Nunn's campaign website, though, disputes the ad's claim about her support of tax increases.
"(Tax) Reform shouldn't raise taxes," it says.
So, is the ad correct?
The ad was paid for by a group called the Ending Spending Action Fund. Nunn has said she supports some components of the federal health care law, which many call Obamacare, and she wants changes made to other portions of the law. We hadn't heard much from Nunn concerning her positions on taxes, so we decided to do some checking into the veracity of the organization's claim.
The Ending Spending Action Fund describes itself as "an independent organization that proudly supports candidates regardless of party affiliation who favor enhancing free enterprise, reducing the size of government, and balancing our nation's budget." Indeed, the fund seems to be a bipartisan critic. The group has also funded ads criticizing another U.S. Senate candidate from Georgia, Phil Gingrey, a Republican currently serving in the U.S. House of Representatives.
It was founded in 2010 under another name by Joe Ricketts, a businessman who founded TD Ameritrade and whose family owns the Chicago Cubs baseball club, according to Open Secrets, a website that tracks money in politics. Ricketts has said he is a registered independent. The fund is based in Tampa, Fla.
After several calls and email exchanges over the course of two weeks, the fund's president and general counsel, Brian Baker, sent us a six-page report outlining its argument that the ad is correct that Nunn supports higher taxes.
Its case on income taxes includes:
Past interviews in which Nunn said "we need to be willing to put both spending and revenues on the table" to reduce the federal debt. It points to PolitiFact articles where our colleagues have written that raising revenue is a tax increase.

Information from Nunn's campaign website where she talked about closing tax loopholes on businesses.

Nunn's support for the federal health care law.
We decided to break down the group's argument by categories -- the tax code and the health care law.
First, the tax code.
Nunn campaign officials counter that she wants changes to the tax code that would be revenue-neutral, which they say meets the definition of prominent conservative tax groups such as Americans for Tax Reform of what is not a tax increase. In 2011, when the Georgia Legislature passed a tax package, Americans for Tax Reform supported the plan because it was revenue-neutral.
Americans for Tax Reform asks candidates for federal office to sign a pledge that they will oppose any effort to increase the marginal tax rate on individuals and businesses as well as oppose any net deduction or elimination of deductions unless it is equally matched by a reduction in tax rates.
Nunn's campaign website lays out several initiatives that lower taxes for individuals and businesses. Her positions include:
Lowering the federal corporate tax rate, although it does not specify what the rate should be.

Simplifying the tax code to make it easier for taxpayers to claim tax credits.

Increasing the startup deduction for businesses to $10,000.

Extending tax credits for research and development.
Now, on to the health care law.
The health care law requires most uninsured Americans to buy health insurance. Individuals who don't comply with the law face a tax penalty of at least $95 when they file their taxes next year. There are other taxes that raise revenue that are associated with the law.
In its decision to uphold the individual mandate, the U.S. Supreme Court ruled 5-4 that the penalty was basically a tax that Congress was imposing on people who failed to buy insurance. The contentious decision allowed President Barack Obama's signature legislative achievement to survive a constitutional battle.
There's still plenty of debate on whether that penalty is a tax or just analogous to one.
Nunn has said she supports the health care law but believes some elements of it need to be tweaked. Nunn campaign spokesman Nathan Click questioned the logic of using Nunn's support of the health care law to conclude that she supports raising taxes since the health care law has already taken effect.
To recap, the Ending Spending Action Fund put together an ad claiming Nunn supports raising taxes. It based that claim on prior interviews in which the candidate has said she would be willing to put revenue on the table to reduce the federal government's debt and because of her general support of the federal health care law.
Nunn's positions on these issues, though, are more nuanced. Nunn has said several times she favors a revenue-neutral approach, which her campaign notes is a position some major conservative groups say is not a tax increase. Nunn wants to fix some elements of the health care law. Her campaign also says it's odd to say Nunn supports raising taxes because Obamacare is already a policy that is the law, although the Republicans running for the Senate seat want to repeal the law.
We believe the statement in the ad about Nunn oversimplifies her position and needs a lot of context. We rate it Mostly False.
Ending Spending Action Fund campaign ad, April 3, 2014.
Americans for Tax Reform federal tax pledge, accessed April 25, 2014.
Emails and telephone calls with Nunn campaign spokesman Nathan Click.
Ending Spending Action Fund response to PolitiFact Georgia, April 14, 2014.
Michelle Nunn campaign website ideas on tax reform.
PolitiFact, "The health care law raises taxes and cuts Medicare, says Scott Brown," Nov. 3, 2013.
Americans for Tax Reform, "ATR Supports Revenue Neutral Tax Reform in Georgia," March 28, 2011.
Browse the Truth-O-Meter
More by Eric Stirgus
Support independent fact-checking.
Become a member!
In a world of wild talk and fake news, help us stand up for the facts.