Stand up for facts and support PolitiFact.
Now is your chance to go on the record as supporting trusted, factual information by joining PolitiFact's Truth Squad. Contributions or gifts to PolitiFact, which is part of the 501(c)(3) nonprofit Poynter Institute, are tax deductible.
I would like to contribute
President Obama's health-care law will "add trillions of dollars in debt."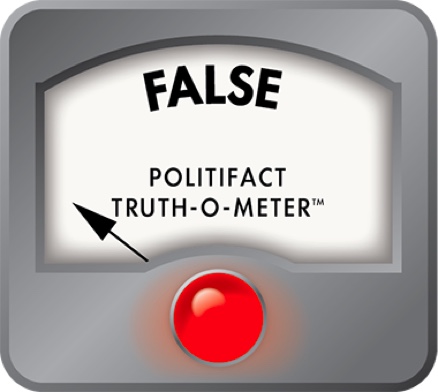 Republican U.S. Senate candidate Barry Hinckley says decision to uphold Obama health plan will add trillions of dollars in debt
After the Supreme Court issued its June 28, 2012, ruling upholding key provisions of President Obama's health-care legislation, Barry Hinckley, the Republican candidate for the U.S. Senate seat held by Sheldon Whitehouse, D-R.I., issued a fundraising letter warning that the decision was bad news for the national debt, which is now approaching $16 trillion.

"Our country did not want or approve of ObamaCare when it was introduced and they still do not now. Americans oppose it because it will decrease the quality of care, raise taxes, cut Medicare, and add trillions of dollars in debt."

Health care is certainly expensive; we wondered if the plan for mandating coverage and expanding insurance would really add that much to the debt.

We contacted Hinckley's office seeking the source of their information and received no response.

It turns out that PolitiFact National has examined this claim a few times, most recently when Mitt Romney made the same statement in response to the Supreme Court ruling.

Here's the bottom line: according to the PolitiFact analysis, it's not going to add to the debt because the legislation also raises money to pay for the costs.

The nonpartisan Congressional Budget Office (CBO) projected back in 2010 that the health-care law would lower the deficit by about $124 billion over 10 years. In 2011, when Republicans offered a bill to repeal the health-care law, the CBO estimated that wiping out the law, which Romney is promising to do, would actually increase the deficit by about $210 billion over 10 years.

The budget office acknowledges circumstances can change, the CBO isn't infallible, and the issues that come up in making an analysis can be contentious, as PolitiFact found when it looked at a statement from U.S. Rep Paul Ryan, R-Wis., judged Mostly False, that the law was "accelerating our country toward bankruptcy."

How much would the new health-care law actually raise? As PolitiFact reported when it gave Rush Limbaugh a Pants On Fire for declaring that "Obamacare is . . . the largest tax increase in the history of the world," the CBO estimates the additional revenues coming into the government will be $525 billion between now and 2019. In addition, the Joint Committee on Taxation, a nonpartisan committee of Congress with a professional staff of economists, attorneys and accountants, estimates the health law will bring in more than $437.8 billion by 2019.

As an aside, Obama claimed in his 2010 State of the Union speech that health-care reform "would bring down the deficit by as much as $1 trillion over the next two decades." PolitiFact rated that statement as Half True.

But for Hinckley's claim, congressional budget experts say he is wrong, so we will give it the same rating that Romney received: False.

(Get updates from PolitiFactRI on Twitter. To comment or offer your ruling, visit us on our PolitiFact Rhode Island Facebook page.)
Congressional Budget Office, analysis of H.R. 2, the Repealing the Job-Killing Health Care Law Act, Feb. 18, 2011

Congressional Budget Office, Cost Estimate for H.R. 2, Repealing the Job-Killing Health Care Law Act, Feb. 18, 2011

Congressional Budget Office, Selected CBO Publications Related to Health Care Legislation, 2009–2010, December 2010

PolitiFact.com, Rep. Paul Ryan claims health care law "is accelerating our country toward bankruptcy," Jan. 27, 2011

PolitiFact.com, "Mitt Romney says 'Obamacare' adds trillions to the deficit," June 28, 2012

PolitiFact.com, "Limbaugh, GOP have it wrong: Health care law is not the largest tax increase ever," June 28, 2012

Browse the Truth-O-Meter
More by C. Eugene Emery Jr.
Support independent fact-checking.
Become a member!
In a world of wild talk and fake news, help us stand up for the facts.