Stand up for the facts!
Misinformation isn't going away just because it's a new year. Support trusted, factual information with a tax deductible contribution to PolitiFact.
I would like to contribute
"In some communities, for $10,000 worth of (PIP) coverage it's $1,500 a year."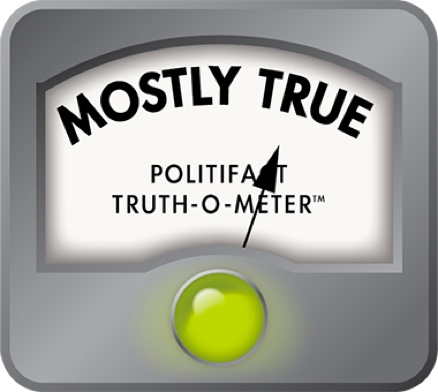 Rick Scott says some Floridians pay $1,500 for PIP premiums
Gov. Rick Scott says abuse of Florida's auto insurance law is forcing drivers to pay more for their car insurance.
He's made reforming the law, also known as personal injury protection, or PIP, his second-highest priority this legislative session. He appealed to people's purse strings in a recent interview with WTSP Tampa Bay.
"It impacts the poorest families in our community the most. In some communities, for $10,000 worth of coverage it's $1,500 a year," Scott said. "It's just money out of families' pockets that they could put into education, food, shelter."
If Scott's right, that's a steep annual fee for not much protection. We wanted to know if it's true, and for whom.
A primer on PIP before we get rolling: The requirement is meant to guarantee treatment from injuries sustained during auto accidents, regardless of who is at fault. Over recent years, officials say, the system has been abused by people staging car accidents to collect money for treatment they do not need.
We previously checked a claim from Chief Financial Officer Jeff Atwater that Florida is the No. 1 state in the country for staged car accidents. We rated that Mostly True.
For this fact-check, we asked an array of people interested in the PIP fight if Scott's figures are right. State officials and insurance industry representatives pointed us to a report from Florida's PIP Working Group, coordinated by the state's insurance consumer advocate at the request of her boss, Atwater.
The 65-page report bills the information in its PIP review as the "most reliable and current insurance and claims data available." It offers average PIP premiums from two insurance companies for different kinds of motorists with mostly clean driving histories. It focuses on three cities with high allegations of PIP fraud: Tampa, Orlando, Hialeah.
The working group only examined premiums from State Farm, which insures one in five vehicles in Florida, and Direct General, a "non-standard" company that typically takes on high-risk motorists.
The other major state insurers -- Geico, Allstate and Progressive -- are not included.
The report shows instances of high PIP premiums that match Scott's estimate. For instance, a young Hialeah professional with State Farm and one minor violation and one not-at-fault accident paid $1,765 for PIP coverage in 2011. In Tampa, the premium for the same person was $1,077. According to the same report, an average family with teen drivers and two vehicles purchasing Direct General insurance would pay $1,571.
The cost is even higher in some cases, escalating more than $800 over three years. In Hialeah, the average family with teen drivers and two vehicles and no accidents or violations on State Farm paid $2,450 in 2008 and $3,270 in 2011.
We asked the state how many drivers might be included in each of these categories -- since the report targets specific insurance companies, specific cities and specific types of drivers --  but we did not receive an answer by our deadline.
So while we do not know the sample size of the data, we do know that $10,000 worth of PIP coverage in Florida can cost $1,500 or more each year.
But Scott made a broader claim in his WTSP interview  -- that the cost of coverage is dependent on your community, not necessarily your personal situation, your insurance carrier or how large your deductible is.
The information to substantiate that claim is much more difficult to pinpoint -- largely because insurance coverage is tailored to individual situations.
We found a wealth of information on PIP premiums across the state from the Florida Office of Insurance Regulation. We received several spreadsheets from the office detailing average PIP premiums in 2010 from Florida's top five insurers.
The numbers are required of insurance companies when they file for rate requests, which has been pretty often lately. They're broken down for different types of drivers by coverage areas.
Our takeaway: There are plenty of good drivers who don't pay nearly $1,500 a year.
Through Geico, a Hialeah retiree with a clean driving history would pay $450 a year for $10,000 in coverage.
A married, middle-aged couple who share two vehicles with their adult children and have a clean driving record would pay $406 a year in Central Orlando through Geico, anywhere from $327 to $860 a year in Hialeah and $253 a year in St. Petersburg.
In rural cities and counties, the family would pay even less: Ocala, $179; Central Jacksonville, $193; Northeast Florida counties, $153; Panhandle counties, $128.
With so much variance between drivers, driving histories, plans and location, pulling an average statewide PIP premium from this data wouldn't be wise-- even if it was easily available.
We requested a median premium but did not hear back from the Office of Insurance Regulation by our deadline.
But consider this: In 2011, Insure.com determined Florida's overall auto insurance premium costs were $1,476, below the national average ($1,561). Another measure used by the Insurance Information Institute found Florida's average car insurance expenditure to be $1,006 (based on 2009 statistics). PIP is just one part of your car insurance bill.
Our ruling
Scott said, "In some communities, for $10,000 worth of coverage it's $1,500 a year."
A state report shows that in some instances, drivers pay $1,500 a year -- or even more -- for $10,000 worth of coverage. The report also makes clear that the instances of high premiums are in places where fraud allegations are highest. 
Still, those high premiums also depend on individual circumstances. People in Hialeah could pay $1,500 or more for coverage. But people also could pay less. What you pay depends on how many cars you own and what kind of driver you are. It doesn't depend solely on which community you live in.
With that clarification in mind, we rate Scott's statement Mostly True. 
"Scott calls for changes to auto insurance law," WTSP, Feb. 25, 2012
Email interviews with Jack McDermott, Office of Insurance Regulation spokesman, Feb. 27-9, 2012
"Survey: Florida auto insurance premiums lower than national average," South Florida Sun Sentinel, March 24, 2011
"Florida auto insurance rates climbing steadily," Tampa Bay Times, July 31, 2011
"Car insurance rates by state: The most and least expensive places to buy auto insurance in 2011," Insure.com, March 14, 2011
"Report on Florida Motor Vehicle No-Fault Insurance," Florida Office of the Consumer Advocate, Dec. 14, 2011
Email interview with Jeremy Wilkinson, National Association of Insurance Commissioners spokesman, Feb. 28, 2012
Email interview with Sam Miller, Florida Insurance Council executive vice president, Feb. 28, 2012
Cabinet PIP presentation, Florida Office of Insurance Regulation, August 2011 + update
HB 119 bill analysis, Feb. 27, 2012
SB 1860 bill analysis, Feb. 24, 2012
"Atwater: PIP fraud is taking drivers 'to the cleaners,'" Orlando Sentinel, Nov. 1, 2011
Auto Insurance Database Report (2008-2009), National Association of Insurance Commissioners, accessed Feb. 27, 2012
Email interview with Lynne McChristian, Florida representative of Insurance Information Institute, Feb. 29, 2012
Email interviews with Kim Driggers, Tallahassee lawyer, Florida Justice Association Auto Insurance Subcommittee member and assistant general counsel to Florida Chiropractic Association, Feb. 29, 2012
Interview with Robin Smith Westcott, Florida insurance consumer advocate, Feb. 29, 2012
"Car insurance rates by state: The most and least expensive places to buy auto insurance in 2011," Insure.com, March 2011
Browse the Truth-O-Meter
More by Katie Sanders
Support independent fact-checking.
Become a member!
In a world of wild talk and fake news, help us stand up for the facts.