Stand up for the facts!
Misinformation isn't going away just because it's a new year. Support trusted, factual information with a tax deductible contribution to PolitiFact.
I would like to contribute
Says Romney flip-flopped on abortion.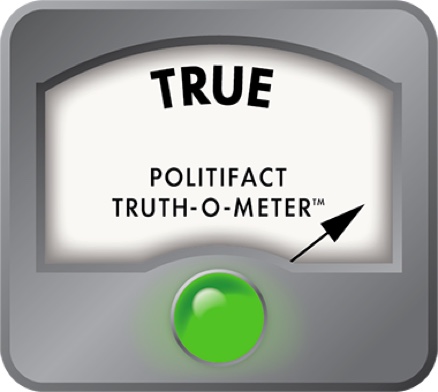 PAC ad sketches Romney as abortion flip-flopper
Fresh off a resounding primary win in Illinois, the Romney campaign used the momentum to make the case that the Republican primary contest was all but wrapped up and the former Massachusetts governor would inevitably be the nominee.

Then the Etch A Sketch remark happened.

On March 21, 2012, Mitt Romney's senior communications director, Eric Fehrnstrom, gave an interview on CNN about the strategy for the general election. Fehrnstrom was asked why Romney's opponents, Rick Santorum and Newt Gingrich, haven't endorsed him yet and how their far-right pressure on Romney will resonate with independent voters.

"It's fair to say that John McCain was considerably a more moderate candidate than the ones that Gov. Romney faces now," said political comedian John Fugelsang. "Is there a concern that the pressure from Santorum and Gingrich might force the governor to tack so far to right it would hurt him with moderate voters in the general election?"

Fehrnstrom answered, "Well, I think you hit a reset button for the fall campaign. Everything changes. It's almost like an Etch A Sketch. You can kind of shake it up and we start all over again."

As expected, Romney's opponents pounced. Gingrich and Santorum both held up the perennial children's toy as props at campaign appearances. Democrats cranked out ads capitalizing on the line, which provided an almost too-easy inroad to raising questions -- again -- about Romney's firmness on issues.

Here we'll check one such ad, put out by the Democratic super PAC American Bridge 21st Century, which suggests that Romney has flip-flopped on abortion.

First, the toy

In case you skipped childhood, we'll tell you a bit about the Etch A Sketch.

First manufactured in the 1950s, the Etch A Sketch is a flat tablet with a red frame, gray face and two white knobs for drawing -- like an iPad from the paleolithic period. The two knobs draw vertical and horizontal lines on the screen as they're turned, and those with superior hand-eye coordination are said to be able to make curving lines. For most Etch A Sketchers, though, a side view of a staircase qualifies as a masterpiece.

The feature Fehrnstrom analogized was its reusability. When you're done drawing, you flip it over and shake it up. Little beads rattle around inside to clear the screen, and Voila! You once again have a blank canvas.

Now, the ad

The ad was produced by American Bridge 21st Century, a Democratic super PAC. In the ad, released the same day as Fehrnstrom's comment, a clip of his interview plays, including the Etch A Sketch comment. Then the toy appears, with the words "Romney on the issues" above it. Music that sounds like it's coming from a jack-in-the-box plays in the background.

The first quote attributed to Romney appears on the Etch A Sketch screen: "I support a woman's right to choose."

Then the Etch A Sketch shakes, the words vanish and the next quote appears.

"I believe strongly in protecting life."

The ad goes on to portray Romney's apparent flip flops on the NRA and his loyalty to Ronald Reagan. (PolitiFact has looked into similar accusations before. See our checks here on the NRA and here on Reagan.)

For this fact-check, we'll see if the two abortion quotes are accurate.

We found a Boston Globe story from May, 1994, when Romney was in a primary battle for U.S. Senate. At the time, he said he supported abortion rights and the right to privacy established by Roe v. Wade. But even then, opponents accused him of being a pro-choice pretender.

Following a debate with opponent John Lakian, Romney defended an endorsement he had received from Massachusetts' state treasurer Joe Malone, an abortion opponent. Lakian had said Malone backed him "to reward the pro-life contingent that was very much in Mitt's camp at the convention," according to the Globe.

Romney responded: "The idea that somehow Joe Malone endorsed me because he's pro-life despite the fact that I support a woman's right to choose doesn't follow very well."

That's the only quote from Romney we found that matches American Bridge's ad verbatim. Numerous other statements he's made, however, express the same sentiment.

For one, in a debate later in the 1994 race against Democratic Sen. Edward Kennedy, Romney said, "I believe that abortion should be safe and legal in this country." And, "I believe that since Roe v. Wade has been the law for 20 years, it should be sustained and supported. And I sustain and support that law and support the right of a woman to make that choice."
       
For another, in his 2002 campaign for governor, Romney said during a debate, "I will preserve and protect a woman's right to choose and am devoted and dedicated to honoring my word in that regard."

The second Romney quote in American Bridge's ad reflects his changed stance on the issue. "I believe strongly in protecting life," the ad says.

We could find no instance of Romney saying those exact words. American Bridge's spokesman Chris Harris told us the quotes "were paraphrased so they fit on a small Etch A Sketch screen. We ensured they were airtight, accurate portrayals of his positions, both past and present."

It's well-documented that Romney's past and present positions on abortion differ from each other. In a June 18, 2011, op-ed in the conservative National Review Romney laid out his views:

"I am pro-life and believe that abortion should be limited to only instances of rape, incest, or to save the life of the mother. I support the reversal of Roe v. Wade, because it is bad law and bad medicine. Roe was a misguided ruling that was a result of a small group of activist federal judges legislating from the bench. I support the Hyde Amendment, which broadly bars the use of federal funds for abortions. And as president, I will support efforts to prohibit federal funding for any organization like Planned Parenthood, which primarily performs abortions or offers abortion-related services."

"I believe people understand that I'm firmly pro-life," he said in a debate that same month.

In October 2011 he told former Arkansas Gov. Mike Huckabee on Fox News, "I'd make sure that the progress that has been made to provide for life and to protect human life is not progress that would be reversed."

Finally, we have examined Romney's shifting position on abortion when others have made the accusation. In each case, we rated the charge True. (Please see our source list.)

Our ruling

American Bridge's ad suggests that Romney has been both an abortion rights supporter and an opponent. Using statements on an Etch A Sketch screen, the ad first portrays Romney as supporting abortion rights, then as opposing them. In other words, a flip flop.

The quotes in the ad accurately portray Romney's past and present stances, but the punctuation suggests they are his actual words. The second statement was not a literal quote, and that's worth noting, but it was a true reflection of Romney's position. According to our Truth-O-Meter, this ad passes muster. It's accurate and doesn't leave out anything important. We rate it True.
Etch A Sketch website, accessed March 22, 2012

American Bridge ad, "Romney: the Etch A Sketch candidate," March 21, 2012

American Bridge 21st Century website, accessed March 22, 2012

Email interview with Chris Harris, American Bridge 21st Century spokesman, March 22, 2012

The Boston Globe, "2 Senate GOP hopefuls clash over abortion funding," May 27, 1994, accessed via Nexis

Mitt Romney, "My Pro-Life Pledge," National Review, June 18, 2011

PolitiFact, "Rick Santorum ad quotes Mitt Romney distancing himself from NRA," Feb. 29, 2012

PolitiFact, "DNC calls out Romney's evolving affection for Reagan," Nov. 29, 2011

PolitiFact, "DNC ad says Mitt Romney flip-flopped on abortion," Nov. 28, 2011

PolitiFact, "Rick Perry says Mitt Romney flip-flopped on abortion rights," Nov. 5, 2011

PolitiFact, "Jon Huntsman accuses Mitt Romney of flip-flopping on abortion," Nov. 2, 2011

YouTube, "Mitt Romney on 'Huckabee,'" Oct. 1, 2011
Browse the Truth-O-Meter
More by Molly Moorhead
Support independent fact-checking.
Become a member!
In a world of wild talk and fake news, help us stand up for the facts.