Stand up for the facts!
Our only agenda is to publish the truth so you can be an informed participant in democracy.
We need your help.
I would like to contribute
Says he and President Barack Obama have the same position on gay marriage.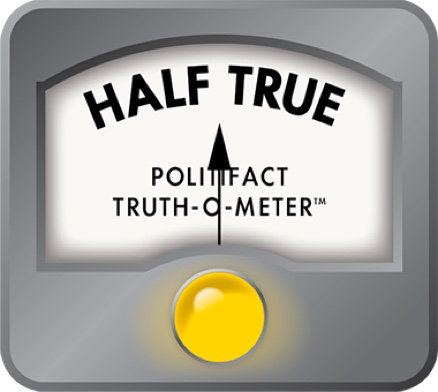 Gov. Chris Christie says he and Obama have same views on gay marriage
When it comes to marriage equality, Gov. Chris Christie's position is clear: he supports civil unions and ensuring that same-sex couples have the same legal protections as married couples.

In this regard, Christie said during a Feb. 23 appearance on MSNBC's "Morning Joe" program that he and President Barack Obama are like-minded.

Christie, a Republican, and Obama, a Democrat, agreeing on an issue that has divided people across the nation?

Not exactly, PolitiFact New Jersey found. The governor and the president agree on some issues related to same-sex marriage – but not all.

Let's review what both leaders have said about gay marriage.

Christie opposes same-sex marriage and on Feb. 17 conditionally vetoed a Legislature bill legalizing it.

In 2008, prior to the presidential election, Obama said marriage is a union between one man and one woman. Since then, he has said is viewpoint is "evolving," according to numerous published reports.

In vetoing the Legislature's bill, Christie suggested a referendum this November on gay marriage. Obama has opposed referenda on same-sex marriage, most recently legislation in North Carolina that would define marriage as between one man and one woman.

So what do the governor and president have in common? Both have said they support strengthening states' civil union laws. But unlike Christie, Obama has not answered directly whether he supports same-sex marriage.

White House spokesman Brandon Lepow referred us to past remarks made by White House Press Secretary Jay Carney when we sought comment on Christie's statement.

"The President has long opposed … divisive and discriminatory efforts to deny rights and benefits to same-sex couples,"  Carney said in January.

Christie has the same view, according to an e-mail from his spokesman Michael Drewniak.

"The Governor has proposed a strengthening of civil unions to ensure that those rights are appropriately enforced and administered under the law.  The Governor has never spoken to the legislature's qualifications to decide the issue one way or the other; he said what he would do with legislation if it was passed and did so (conditional veto), because it was against his beliefs.  He said an issue of such magnitude and importance deserved to be put in the hands of the people, as a pathway for those who support same sex marriage to achieve it – if it was supported by a majority of voters. None of this is news, it's been said multiple times by the Governor."

But given their differing view on same-sex marriage referenda, Christie might have taken too far his claim of a similar view as Obama when program host Joe Scarborough asked, "Is there any space on your position on gay marriage and President Barack Obama's?"
"Not that I'm aware of," Christie responded.
Others disagree with the governor.

"President Obama has taken a strong position opposing state efforts to put the rights of minorities up for a popular vote -- including most recently in North Carolina -- and the President is committed to eliminating all forms of discrimination against LGBT Americans under federal law, like the so-called 'Defense of Marriage' Act," University of Pennsylvania law professor Tobias Barrington Wolff said in an e-mail. Wolff also was an adviser to Obama's 2008 campaign on issues affecting the gay community.

Ned Flaherty, a Boston-based project manager for Marriage Equality USA, criticized Christie for going against the Legislature's vote, vetoing the bill and suggesting a referendum be held.

"He's turning to people in the business of having a pulse on the public and saying, 'I don't believe you,'" Flaherty said.

Our ruling

During a recent television interview Christie said he and Obama shared the same views on gay marriage. That's true to a point – both leaders say they support civil unions and oppose discriminating against same-sex couples. But that's where the similarities end. Christie supports a public vote in New Jersey on allowing same-sex marriage; Obama opposes such referenda. Christie opposes same-sex marriage. The president won't answer the question directly. We rate the statement Half True.
To comment on this story, go to NJ.com.
https://www.sharethefacts.co/share/8fb0ffa6-86be-415b-aa5c-598de491bc9b
HuffingtonPost.com video, "Washington Post's Jonathan Capeheart Grill Chris Christie On Gay Marriage," Feb. 23, 2012, accessed March 16, 2012

HuffingtonPost.com, "Barack Obama Still 'Evolving' On Same-Sex Marriage: White House," Feb. 7, 2012, accessed March 16, 2012

WRAL.com, "Obama opposes NC marriage amendment proposal," March 16, 2012

On Top Magazine, "Obama, Democratic Party Not Ready To Endorse Gay Marriage," March 16, 2012

OnTheIssues.org, "Barack Obama on Civil Rights" Gay Rights subsection, accessed March 16, 2012

Advocate.com, "Chris Christie Defines 'Gay Rights,' Implies He Supports Them," March 2, 2012, accessed March 16, 2012

Phone interview with Steven Goldstein, chairman and CEO, Garden State Equality, March 20, 2012

Phone and e-mail interviews with Brandon Lepow, White House spokesman, March and 21, 2012

E-mail interview with Tobias Barrington Wolff, University of Pennsylvania law professor, March 21, 2012

Phone and e-mail interviews with Ned Flaherty, project manager, Marriage Equality USA, March 21, 2012

E-mail interview with Michael Drewniak, spokesman for Gov. Chris Christie, March 22, 2012

NJ.com, "Gov. Christie vetoes N.J. gay marriage bill," Feb. 17, 2012, accessed March 22, 2012

MSNBC.com, "The Last Word," March 14, 2012, accessed March 22, 2012
Browse the Truth-O-Meter
More by Caryn Shinske
Support independent fact-checking.
Become a member!
In a world of wild talk and fake news, help us stand up for the facts.