Get PolitiFact in your inbox.
"This governor has given us continual balanced budgets without raising taxes."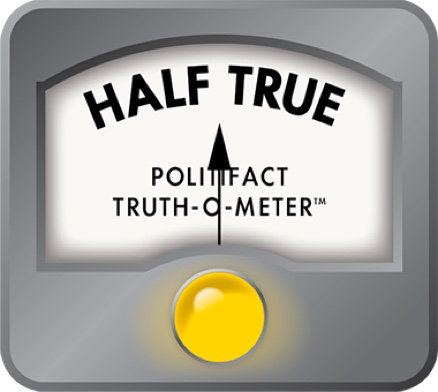 Assemblyman David Rible says Gov. Chris Christie hasn't raised taxes
Some gubernatorial sound bites never die – they just become fodder for other politicians, it seems, even if the facts behind them are a bit questionable.
Take, for example, a comment that Assembly Conference Leader David Rible (R-Monmouth) said during a Nov. 30 panel discussion on NJTV's 'On The Record with Michael Aron' program. Rible appeared with Assemblyman Herb Conaway Jr. (D-Burlington/Camden) and Sens. Bob Smith (D-Middlesex) and Bob Singer (R-Ocean) to discuss Gov. Chris Christie's attempt to unseat Sen. Tm Kean Jr. (R-Union) as minority leader, as well as other political topics.
"This governor has given us continual balanced budgets without raising taxes," Rible told Aron in response to the host's question about the likelihood of Christie's success in having the Legislature approve a tax cut. Christie first floated the idea two years ago, but Democrats, who control the Legislature, have nixed the idea because they said the state can't afford it.
Rible's claim is neither new nor original. Christie himself has said it on multiple occasions. And like Christie, Rible's left out a few important details that we'll explain again.
It is true that Christie has produced continual balanced budgets since taking office in January 2010. But that's nothing special. State law requires every governor to do it, so it's hardly a singular, significant achievement.
And the claim about not raising taxes is questionable.
While the rates for corporation, income and sales taxes – the three biggest sources of revenue in New Jersey -- have not increased under Christie, his slashing of funding for tax credit programs has had the same effect as tax increases, experts have said.
The state's Treasury Department has disagreed with that assessment, particularly in the case of the Earned Income Tax Credit, which Christie cut during his first year in office.
New Jersey at one time sent checks to homeowners and certain low-income individuals with the goal for that money to be used toward tax bills. The checks – what Treasury Department spokesman Bill Quinn has said amounted to subsidies for very low-income people -- eventually became credits on their bills instead, and at lower amounts.
Christie also cut two tax credit programs, the Homestead Benefit Program among them, giving recipients less than what they received previously. In some cases, some taxpayers are receiving less than half of what was once an average $1,000 rebate.
State Treasury Department officials argued that these tax credit programs are payments from the state and so reductions in credits do not represent tax increases.
Of the 2010 EITC cut, Quinn has noted that more than 76 percent of EITC recipients that year owed no New Jersey tax.
But experts with The George Washington University, the University of Connecticut and the University of California Davis School of Law, have said funding cuts in tax credit programs are essentially tax increases because those recipients end up with less money to put toward their tax bills.
The Tax Foundation, a business-backed group, has said it'd be wrong to equate reductions in tax credits as tax increases or spending cuts.
"They have elements of both and are strictly neither," Joseph Henchman, the Tax Foundation's vice president of legal and state projects, has told us.
Rible could not be reached for comment.
Our ruling
Rible said during a panel discussion, "This governor has given us continual balanced budgets without raising taxes."
There's varying degrees of accuracy here. The governor has given New Jersey balanced budgets, but the law requires it. And while Christie hasn't hiked the rates for the three biggest revenue-generating taxes in the state, he has cut some programs that experts say are essentially the same as tax increases because people have less money as a result to offset tax bills.
For these reasons, we rate Rible's claim Half True.
To comment on this story, go to NJ.com.
NJTVonline.org, On The Record with Michael Aron, New Jersey's Political Landscape, Nov. 30, 2013, accessed Dec. 24, 2013
PolitiFactNJ.com, Chris Christie claims there have been no tax increases since he's been governor, June 30, 2013, accessed Dec. 26, 2013
PolitiFactNJ.com, Chris Christie implemented merit pay for teachers, best funding 'ever' for education, ad claims, May 12, 2013, accessed Dec. 26, 2013
PolitiFactNJ.com, Chris Christie says he hasn't raised taxes in New Jersey, Aug. 3, 2012, accessed Dec. 26, 2013
Browse the Truth-O-Meter
More by Caryn Shinske
Support independent fact-checking.
Become a member!
In a world of wild talk and fake news, help us stand up for the facts.