Get PolitiFact in your inbox.
On signing a no-tax pledge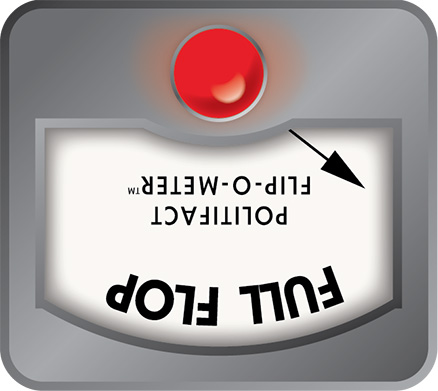 Mitt Romney rejected state tax pledge before signing national one
These days, it's hard for candidates to claim they truly oppose taxes if they haven't put it in writing.

As a presidential candidate in 2012, Mitt Romney signed a pledge to forswear tax increases. In fact, in his official tax proposal, Romney has advocated across-the-board tax cuts.

But has he been consistent over the years about putting his commitment not to raise taxes in the form of a pledge?

The question about Romney and the tax pledge was raised in late 2007, when the Democratic National Committee released a 30-second ad and a four-minute video charging, among other things, that Romney had changed his position on signing a no-tax pledge. We checked the ad shortly after it came out.

In this report, we'll put that question to the Flip-O-Meter.

We'll start by noting that the Flip-O-Meter rates politicians' consistency on particular topics from No Flip to Full Flop. The meter is not intended to pass judgment on their decisions to change their minds. It's simply gauging whether they did.

Romney and the 2002 gubernatorial campaign

During his 2002 campaign for governor of Massachusetts, Romney said he would not sign a pledge circulated by Citizens for Limited Taxation, a Massachusetts-based anti-tax group.

Here's how the Boston Globe covered the news:

"In a break with Acting Governor Jane Swift and her GOP predecessors, Republican gubernatorial candidate Mitt Romney is refusing to rule out tax increases and said yesterday he will not sign a 'no new taxes' pledge," the newspaper wrote. "Romney said that while he opposes all tax increases in principle, he will not make such a pledge in writing."

The article went on to quote Romney saying, "I am not in favor of increasing taxes. … At this stage, I am inclined to make that position as clear as I can but not to enter into a written pledge of some kind, and that's true on this and other issues."

The Globe cited another comment by Romney that had been reported by the Union-News of Springfield, Mass. "I'm against tax increases," Romney told attendees of Western Massachusetts GOP meeting, according to the Union-News. "But I'm not intending to, at this stage, sign a document which would prevent me from being able to look specifically at the revenue needs of the Commonwealth."

Barbara Anderson, an official with Citizens for Limited Taxation, was unhappy with Romney's refusal to sign, which came after he'd met with her for half an hour. "He's thinking like an independent businessman who doesn't sign pledges," she suggested to the Globe.

Meanwhile, the Boston Herald quoted Eric Fehrnstrom, then Romney's deputy campaign manager, saying, "Mitt Romney doesn't have to sign a piece of paper to have a position on an issue. He's pledged to oppose any tax increase, he doesn't support them, his position on taxes is clear."

In an interview with the Globe, Fehrnstrom was even more dismissive, calling the pledge "government by gimmickry," the newspaper reported.

Put it all together and you have a candidate who didn't just decide against signing a pledge but who cast doubt on the propriety of such pledges in general.

Romney's decision on a pledge in late 2006

On Dec. 31, 2006, Romney became the first major candidate in the 2008 presidential election to sign a prominent taxpayer protection pledge offered by Americans for Tax Reform, an influential anti-tax group headed by Grover Norquist.

"In signing the pledge, Gov. Romney firmly commits himself in writing to fiscal discipline and economic common sense," Norquist said in a news release. "Mitt Romney has told taxpayers in no uncertain terms that he plans to look out for their interests."

Romney hardly signed the Norquist pledge covertly. On Jan. 4, 2007, he issued a press release touting his action, and on Oct. 5, 2007, he released a radio ad spotlighting it.

"For years, conservative candidates for president signed their name on the dotted line pledging to oppose tax increases," Romney said in the ad. "I'm Mitt Romney. I'm proud to be the only major candidate for president to sign the tax pledge. The others have not. I signed the tax pledge because I want everyone to know where I stand. We've got to get taxes down and grow our economy."

In this case, then, Romney not only signed a written pledge but actively broadcast it to the electorate.

It's worth noting that the two pledges are not exactly the same. One addressed the state context and one the federal context.

The Massachusetts text was a "pledge to ... all the people of this state, that I will oppose and vote against any and all efforts to increase taxes."

The Norquist pledge, to which Romney is still a signatory, requires the signer to "oppose any and all efforts to increase the marginal income tax rates for individuals and/or businesses … and oppose any net reduction or elimination of deductions and credits, unless matched dollar for dollar by further reducing tax rates."

Still, despite the differences in wording, we think the pledges are equivalent in their underlying requirements.

Our ruling

In 2002, Romney refused to make "a pledge in writing" on taxes. Four years later, he signed one and touted it as a selling point for his candidacy. In our book, that's a Full Flop.
Democratic National Committee, "Mitt v. Mitt" (four-minute version), Nov. 28, 2011

Boston Globe, "Romney Won't Sign a Pledge of No New Tax," March 28, 2002 (accessed via Lexis-Nexis)

Boston Herald, "Romney refuses to sign CLT's 'no new tax' pledge," March 28, 2002 (accessed via Lexis-Nexis)

Associated Press, "Romney refuses to take 'no new taxes' pledge," March 27, 2002 (accessed via Lexis-Nexis)

Mitt Romney for President, "Romney For President Launches New Radio Ad, 'Tax Pledge'" (press release), Oct. 5, 2007 (archived by the University of California, Santa Barbara)

Mitt Romney for President, "Governor Mitt Romney Signs 'Taxpayer Protection Pledge'" (press release), Jan. 4, 2007 (archived by the University of California, Santa Barbara)

Americans for Tax Reform, "Mitt Romney Signs Taxpayer Protection Pledge" (press release), undated

PolitiFact, "DNC ad says Mitt Romney flip-flopped on taxpayer pledge," Nov. 29, 2011
Browse the Truth-O-Meter
More by Louis Jacobson
Support independent fact-checking.
Become a member!
In a world of wild talk and fake news, help us stand up for the facts.