Stand up for the facts!
Our only agenda is to publish the truth so you can be an informed participant in democracy.
We need your help.
I would like to contribute
Says Mark Hass "raised your taxes by $1 billion in a single day."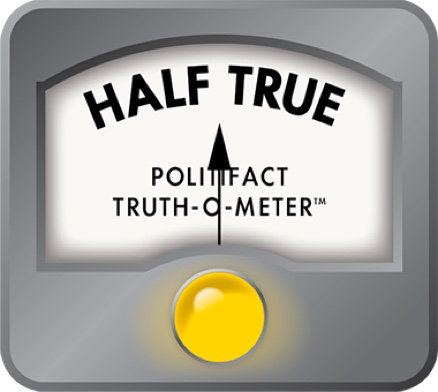 Did Sen. Mark Hass raise taxes by $1 billion in a single day?
Sometimes elections can start to feel a little like a song on repeat: Same candidates, same issues, same talking points -- over and over again.

That's the case with a legislative attack we first saw in 2010 that claimed Senate Majority Leader Richard Devlin, D-Tualatin, had raised "your taxes by $1 billion in a single day." Back then, we called the claim Half True.

Well, the attack is back this year -- only this time we found the mailer from the Taxpayer Association of Oregon targeting Mark Hass, a Beaverton Democrat. (The Senate Democrats' campaign arm says it's also being used against Sen. Laurie Monnes Anderson of Gresham and Rep. Arnie Roblan, the Democratic co-speaker from Coos Bay.)

A quick look at our previous PolitiFact reveals the ad has not changed much over the past couple years. Much as it had originally, the mailer breaks the tax increase down to the second, noting that raising taxes by $1 billion in a single day comes down to more than $41 million an hour, or nearly $700,000 a minute, or $11,574 each second. And the question asked on the other side of the mailer is, "Can we afford four more years of" whichever candidate is being targeted.

The mailer also cites the same three taxes, House Bill 2649, 3405 and 2116, but adds a new one for this election -- HB 2001. Here's what PolitiFact found last time regarding the first three bills:

"House Bill 2649 created two new tax brackets, including a 10.8 percent bracket for joint filers with income above $250,000 and for single filers with income above $125,000. For tax years after 2011, the rate is scheduled to drop to 9.9 percent. The bill also phased out some federal tax deductions. The Legislative Revenue Office estimated it would raise taxes for 2.5 percent of full-year individual filers (38,000) and 6.1 percent of returns (25,600) that report business income or loss. The proposal was projected to raise $472 million in 2009-11; it became Measure 66 in the January 2010 special election.

"House Bill 3405 raised the corporate minimum tax from $10 -- first set in 1931 and untouched until 2009 -- to a sliding scale of $150 to $100,000 depending on sales in Oregon. The $10 minimum for S-corporations went from $10 to $150. The bill also created a second tax rate of 7.9 percent and implemented filing fees. The Legislative Revenue Office estimated this would affect more than 75 percent of C-corporations and nearly all 62,000 S-corporations. The proposal was projected to raise $261 million in 2009-11; it became Measure 67 in the January 2010 special election.   

House Bill 2116 we explained this way: "This proposal did two things. One, it levied a 1 percent tax on insurers, projected to raise more than $115 million in 2009-11 to insure 80,000 children. Two, it replaced an expiring tax paid by hospitals, and was projected to raise $300 million for low-income adults without health care. Hospitals, the entities paying the tax, actually backed the legislation because it would allow them to recoup more money from Medicaid. Two Republicans joined all 18 Democrats in the Senate to approve this bill."

Together, those bills get us over the $1 billion mark.

This year, the mailer also includes HB 2001 for good measure. This bill increased the gas tax to 30 cents from 24 cents. The increase kicked in back in January 2011 and raised about $300 million in new revenue.

Altogether, the measures definitely boosted the state's bottom line by more than $1 billion. But, as we noted two years ago, there are some significant caveats here.

First, it's not necessarily accurate to hang all of these taxes exclusively on the heads of these candidates. With House Bill 2649 and 3405 in particular, the lawmakers had the help of voters. Anti-tax activists referred those two measures to the ballot, but a majority of Oregonians voted to keep the new taxes and so they remain. It's also worth noting that the gas tax increase, while not referred to voters, passed on a bipartisan vote in both chambers.

Second, aside from the gas tax, these are not taxes that would hit the pocketbooks of the average Joe -- at least not directly. PolitiFact Oregon accepts that such taxes could affect employees and consumer prices as well as health care costs, but the ad makes the taxes seem much more direct.

Third, while we understand the place of hyperbole in campaigns, the per-second breakdown makes it sound as though these candidates are raising taxes "at an unbelievable clip," as we noted two years ago.

Finally, we can't help but point out that these taxes weren't, in fact, passed on the same day -- the gas tax came earlier, and at least one version of the mailer lumps it in with the others.

We called Jason Williams of the Taxpayer Association of Oregon to see what he thought about our initial ruling -- and the context we'd pointed out. His opinion hasn't changed much since we had this conversation two years ago. The taxes will hit people, whether at the pump, in their insurance plans or at their place of employment. "Every time somebody taxes someone it is a negative impact on somebody's life," he said. "It limits their spending power, it limits their freedom."

Voters wouldn't have been asked to approve any taxes if the Legislature hadn't passed them in the first place, he said. Williams also noted that Hass, in particular, has voted to raise taxes by nearly a billion dollars twice before -- and voters ultimately rejected those increases. He agreed context is important, but noted that the bill numbers and years of passage were included in the mailer.

The last time we looked at this claim, we gave it a Half True. We noted then, as we do now, that while lawmakers did vote for $1 billion in new taxes in a single day, there were some important details missing -- the timing of the taxes, who had approved them and who was being taxed.

The mailer's statements deserve some additional clarity, but we don't think they ignore critical facts.

We rate this claim Half True.
Oregon Department of Revenue,Measures 66 and 67

The Oregonian, "Oregon moves to expand aid to uninsured," May 29, 2009

Statesman Journal, "Oregon Senate approves tax increases that add up to $1 billion," June 12, 2009

Statesman Journal, "Bill expands health insurance coverage," June 12, 2009

The Oregonian, "Businesses taxed more, people still taxed most," June 14, 2009

Oregon Center for Public Policy, "OCPP Charts Simple Explanations of Measures 66 and 67," Nov. 3, 2009

Legislative Revenue Office, "Research Brief Measures 66 and 67: Frequently Asked Questions," November 2009

Interview with Tom Powers, Oregon Senate Democrats, Oct. 30, 2012

Interview with Jason Williams, Oct. 31, 2012

PolitiFact Oregon, "Anti-tax group claims Richard Devlin raised taxes by $1 billion in one day," Oct. 29, 2010

The Oregonian, "Get ready, Oregonians, for a higher gas tax," Dec. 11, 2010
Browse the Truth-O-Meter
More by Ian K. Kullgren
Support independent fact-checking.
Become a member!
In a world of wild talk and fake news, help us stand up for the facts.