Stand up for the facts!
Misinformation isn't going away just because it's a new year. Support trusted, factual information with a tax deductible contribution to PolitiFact.
I would like to contribute
Says Texas lawmakers last year expanded public education's share of state spending.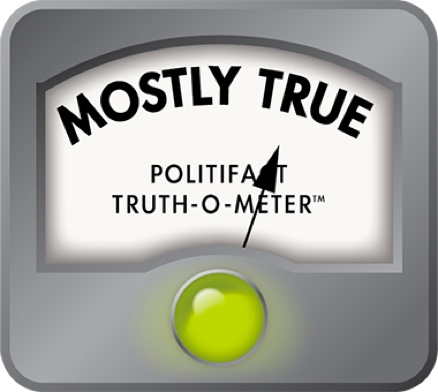 Joe Straus says lawmakers increased the share of state spending on public education
Asked if public school advocates should prepare for lawmakers to wield knives afresh next year, the speaker of the Texas House challenged the premise.

Joe Straus, featured at a Texas Tribune Festival breakfast, said: "We worked really hard to ensure that public education, higher education, is the largest piece of the budget pie. We did that in this last session too. The pie got smaller, but the piece for public education actually got larger." His comment was noted for us by Joshua Fechter, a University of Texas journalism student.

We've previously checked Straus, a San Antonio Republican, summarizing legislative decision-making by the Republican-steered 2011 Legislature. In May 2011, he said a House-Senate deal on the state budget "funds nursing homes, our public schools and universities, and provides financial aid for college students while keeping substantial revenue in reserves and avoiding any new taxes."

Unsaid: Public schools were poised to field $4 billion less in 2012-13 than they would have gotten under established funding formulas. Higher education, except for community colleges, was likewise due to sustain funding cuts and nursing homes were about to be left with lower rates than they had after the 2009 legislative session.

Such reductions were put into play as lawmakers wrapped up a total 2012-13 budget, counting state plus federal funds, of $173.5 billion, down $14 billion from the 2010-11 total, according to the advisory Legislative Budget Board's January 2012 "Fiscal Size-up" report. The latest budget reduces state general-revenue spending to $81.3 billion, a nearly 1 percent drop from 2010-11, the report says.

So, Straus was correct the agreed-upon budget "funded" the cited items, but his statement failed to acknowledge the funding levels were mostly ratcheting down. We rated his statement as Half True.

Other leaders subsequently distorted legislative actions affecting public schools.

State Rep. Myra Crownover, for instance, said lawmakers increased state education spending by $1.6 billion.
That was about right solely per the state's Foundation School Program, which is supposed to ensure each school district has adequate resources. But her claim did not account for more than $5 billion in school funding reductions, leading us to rate her statement as Pants on Fire.
Specifically, lawmakers did not fund the costs of projected enrollment increases and cut by $2 billion a year what schools were accustomed to drawing down via longstanding finance formulas. Members also postponed to the next two-year budget period a regular distribution of state education aid, lately estimated to total $1.9 billion. Finally, schools were hit by a $1.3 billion reduction in funding for targeted programs including teacher incentive pay, dropout prevention funding and grants for pre-Kindergarten Early Start.
   
A similar claim by State Comptroller Susan Combs also caught fire on the Truth-O-Meter. Combs, who oversees state finances, incorrectly told a Brazos County group that lawmakers had not cut school aid.

Conversely, we rated as True a March 2012 statement by state Rep. Donna Howard, D-Austin, that the legislative decisions mean the state's public schools are spending, on average, $500 less per student than before.

Back to Straus's recent statement: Could it be that despite the much-noted reductions, the 2011 Legislature devoted a bigger piece of state spending to public education than before?

Straus spokesman Jason Embry, drawing from the "Fiscal Size-up," told us by email that state money flowing to schools through the Texas Education Agency in the two-year budget exceeds the comparable share of such funding in the 2010-11 budget. In the previous budget, Embry said, the agency accounted for $30.3 billion, or 37 percent, of $81.9 billion in all state spending. He said lawmakers budgeted $30.5 billion for the agency in 2012-13, accounting for 37.4 percent of all the general-revenue spending.

Curious, we also checked on whether public education comprised a greater share of all spending in the budget, meaning state general revenue plus federal aid.  It did. Some $47 billion in education agency funds comprised 27.3 percent of all spending, compared to 26.7 percent of the full 2010-11 budget.

Finally, we asked the Texas Association of School Boards, which represents school districts, for a longer look at the share of state spending devoted to public education over recent years. Spokesman Dominic Giarratani, drawing information from budget-board reports, said by email that since 2002-03, the public education share of state spending topped out at 40 percent in 2008-09. He said the period's low-water mark, set in 2004-05, was 36 percent -- or 1.4 percentage points below education's share of state general-revenue spending as described by Straus.

Our ruling

As Straus says, public education made up a greater share of state spending in the 2012-13 budget than in the 2010-11 budget. Bur this statement lacks vital clarifying information -- that school funding still took a substantial hit. We rate it Mostly True.
Email, response to PolitiFact Texas, Jason Embry, press secretary, House Speaker Joe Straus, Oct. 1, 2012

Legislative Budget Board, report, "Fiscal Size-up, 2012-13 Biennium," January 2012

Email, response to PolitiFact Texas, Dominic Giarratani, assistant director, Governmental Relations, Texas Association of School Boards, Oct. 3, 2012
Browse the Truth-O-Meter
More by W. Gardner Selby
Support independent fact-checking.
Become a member!
In a world of wild talk and fake news, help us stand up for the facts.