Stand up for the facts!
Our only agenda is to publish the truth so you can be an informed participant in democracy.
We need your help.
I would like to contribute
"By voting to approve [Question 1], we can . . . save 900 jobs" at Twin River.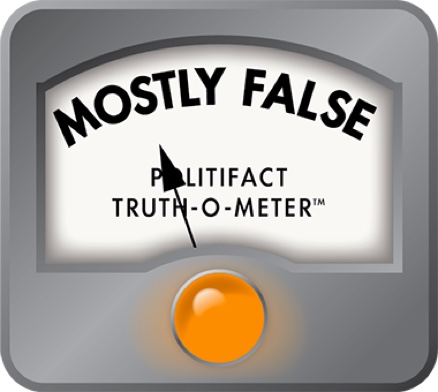 Twin River-linked organization says approval of table games referendum in Rhode Island will "save" 900 jobs at gambling complex
Once again, the state's two slot parlors are rolling the dice in hopes that Rhode Islanders -- along with residents of Lincoln and Newport, where the facilities are located -- will approve referenda permitting the table games that will make them full-fledged casinos.

While recent polls show support for the measure, it's anything but a sure bet, and the businesses are spending millions to win support for the measure.

One commercial in support of Question 1 is sponsored by Coalition to Bring Jobs to R.I., a 501(c)4 nonprofit "social welfare" organization created by officials at Twin River, in Lincoln, the larger of the two facilities.

It features an East Providence woman who talks about the problems of the Rhode Island economy and tells viewers: "By voting to approve, we can keep revenue right here, save 900 jobs and help create 650 new ones." The ad makes no mention of the Newport facility, Newport Grand.

We were interested in checking whether defeat of Question 1 would really result in the loss of 900 existing jobs at Twin River.

(A comparable proposal, Question 2, would allow table games at Newport Grand.)

Twin River and Newport Grand want to add table games to remain competitive with the three casinos and one "racino" expected to be created in Massachusetts in the next several years.

The fear is that, without the table games, customers will flock to the Bay State instead. The stakes are huge for the Rhode Island state budget: the two businesses accounted for $321 million of revenue in the budget year that ended June 30, 2012 -- about 10 percent of all revenue.

So will 900 jobs be lost if Question 1 is rejected?

Only if Twin River shuts down completely.

It turns out that 900 is roughly the number of workers that Twin River says it employs now.

If the referendum is rejected, Twin River will continue operating.

In the short term, the first Massachusetts casino is not expected to open its doors for a few years.

And even with the Bay State casinos up and running, Twin River can be profitable, said Clyde Barrow,  director of the Center for Policy Analysis at UMass Dartmouth and an expert on gambling in the region.

The assumption in the ad is that if voters don't authorize table games Twin River will close, Barrow said. "I don't think that's the case. It's true that once the slot parlor casinos are open in Massachusetts, they do stand to lose as much as 50 percent of their net terminal income," which was $463 million in 2011.

"Even if Twin River went to a $225-million-a-year operation, that's still a pretty substantial facility," said Barrow. "It's larger than some of the casinos in Atlantic City. So it will definitely have the capacity to still be profitable at a smaller level of operation."

"They would certainly have to lay some people off," said Barrow, "But it wouldn't be the full 900."

We also checked a report commissioned by Gov. Lincoln Chafee that included projections of employment at Twin River with and without table games under various scenarios.

In the worst-case scenario, where at least one Massachusetts casino is built near Rhode Island, Twin River would have 397 fewer jobs in 2017 than in 2011 if table games aren't permitted. With table games, the loss would be cut to 118 jobs.

But that's just the worst scenario.

The report says the likeliest outcome is that 319 jobs would be lost if table games were not allowed, and 201 jobs would be gained if Question 1 were to be passed.

Under any scenario, that's not close to 900 jobs.

When we contacted Twin River, spokeswoman Patti Doyle said that if there are no table games in Rhode Island, Twin River expects to lose 25 percent to 35 percent of its gambling revenue when Massachusetts casinos open. Twin River expects the competition to be on line by late 2016 or early 2017.

"A gaming revenue decline at Mohegan Sun and Atlantic City brought nearly a parallel reduction in work force," she said. "So, it's safe to assume that a loss of revenue of 25 percent would translate into a 25 percent loss of our workforce."

A 25 percent to 35 percent reduction would result in cuts of 225 to 315 jobs, not 900.

Nonetheless, Doyle says Twin River isn't suggesting that the gambling complex might have to close its doors.

"That's not what the ads are saying, nor are we saying that now," she wrote in an e-mail. "We can say with certainty with table game approval, none of the existing 900 jobs will be lost."

But that's not what the ad says, nor how most people will perceive it.

Our Ruling

The Coalition to Bring Jobs to R.I., an organization pushing for approval of a referendum question to permit table games at Twin River, says that passage would save 900 jobs in Rhode Island.

But the only way 900 jobs would be lost at Twin River would be if it closed, and nobody -- including Twin River -- is saying that's going to happen.

Even if Twin River had to scale back its operation by 25 percent to 35 percent, that's not close to the 900 positions that Jobs to R.I. says are at risk.

Because the company -- based on its own estimates -- is overplaying its hand, offering a statement that contains some element of truth but ignores critical facts that would give a different impression, we rate it Mostly False.

(Get updates from PolitiFact Rhode Island on Twitter: @politifactri. To comment or offer your ruling, visit us on our PolitiFact Rhode Island Facebook page.)
The Providence Journal, "Twin River goes all in on casino campaign," July 10, 2012

YouTube.com, "We Need Jobs - Vote 'Yes' on Question #1," Sept. 19, 2012, accessed Oct. 9, 2012

E-mails, Patti Doyle, spokeswoman, Twin River, Oct. 10, 2012

Interview, Clyde Barrow, director, Center for Policy Analysis, University of Massachusetts Dartmouth, Oct. 10, 2012

RIPEC.org, "Impact of the Expansion of Gaming on State Finances in Rhode Island," Rhode Island Public Expenditure Council, May 2012, accessed Oct. 10, 2012

UMassD.edu, "New England Casino Gaming Update, 2012," Center for Policy Analysis, University of Massachusetts Dartmouth, accessed Oct. 10, 2012

DOR.RI.gov, "Gaming Study and Economic Impact Analysis," developed by Christiansen Capital Advisors LLC for the Rhode Island Department of Revenue, Jan. 17, 2012, accessed Oct. 10, 2012

The Providence Journal, "In new poll, R.I. voters back casinos," Oct. 3, 2012
Browse the Truth-O-Meter
More by C. Eugene Emery Jr.
Support independent fact-checking.
Become a member!
In a world of wild talk and fake news, help us stand up for the facts.