Stand up for the facts!
Misinformation isn't going away just because it's a new year. Support trusted, factual information with a tax deductible contribution to PolitiFact.
I would like to contribute
Says Romney said "we should ask Pakistan for permission" to take a shot at Osama bin Laden.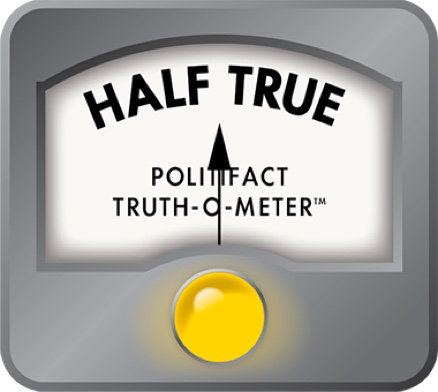 Obama claims Romney said "we should ask Pakistan for permission" to take out Osama bin Laden
In an attempt to portray Mitt Romney as "all over the map" on foreign policy, President Barack Obama said the candidate once argued that the United States "should ask Pakistan for permission" to strike Osama bin Laden.

"When it comes to going after Osama bin Laden, you said, well, any president would make that call," Obama said at the debate in Boca Raton, Fla. "But when you were a candidate in 2008, as I was, and I said if I got bin Laden in our sights I would take that shot, you said we shouldn't move heaven and earth to get one man. And you said we should ask Pakistan for permission. And if we had asked Pakistan permission, we would not have gotten him. And it was worth moving heaven and earth to get him."

We've previously rated an Obama claim that Romney's view on killing bin Laden was "it's not worth moving heaven and earth." We found it Half True. While Romney used those words, he also explained that he wanted to see a broader focus against the "worldwide jihadist effort," not just the al-Qaida leader.

In this fact-check, we're asking whether Romney once said "we should ask Pakistan for permission" to strike if bin Laden was in reach.

'We keep our options quiet'

Obama approved the May 2, 2011, strike that killed the terrorist mastermind in his compound in Pakistan.

The secret, unilateral Navy SEALS mission followed through on a 2007 Obama campaign promise: "If we have actionable intelligence about high-value terrorist targets and President (Pervez) Musharraf won't act, we will."

Obama's words attracted criticism from his Democratic and Republican opponents at the time — including Romney.

The Republican primary candidate told reporters in Iowa in August 2007 that Obama's comments were "ill-timed and ill-considered."
"I do not concur in the words of Barack Obama in a plan to enter an ally of ours, and their country in a manner complete with bombing and so forth. I don't think those kind of comments help in this effort to draw more friends to our effort. But certainly there is a war being waged by terrorists of different types and nature across the world. And we want, as a civilized world, to participate with other nations in this civilized effort to help those nations reject the extreme within them. That doesn't mean our troops are going to go all over the world."
A Romney campaign news release in December 2007 said, "Sen. Obama Recently Suggested Attacking Inside Pakistan Without Pakistani Approval."

Romney didn't explicitly say that he would ask for permission to strike inside the country.

Rather, he said he wanted to "participate with other nations," to fight terrorism and criticized Obama for saying he would attack "without Pakistani approval."

And there's a bit more to the story.

At the Aug. 5, 2007, Republican debate in Iowa, moderator George Stephanopoulos asked Romney to explain his reaction to Obama's pledge.

"I think Barack Obama is confused as to who are our friends and who are our enemies," Romney said. "... He says he wants to unilaterally go in and potentially bomb a nation which is our friend."

Stephanopoulos pushed for details: "But if your CIA director called you and said we have Osama bin Laden in our sights, Musharraf says no. What do you do?"

Romney responded:
"It's wrong for a person running for the president of the United States to get on TV and say we're going to go into your country unilaterally.

"Of course, America always maintains our option to do whatever we think is in the best interest of America. But we don't go out and say, ladies and gentlemen of Germany, if ever there was a problem in your country and we didn't think you were doing the right thing, we reserve the right to come in and get him out.

"We don't say those things. We keep our options quiet. We do not go out and say to a nation which is working with us, where we've collaborated and they are our friend, and we're trying to support Musharraf and strengthen him and his nation, that instead that we intend to go in there and potentially bring out a unilateral attack.

"Recognize, to win the war on jihad, we have to not only have a strong military on our own and we need a stronger military, we also need to have strong friends around the world and help moderate Muslims reject the extreme. Because ultimately, the only people who can finally defeat these radical Islamic Jihadists are the Muslims themselves."
Stephanopoulos clarified: "So ... what I'm hearing is you keep this option on the table, but it was foolish to talk about it in public. Does anybody disagree with that?"

A transcript shows former Wisconsin Gov. Tommy Thompson speaking up — but not Romney.

Our ruling

Obama claimed that during the 2008 campaign, Romney said, "we should ask Pakistan for permission" to take out bin Laden. The reality is somewhat more complex.

Romney did express a preference for working with the Pakistanis, and he attacked Obama for saying he would strike if Musharraf wouldn't.

But Romney's clearest objection was to Obama saying the United States would attack inside Pakistan without approval — not to the option itself. "We keep our options quiet," he said.

Obama oversimplified Romney's stance four years ago. We rate his statement Half True.
CQ Newsmaker Transcripts, "President Obama and Republican Presidential Nominee Mitt Romney Participate in the Third Presidential Candidates Debate at Lynn University in Boca Raton, Florida," Oct. 22, 2012 (subscription only)

Email interview with Kara Carscaden, Obama campaign, Oct. 23, 2012

Email interview with Robert Terra, Romney campaign, Oct. 23, 2012

PolitiFact, "Obama ad says Mitt Romney's view on killing bin Laden was 'it's not worth moving heaven and earth,'" April 30, 2012

Reuters, "U.S. on guard for attacks ahead of bin Laden anniversary," April 26, 2012

Council on Foreign Relations, "Issue Guide: Osama bin Laden's Death," May 5, 2011

New Yorker, "What Pakistan knew about bin Laden," May 2, 2011

Christian Science Monitor, "Osama bin Laden killed near Pakistan's West Point. Was he really hidden?" May 2, 2011

Daily Beast, "Dr. Afridi's Warning: Pakistan's Hatred of the United States," Sept. 12, 2012

Daily Beast, "How Obama Got Bin Laden: A Detailed Account From 'Showdown' by David Corn," April 29, 2012

Reuters, "Romney attacks Obama over Pakistan warning," Aug. 4, 2007

Reuters, "Tough talk on Pakistan from Obama," Aug. 1, 2007

Radio Iowa, "Romney rejects Obama option of strikes in Pakistan," Aug. 3, 2007

American Presidency Project, Mitt Romney, "Press Release - Huckabee's Playground Diplomacy," Dec. 15, 2007

Foreign Affairs, "America's Priorities in the War on Terror," January/February 2008

Council on Foreign Relations, "The Candidates on U.S.-Pakistan Relations," Oct. 22, 2012

FactCheck.org, "False Claims in Final Debate," Oct. 23, 2012

ABC News Transcript, "The Iowa Debates," Aug. 5, 2007, via Nexis
Browse the Truth-O-Meter
More by Becky Bowers
Support independent fact-checking.
Become a member!
In a world of wild talk and fake news, help us stand up for the facts.