Get PolitiFact in your inbox.
Says "President Obama just granted all of Congress an exception" to Obamacare.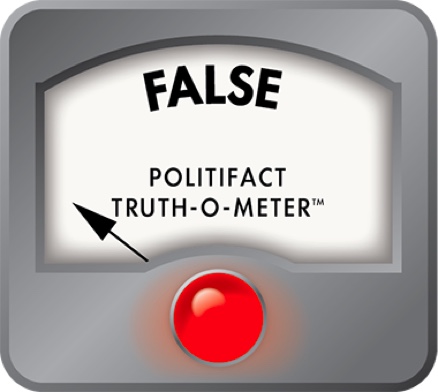 Sen. Ted Cruz says Obama 'just granted all of Congress an exception' to Obamacare
Sen. Ted Cruz wants Congress to refuse to fund Obamacare. The law's such a mess, says the Texas Republican, that the president let lawmakers themselves off the hook.
"Look, the wheels are coming off this," he told the audience at the conservative Family Leadership Summit in Ames, Iowa, on Aug. 10, 2013. "The Teamsters are abandoning it. President Obama just granted all of Congress an exception. And he did it because Harry Reid and the Senate Democrats who passed this thing came begging and said, 'Please, please, please let us out of Obamacare.' This thing ain't working."
The audience let out a long "Boooo" at the mention of President Barack Obama's action on behalf of Congress.
But did he just grant lawmakers an exception to Obamacare?
'Congress should get the same coverage'
For many years, Congress chose from a variety of insurance plans offered by the Federal Employee Health Benefits Program, which serves more than 8 million federal and retired workers and their dependents.
That stops in January, when lawmakers and some staff will be required instead to pick from plans on the health care law's new exchanges — now known as marketplaces.
That's because Congress faces a specific Obamacare provision forcing lawmakers from their current plans into new marketplaces — something that doesn't apply to other Americans.
(Most people with health care through large employers won't see significant changes under the law. They're not required to use the marketplaces, which were designed to offer more options for small businesses and the uninsured.)
Back in 2009, Republican Sen. Chuck Grassley argued that "members of Congress should get the same coverage that we are coming up with for everyone else." He offered an amendment that required lawmakers to get their health care through the marketplaces created by the bill. It was accepted by the Senate Finance Committee without objection.
Members of Congress and their staff would have to use the hefty employer contribution they used for federal plans to buy marketplace plans, instead, his amendment said.
"My interest in having members of Congress participate in the exchange is consistent with my long-held view that Congress should live under the same laws it passes for the rest of the country," Grassley said. "The more that Congress experiences the laws it passes, the better."
A version of the amendment made it into the law passed by Democrats, but it lacked the clarity of Grassley's language, raising a question: Would the government's contribution to lawmakers' health insurance premiums follow them?
(In fact, it lacked specifics on lots of issues, such as: When would the provision kick in? Which federal agency would implement it? Which lawmakers and staffers did it cover? Could lawmakers keep their existing coverage as "grandfathered plans"?)
Mass confusion ensued — along with fear that the law's ambiguity meant lawmakers and their staffers would lose an employer contribution worth thousands toward their health care plans. They urged the administration for clarification.
On Aug. 7, 2013, the U.S. Office of Personnel Management did clear things up, proposing a rule that lawmakers' purchase of health coverage from the exchanges — now called marketplaces — would indeed be eligible for an employer contribution. (It answered some of those other questions, too.)
When Obamacare's health care marketplaces launch in January 2014, members of Congress will use them right alongside the uninsured.
'An exception'
Did the administration's decision constitute an "exception" to Obamacare?
Here's what the law said: 
"Notwithstanding any other provision of law … the only health plans that the Federal Government may make available to Members of Congress and congressional staff with respect to their service as a Member of Congress or congressional staff shall be health plans that are — (I) created under this Act (or an amendment made by this Act); or (II) offered through an Exchange established under this Act (or an amendment made by this Act)."
All it did was require lawmakers to use new marketplaces. They're doing that. 
Beyond that, the wording of the law left lots of questions. Or, as the nonpartisan Congressional Research Service described it, several "legal and practical issues." To implement it, administrators had to make choices about what it meant.
As a New York Times report noted last year, "In writing the legislation, members of Congress apparently assumed that the federal contribution to their premiums would continue, but the law is silent on the question."
Grassley himself insisted last year that the provision made "no changes to the employer contribution to federal employee health care coverage."
A Congressional Research Service analysis found some room in the law for employer contributions. Timothy Jost, an expert in health care law who supports the Affordable Care Act, told PolitiFact the government clearly acted within its regulatory authority. A report from the conservative Heritage Foundation, which Cruz's office pointed to, argues the opposite.
Heritage, whose lobbying arm Heritage Action has launched a "Defund Obamacare Town Hall Tour," says that the administration disregarded the law to give a "special Obamacare deal to Congress."
The special deal: letting lawmakers keep the employer contribution toward health plans on new Obamacare marketplaces that Grassley assumed they would keep.
Our ruling
Cruz, reeling off signs Obamacare's "wheels are coming off," said the president "just granted all of Congress an exception."
That sounds like lawmakers get to opt out of health care under the law. Quite the opposite — they'll use new marketplaces alongside the uninsured and small businesses, just as it required. And it's not even accurate to say they were excepted from some provision of the law: the law itself wasn't clear.
Instead, they got a clarification about the law's effect on contributions toward their health insurance — which they will purchase on Obamacare's marketplaces. We rate Cruz's claim False.
Caffeinated Thoughts, "Ted Cruz - The Family Leadership Summit," Aug. 10, 2013, via YouTube (Claim around 19:30)
U.S. Office of Personnel Management, "OPM Issues Proposed Rule Which Details How Members of Congress and Congressional Staff will be Insured through the Health Insurance Exchanges," Aug. 7, 2013
U.S. Office of Personnel Management, "Federal Employees Health Benefits Program: Members of Congress and Congressional Staff," Aug. 7, 2013
U.S. Office of Personnel Management, Federal Benefits Fast Facts, accessed Aug. 14, 2013
U.S. Office of Personnel Management, FEHB Carrier Conference remarks, March 21, 2013
Congressional Research Service, "Analysis of § 1312(d)(3)(D) of Pub. L. No. 111-148, The Patient Protection and Affordable Care Act, and its Potential Impact on Members of Congress and Congressional Staff," April 2, 2010
Congressional Research Service, "Questions Regarding Employer Responsibility Requirements and Section 1312(d)(3)(D) of the Patient Protection and Affordable Care Act," April 29, 2010
Senate Finance Committee, "Open Executive Session to Consider an Original Bill Providing for Health Care Reform," Sept. 22, 2009
Senate Finance Committee, "Results of Executive Session America's Healthy Future Act of 2009," Sept. 22, 2009 (modified amendment - Attachment O)
Sen. Chuck Grassley, "Time Magazine Columnist Cites Grassley Requirement of Congress as "Favorite" in Senate Health Care bill," Nov. 24, 2009
Sen. Chuck Grassley, "TV ads misrepresenting Grassley amendment to 2010 health care law," Oct. 19, 2012
Sen. Chuck Grassley, "Senate approves unfair double standard by rejecting Grassley amendment to apply health care reforms to White House and all of Congress," March 24, 2010
Sen. Chuck Grassley, "Grassley says health care reform should apply to President Obama, top administration officials," March 22, 2010
Health Affairs Blog, "Implementing Health Reform: A Proposed Rule On Congressional Exchange Participation," Aug. 7, 2013
Roll Call, "GOP Leaders' Response to Obama Saving Congressional Health Benefits Is Subdued," Aug. 7, 2013
Wall Street Journal, "Review & Outlook: Congress's ObamaCare Exemption," Aug. 5, 2013
Huff Post Politics, "Obamacare Policy Subsidizing Congressional Coverage Was Chuck Grassley's Idea," Aug. 2, 2013
Reason.com, "Hill Staffers Get an Obamacare Fix," Aug. 2, 2013
Politico, "Hill gets Obamacare fix," Aug. 2, 2013
New York Times, "Wrinkle in Health Law Vexes Lawmakers' Aides," July 29, 2013
Washington Post's Wonkblog, "No, Congress isn't trying to exempt itself from Obamacare," April 25, 2013
Politico, "Lawmakers, aides may get Obamacare exemption," April 24, 2013
New York Times, "Democrats Use Health Law to Assail Republicans," Oct. 18, 2012
New York Times, "Baffled by Health Plan? So Are Some Lawmakers," April 12, 2010
FreedomWorks, "Elitist Washington," Congress Gets Pass from ObamaCare," Aug. 6, 2013
Heritage Foundation's The Foundry, "Administration Disregards the Law and Gives Special Obamacare Deal to Congress," Aug. 7, 2013
Heritage Foundation, "Congress in the Obamacare Trap: No Easy Escape," Aug. 2, 2013
PolitiFact, "Marco Rubio says union for IRS workers is 'begging' to be let out of Obamacare," Aug. 1, 2013 (Mostly False)
PolitiFact Texas, "IRS chief's words didn't reject 'Obamacare,'" Aug. 9, 2013
PolitiFact, "Obama says people with health insurance 'don't have to worry' about Obamacare rollout," May 2, 2013 (Half True)
PolitiFact Florida, "U.S. Rep. Steve Southerland says his health insurance is no different than any other federal employee," Aug. 30, 2011 (True)
Email interview with Catherine Frazier, press secretary for Sen. Ted Cruz, Aug. 13, 2013
Interview with Timothy Jost, professor, Washington and Lee University School of Law, Aug. 12, 2013
Browse the Truth-O-Meter
More by Becky Bowers
Support independent fact-checking.
Become a member!
In a world of wild talk and fake news, help us stand up for the facts.