Stand up for the facts!
Our only agenda is to publish the truth so you can be an informed participant in democracy.
We need your help.
I would like to contribute
Says GM used taxpayer dollars to prop up operations in China.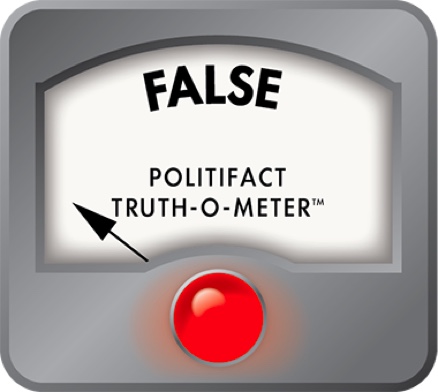 Ad claims GM used bailout money to boost China operations
If there is one economic success that President Barack Obama likes to tout, it is the recovery of the American auto industry. An ad now circulating on the Web aims to strip Obama of that accomplishment. It is called Chinese Motors and accuses General Motors, and by extension, Obama, of parlaying American taxpayer dollars to create jobs in China.

The ad comes from Let Freedom Ring USA, a group that fuses religious and fiscal conservatives. The group's president Colin Hanna said he has spent $7 million dollars to have the ad show up 300 million times on computer screens in Virginia, Ohio, Pennsylvania and Wisconsin.

Here is what the ad says:
Obama video: "We bet on American workers. We bet on American ingenuity. And tonight, the American auto industry is back."
Image: "Almost two-thirds of GM's jobs are in other countries - Forbes"
GM CEO video: "Seven out of 10 of our vehicles were made outside the United States."
Text: "OUTSIDE the United States?"
Announcer: "That's the CEO of General Motors, the man President Obama appointed."
Image: "GM, which closed 13 plants in the U.S. ... opened 15 plants in China. - CNN"
Tom Rose - retired auto worker: "Is this a GM America bailout or a GM China bailout?"
GM CEO: "Our commitment to work in China, with China, for China, remains strong."
Announcer: "President Obama. Your GM CEO is bragging about working for China? With our taxpayer dollars you gave him? Not working for us?"
Roy Smith - retired auto worker: "Anytime our tax dollars are being used to prop up another country, it's not the right thing for America."
Hanna has high hopes for what voters will take away from the ad. "They will conclude that the GM bailout was a colossal misuse of their taxpayers' dollars," Hanna said. "Not the shining example of betting on the American worker that President Obama claims that it is."

In this fact-check, we look at whether bailout money propped up GM's operations in China.

Some key bankruptcy and bailout numbers

Thousands of American workers and lenders had a great deal riding on the restructuring of General Motors. When GM declared bankruptcy in 2009, it had $172 billion in debts and $82 billion in assets. Of its 50 largest creditors, 45 were suppliers like U.S. Steel and Goodyear Tires. Together, they were owed nearly $900 million. GM's obligations to its workers totaled $23 billion. Bondholders were owed $27 billion.

Simply to stay afloat, GM borrowed over $9 billion from the government while President George W. Bush was in office. By the time it emerged from bankruptcy, the government had put about $51 billion into the effort to save GM. A bit over half of that has been repaid.
GM in China and the U.S.

In China, GM has 11 joint ventures and two wholly owned foreign enterprises with more than 35,000 employees. In 2011, these firms produced 2.5 million vehicles and generated some $1.5 billion in profits for GM in the U.S.

With more and more Chinese interested in buying cars, GM plans to expand there. One of its joint ventures, Shanghai GM, recently won approval to build a $1 billion plant in the country's central Hubei province. The plant is slated to produce 300,000 vehicles a year.

In the United States, GM has 12 assembly plants, many other smaller plants and more than 79,000 employees. In 2011, those plants produced more than 1.8 million vehicles. The company's operating income across all its North American operations, which includes, Canada and Mexico, were $7.2 billion.

Since 2009, GM says it has invested about $7.3 billion in its American facilities.

Following the money

The ad claims that the bailout of GM propped up operations in China. To the extent that a collapse of GM in the United States would have caused considerable headaches in China, that claim is accurate. The end of GM would have required complex negotiations over the rights to use GM's designs and technology and a number of other knotty issues. Avoiding that was very good news for GM's Chinese partners.

However, the ad has the financial relationship backwards. Those 2011 profits from China, about $1.3 billion, were something the firm had counted on for years.

"Even before the recession, GM was losing lots in America but making lots of money in China," said Kim Hill, an analyst with the Center for Automotive Research, a group that has many funders, including automakers. "Sales in China were keeping the company afloat."

Aaron Bragman with IHS Automotive, a financial research group, underscored that China is one of GM's most profitable regions.

"They're the largest, most popular automaker in China, actually," Bragman said. "The fact that seven out of 10 vehicles GM makes are not sold here but are actually sold abroad is a testament to the company's successful international business plans, not some crazy scheme to steal money from Americans to spend it elsewhere."

When we asked Hanna for evidence to support the ad's message, he emphasized that the GM CEO, Dan Akerson, was caught on camera saying "Our commitment to work .. for China remains strong."

"If the average voter knew that the president of GM who had been installed by the president," Hanna said, "for a company that had been kept afloat by enormous infusion of taxpayer dollars, was bragging he was working for China, they would be shocked."

GM spokesman Greg Martin, has two responses.

"Akerson was never appointed by the president," Martin said. Akerson put his name forward when the previous CEO, who had been appointed by the White House, said he wanted to step down. The GM board gave Akerson the job in August 2010.

As for Akerson's comments about working for China, Martin says that was a speech aimed at Chinese auto dealers and suppliers. It was a marketing pitch to assure them that GM thought they were important.

We watched the entire speech. The clip used in the ad was Akerson's summation, after he promised that GM would be a good corporate citizen, focused on sustainable development and ready to be part of the communities in which it operates.

"Our goal is to play a significant role in the social and economic changes that bring a better life to China's citizens," Akerson said.

"You could take any snippet of a speech and twist it anyway you want," Martin said. "The context was, this was the sort of rousing speech you could find daily from an auto executive whether he was talking to suppliers in the U.S., members of a chamber of commerce, or state and local officials."

Overseas production

The ad highlights that seven out of 10 GM vehicles are produced outside the United States. However, it fails to note that seven out of 10 GM vehicles are also sold outside the United States. GM officials says this is part of long-standing strategy to "build where we sell."

The ad uses a peculiar device to suggest that GM China's gains come at the expense of American jobs. It cites a CNN article as saying "GM, which closed 13 plants in the U.S. ... opened 15 plants in China."

We found the original article. The full sentence ended with, "opened 15 plants in China in the last 10 years." The quote in the ad obscures that the time frames are entirely different. It blends decisions made years ago with those made more recently.

Our ruling

The ad claims that taxpayer dollars propped up GM's operations in China.

While the collapse of GM would have presented the GM-China joint ventures with many problems, the bailout money itself didn't help China so much as allow GM to continue to draw money out of China. In fact, the Chinese operations were making money and supporting themselves through sales in China.

The ad makes several other errors of fact, including saying that the current GM CEO was appointed by Obama when he was not. Plus, the ad suggests that if GM says it is working for China, that must mean it is not working for the United States. It reinforces this idea by selectively quoting from a news article.

We rate the statement False.
Let Freedom Ring USA, Chinese Motors, October 15, 2012

CNN, U.S. companies dump billions into China, January 20, 2011

Interview with Colin Hanna, president of Let Freedom Ring USA, October 16, 2012

Interview with Greg Martin, executive director of communications, General Motors Company, October 16, 2012

Interview with Kim Hill, analyst with Center for Automotive Research, October 15, 2012

Email interview with Aaron Bragman, analyst with IHS Automotive, October 15, 2012
General Motors, Video: Akerson speech in China, February 2011

Wall Street Journal, Balancing the give and take in GM's Chinese partnership, August 19, 2012

Detroit News, GM's Whitacre blocked plan to exit RenCen, October 13, 2012

Huffington Post GM plant closure, June 1, 2012

IHS Automotive, GM receives regulatory approval for 300,000-unit plan in Hubei Province, February 13, 2012

Congressional Oversight Panel, An update on TARP support for the domestic automotive industry, January 13, 2011

Treasury Department, Daily TARP update

Xinhua, General Motors to continue to investing aggressively in China, February 15, 2011

General Motors, 2011 annual report

General Motors, 2011 car and truck production, January, 1, 2012

Auto Blog, GM reports 2011 profit of $7.6 billion, February 16, 2012

SEC, General Motors 2010 Annual 10-K, April 7, 2010

SEC, General Motors 2011 Annual 10-K, March 1, 2011

NBC News, Humbled GM files for bankruptcy protection, June 1, 2009

General Motors, China operations

The New Republic, The new Norquist: Meet the GOP's latest hardline power broker, September 24, 2011

GM Bankruptcy filing, June 1, 2009
Browse the Truth-O-Meter
More by Jon Greenberg
Support independent fact-checking.
Become a member!
In a world of wild talk and fake news, help us stand up for the facts.