Stand up for the facts!
Our only agenda is to publish the truth so you can be an informed participant in democracy.
We need your help.
I would like to contribute
Says Mitt Romney's plan makes "catastrophic cuts to education."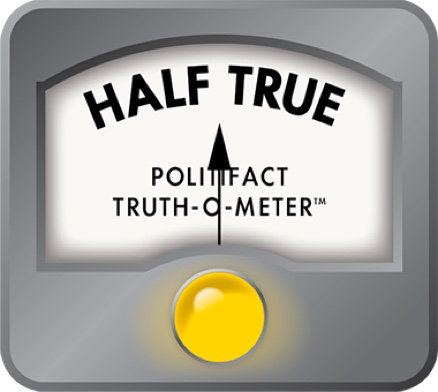 Obama ad says Romney will make 'catastrophic cuts to education'
With Election Day approaching, a new ad from Barack Obama implores voters to remember, in the solitude of the voting booth, what Mitt Romney plans for the country.

"In here, it's just you," a narrators says against an image of a man voting. "No ads, no debates, just you.

"So think about this: Mitt Romney's plan rolls back regulations on the banks that crashed our economy. Medicare: voucherized. Catastrophic cuts to education. Millionaires will get one of the largest tax cuts ever, while middle class families pay more.

"That's what Mitt Romney wants to bring here," the narrator says against a photo of the White House. "Remember that when you go here." (Another voting booth shot.)

PolitiFact has examined numerous claims throughout the campaign about the potential effects of Romney tax plan and the budget constructed by his running mate, Paul Ryan, who's also the chair of the budget committee in the U.S. House of Representatives. Here we'll look specifically at the charge that Romney would make "catastrophic cuts" to education.

The Ryan budget
   
Ryan, a congressman from Wisconsin, first presented his budget in 2011. Versions of it have passed the House each of the last two years, but it has never passed the Democratic-controlled Senate. The 2013 proposal cuts $5.3 trillion from the federal ledger over the next decade by enacting major changes in entitlement programs and making steep reductions in discretionary domestic spending to bring down the public debt.
   
Ryan's plan doesn't say which programs would be cut or by how much, nor does it dictate that programs be cut across the board. But because the budget reduces federal spending so drastically -- from its current level of 12.5 percent of GDP down to 5.75 percent by 2030 -- experts say deep program cuts will be necessary. Any direct cuts to schools, though, would be implemented at the state and local level. Those are the government entities that collect taxes that fund individual school districts.

Where does Romney stand on the Ryan budget?
   
In March 2012, Romney said in Chicago, "I'm very supportive of the Ryan budget plan. The following week, while campaigning in Wisconsin, he added, "I think it'd be marvelous if the Senate were to pick up Paul Ryan's budget and adopt it and pass it along to the President."
   
More recently, since Ryan joined the ticket, Romney has said the two agree broadly. "I'm sure there are places that my budget is different than his, but we're on the same page," he said in August. The campaign has also emphasized the Romney will put together his own plan.
   
But on his website, Romney makes this promise about "stopping the bleeding" of federal spending: "Pass the House Republican Budget proposal, rolling back President Obama's government expansion by capping non-security discretionary spending below 2008 levels."

On education

The Obama ad cites the Denver Post as its source for the "catastrophic cuts" to education claim. But that Oct. 19 story is actually an editorial endorsing Obama's re-election. And the cuts are not specific to education.

"Romney's approach is one of tax cuts for all, drastic Medicare reform, increased defense spending, and what would be catastrophic cuts to other discretionary programs," the editorial said.

The campaign also pointed us to an analysis of Ryan's budget by the White House Office of Management and Budget. The OMB generally presents reliable numbers, but it's important to bear in mind that it's part of the Obama administration. The report from March 2012 is headlined "The Ryan-Republican Budget: The Consequences of Imbalance."

The report criticizes the proposed spending cuts, and the overall lack of specificity.

"What would it all mean? The Budget doesn't say. In fact, the Budget resolution includes a magic asterisk — or, in more technical parlance, an 'allowance'— for $897 billion in unspecified cuts. But what could the resolution mean? Since the House has refused to specify what would be cut, we consider the impacts if the cuts are distributed equally across the Budget. The result would be that."

So the analysis assumes across-the-board cuts, which -- again -- is not specified in Ryan's budget. Under that assumption, OMB predicted that the Department of Education would be cut by more than $115 billion over a decade.

The fallout of that? According to the OMB: "9.6 million students would see their Pell Grants fall by more than $1,000 in 2014, and, over the next decade, over one million students would lose support altogether. This would derail bipartisan education reforms and deeply undermine K-12 education and college opportunity."

Romney's position

We contacted the Romney campaign, which directed us to comments the former Massachusetts governor made in the first presidential debate on Oct. 3.

"I'm not going to cut education funding. I don't have any plan to cut education funding and grants that go to people going to college. I'm planning on continuing to grow, so I'm not planning on making changes there," Romney said.

On the specific issue of Pell grants for college students, Romney said at a Univision Forum in Miami on Sept. 19, "We're going to continue a Pell Grant program. … I think the Republican budget called for a Pell Grants being capped out at their current high level. My inclination would be to have them go with the rate of inflation."
But that stands in contrast with what Romney told donors at a private fundraiser in April. Then, he said he would at least restructure the federal education agency and make it smaller.
"The Department of Education: I will either consolidate with another agency, or perhaps make it a heck of a lot smaller. I'm not going to get rid of it entirely," Romney said.

Our ruling

Obama's ad said Romney would make "catastrophic cuts to education."

The statement assumes Romney would adopt the Ryan budget, a blueprint he has generally embraced. The Ryan budget does not specify any cuts to education funding, but we think it's fair to expect significant reductions to any domestic program, given that lower spending is the goal of the Ryan proposal. And Romney is on the record as saying he would shrink the Department of Education.
   
The ad's claim uses exaggeration to fill in the blanks of what Romney might do, but the Ryan budget and Romney's own words point toward cuts. We rate the claim Half True.
"Remember," Obama campaign ad, Oct. 27, 2012

Denver Post, "Barack Obama for president," Oct. 19, 2012, via Nexis

Email interview with Kara Carscaden, Obama campaign, Oct. 30, 2012

Email interview with Robert Terra, Romney campaign, Oct. 30, 2012

House Budget Committee, "The Path to Prosperity: A Blueprint for American Renewal," accessed Oct. 30, 2012

Congressional Budget Office, "The Long-Term Budgetary Impact of Paths for Federal Revenues and Spending Specified by Chairman Ryan," March 2012

New Yorker, "Fussbudget," Aug. 6, 2012

Wall Street Journal, "Romney on 'Same Page' With Ryan Budget Plan," Aug. 13, 2012

CNN, "Romney camp prepares Medicare defense after Ryan pick," Aug. 11, 2012

MittRomney.com, accessed Oct. 30, 2012

White House Office of Management and Budget, "The Ryan-Republican Budget: The Consequences of Imbalance," March 21, 2012
NBC News, "Romney offers policy details at closed-door fundraiser," April 15, 2012

PolitiFact, "Super PAC says Romney takes from education, gives to millionaires," Oct. 10, 2012
Browse the Truth-O-Meter
More by Molly Moorhead
Support independent fact-checking.
Become a member!
In a world of wild talk and fake news, help us stand up for the facts.