Stand up for the facts!
Our only agenda is to publish the truth so you can be an informed participant in democracy.
We need your help.
I would like to contribute
Says Bill Young "voted twice for the Ryan budget that ends the current Medicare system."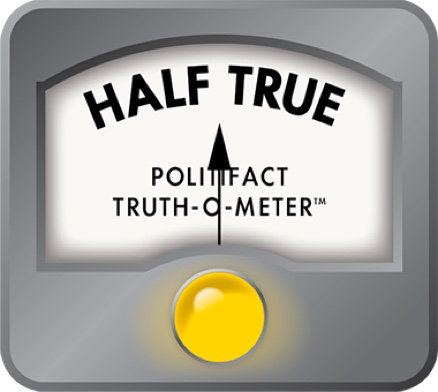 Jessica Ehrlich says Bill Young voted twice to "end the current Medicare system"
U.S. Rep. C.W. Bill Young began his tenure in Congress in 1970, a streak that makes the 81-year-old from Indian Shores the longest-serving Republican in the U.S. House.

The first-time candidate challenging Young's re-election does not want voters to forget it.

Democratic attorney Jessica Ehrlich, 38, sponsored a TV attack ad that she says is the first commercial challenging Young in 20 years.

It's called "1970."

Narrator: "Before the Tampa Bay Bucs, Nixon was president, disco was on the rise, and Bill Young was in Congress."

Ehrlich: "I'm Jessica Ehrlich, and Bill Young is a nice man, but after 42 years in Congress he's lost touch. Why else would he vote twice for the Ryan budget that ends the current Medicare system? Seniors pay thousands more each year, and the wealthy get more tax cuts."

We're not surprised to hear Ehrlich challenge Young's record on Medicare, the health care program for seniors. The issue is of particular relevance to Young's constituents in Congressional District 13th, about 22 percent of whom are senior citizens.

We're also not surprised to hear she chose this line of attack. Democrats have sent grave warnings about Rep. Paul Ryan, R-Wis., and his budget proposals for the past couple years, heightening their attacks after Mitt Romney chose Ryan as his running mate.

Ehrlich's message that Young voted for a budget "that ends the current Medicare system" is similar to attacks PolitiFact previously deemed too much of a stretch.

The Democrats' rallying cry that Republicans voted to "end Medicare" was our 2011 "Lie of the Year." We've also heard the refined version that Republicans want to end Medicare "as we know it." We heard good arguments from experts who said his plan does not end Medicare "as we know it" and those who said it did, so we did not rate that claim.

Where does Ehrlich's claim fall? Do the Ryan budgets end the current Medicare system?

Without question, Ryan's vision would substantially change Medicare.

Medicare is a fast-growing program within the federal budget, and both parties agree that reform is necessary to preserve it.

The Democrats, led by President Barack Obama, want to keep Medicare largely the way it is but with more regulations and oversight of payments to doctors and hospitals. The Republicans want private insurers to be more involved and let the marketplace lower costs, and Ryan has led that charge as House Budget Committee chairman.

Ryan would leave Medicare in its current form for people who are 55 and older. Most attacks from Democrats omit this important detail.

It's a different story for future beneficiaries. In short, they would receive government subsidies to buy their own plans.

"That is completely a different system than the one that we currently have," Ehrlich said in an interview.
The charge isn't accurate because Ryan's new plan keeps traditional Medicare as an option, Young said in an interview.
"It's ridiculous to think that in a district like mine that a member of Congress would vote in a negative way on Social Security and Medicare," he said.
PolitiFact rated Democratic critiques that Republicans want "to turn Medicare into a voucher system" Mostly True.

Ryan's 2011 budget plan -- a resolution that does not carry the force of law -- would not have provided a traditional Medicare plan, leaving seniors to use their voucher-like credits on strictly private insurance plans. The nonpartisan Congressional Budget Office estimated it would cost seniors $6,400 in extra health care costs.

Ryan responded to criticism about his original plan by including a traditional Medicare plan in his more recent version. The amount a beneficiary receives would be based on the second least-expensive plan available on a Medicare exchange, among other adjustments to the original plan.

Ryan's plan includes constraints on private insurers, including that they would have to cover services stipulated by the federal government, and poor and sicker people would get larger subsidies.

Romney has said he supports the Ryan plan's goals and that his own plan for Medicare would be close to identical.

We fact-checkers don't know if seniors would pay "thousands more each year" for health care, as Ehrlich claimed in the ad, because Ryan has not submitted the 2012 plan to CBO for analysis.

The Democrats warn that if Ryan's plan doesn't drive down prices as much as he hopes, beneficiaries would pay more or lose benefits. In another scenario, the government could increase the amount of credits to keep up with costs, but that erodes the goal of the government saving money.

Young voted for Ryan's previous budget resolutions in 2011 and 2012.

Our ruling

A TV ad from Jessica Ehrlich claims Bill Young voted "twice for the Ryan budget that ends the current Medicare system."

Indeed, Young voted in favor of two Ryan budget blueprints that fundamentally change how Medicare works. Instead of the government paying for individual health services for seniors, seniors would receive a voucher-like credit toward the insurance plan of their choice, which includes a traditional Medicare option.

Some argue the Democrats, too, are ending the current Medicare system by moving it from an open-ended entitlement program to one that tries to rein in spending by controlling how much physicians and insurers are reimbursed.

The statement is partially accurate but leaves out important details. So we rate it Half True. 
Jessica Ehrlich's YouTube account, "1970," Oct. 8, 2012

Tampa Bay Times, Candidate guide for U.S. House District 13, Oct. 17, 2012

Interview with Harry Glenn, Bill Young spokesman, Oct. 23, 2012

Interview with Kiel Brunner, Jessica Ehrlich spokesman, Oct. 26, 2012

Interview with Gail Wilensky, senior fellow at the international health foundation Project HOPE and Medicare director under President George H.W. Bush, Oct. 30, 2012
Interview with Rep. Bill Young, Oct. 30, 2012

Interview with Jessica Ehrlich, Oct. 29, 2012

PolitiFact, "Did Republicans vote to end Medicare 'as we know it'?" Aug. 23, 2012

PolitiFact, "Lie of the Year 2011: 'Republicans voted to end Medicare,' " Dec. 20, 2011

THOMAS, House Congressional Resolution 34, 2011

THOMAS, House Congressional Resolution 112, 2012

JAMA Forum blog post, "A Sea Change for Medicare: The Debate We've Never Had," Oct. 26, 2012
Browse the Truth-O-Meter
More by Katie Sanders
Support independent fact-checking.
Become a member!
In a world of wild talk and fake news, help us stand up for the facts.