Stand up for the facts!
Our only agenda is to publish the truth so you can be an informed participant in democracy.
We need your help.
I would like to contribute
U.S. military uniforms are manufactured in China.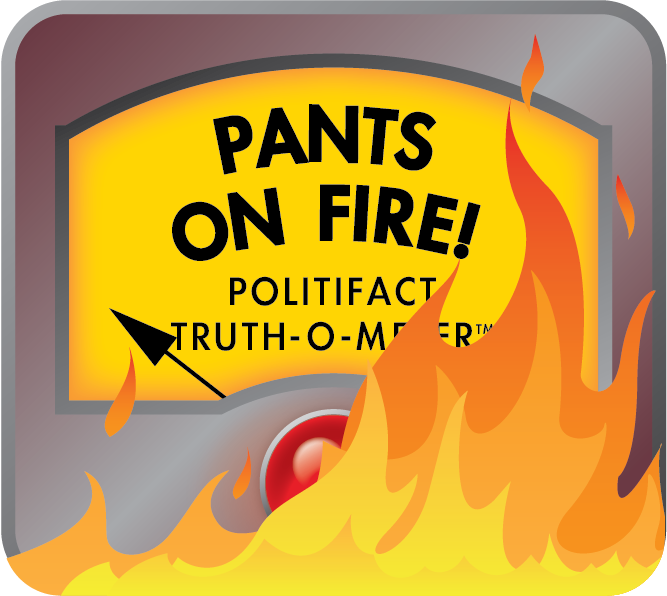 Anthony Gemma asks why U.S. military uniforms are made in China
The revelation that uniforms for the U.S. Olympic team were made in China caused quite a stir in July.

A similar issue came up Aug. 28 during the last half-hour of the 90-minute Providence Journal - WPRI-TV debate between Democrats Anthony Gemma and David Cicilline. The two will face off in the Sept. 11 primary as Gemma tries to take over Cicilline's seat in the 1st Congressional District.

When the candidates were asked whether they would consider an increased tax on Chinese imports, Cicilline went in another direction, expressing outrage over the foreign-made Olympic garments.

He had jumped on the issue when the controversy broke out, staging a photo-op at Northwest Woolen Mills in Woonsocket, which already makes berets for the U.S. military. The Olympic berets, he argued, could have easily been made there.

Then it was Gemma's turn.

"Mr. Cicilline refers to the Olympic clothing that happened, but how about uniforms?" he said. "How about our servicemen and women's uniforms that are manufactured in China?"

Just the thought of that happening put our knickers in a twist, so we set out on a not-so-covert mission to find out if it was true.

We e-mailed Gemma spokesman Alex Morash Thursday morning. When we didn't hear from him for several hours, we called him; the voicemail said he wasn't accepting calls or messages. We e-mailed him again Friday afternoon.

We also called the Pentagon and heard back from two other agencies.

One was the Air Force, whose spokeswoman Capt. Shannon Stoneking said in an e-mail, "All of our AF uniforms are made in the USA."

The other was the Defense Logistics Agency, which is responsible for procuring dress and utility uniforms, along with footwear, headgear, medals and insignia for all four branches of the U.S. military and the Coast Guard.

Spokeswoman Mikia Muhammad told us that "DLA is mandated to buy 100-percent domestic material with all manufacturing completed in the United States." It's not a policy. It's federal law.

The source is the Berry Amendment, USC, Title 10, Section 2533a, originally passed in 1941 to require a buy-American policy for the military. The latest version, which took effect Nov. 16, 2006, prohibits the Department of Defense from buying items of clothing "unless they are wholly of U.S. origin."

There are exceptions for small purchases and for cases in which supplies are urgently needed for troops in the field -- uniforms are unlikely to fall into that category. But even in such cases, it must be demonstrated that the items cannot be acquired in sufficient quantity from U.S. manufacturers.

One reason for the amendment: If the military were to use manufacturers in a foreign country, supplies could be cut off if problems arose between the two nations.

The Air Force addressed the issue in a 2009 news release examining why the United States didn't save money by letting major clothing companies provide uniforms. It quotes Maj. Michael Perry, clothing program manager for the Air Force: "All of the uniform items -- service dress, PT, utility, flight suits -- must be manufactured in the U.S. The [Berry] amendment holds us to this in order to preserve not only American business, but national security."

The only exception we could find in searching the Internet came in the wake of a 2000 decision to make black berets standard headgear for the Army. To issue them by the fall of 2001, a waiver was granted to allow several foreign firms, including some with facilities in China, to make 4.7 million berets. (But the first contract went to an Arkansas-based company that, according to a Congressional Research Service report, had been making military headgear since World War I.)

Because of the controversy that erupted, the Department of Defense decided not to distribute 618,000 berets made by a United Kingdom company operating in China, according to an undated story in Army Times. But 240,000 berets made in Sri Lanka were shipped.

The Gemma campaign never did respond to our inquiry.

Our ruling

Anthony Gemma, raising a question during an Aug. 28 debate appearance, said uniforms for U.S. soldiers "are manufactured in China."

But federal law prohibits the military from buying foreign-made uniforms without special authorization, stemming from the Berry Amendment of more than 70 years ago. We could find no evidence that any U.S. military uniforms are currently being made outside the United States.

Even a search of the Internet, where you can usually find "support" for just about any idea, uncovered only one instance, involving the Army berets, and that was more than a decade ago.

Perhaps some knockoff uniforms sold to the public come from foreign countries. But those aren't uniforms for our soldiers.

We don't know where Gemma buys his clothing, but regardless of its origin, we hope he has flame-retardant undies because the Truth-O-Meter rules this ridiculous claim a Pants On Fire!

(Get updates from PolitiFact Rhode Island on Twitter: @politifactri. To comment or offer your ruling, visit us on our PolitiFact Rhode Island Facebook page.)
WPRI.com, "Watch: Cicilline, Gemma bonus debate," at about the 7:20 mark, Aug. 29, 2012

E-mails, Mikia Muhammad, spokeswoman, Defense Logistics Agency, Aug. 30 and 31, 2012

E-mail, Capt. Shannon Stoneking, spokeswoman, Air Force, Aug. 31, 2012

Acq.OSD.mil, "Berry Amendment FAQ," Defense Procurement and Acquisition Policy Office, undated, accessed Aug. 30, 2012

AF.mil, "Air Force uniforms: How materials are selected," April 1, 2009, accessed Aug. 30, 2012

FAS.org, "The Berry Amendment: Requiring Defense Procurement to Come from Domestic Sources," Congressional Research Service, July 20, 2012, accessed Aug. 30, 2012

ArmyTimes.com, "China-made berets collecting dust in Pa.," undated, accessed Aug. 30, 2012
Browse the Truth-O-Meter
More by C. Eugene Emery Jr.
Support independent fact-checking.
Become a member!
In a world of wild talk and fake news, help us stand up for the facts.