Stand up for facts and support PolitiFact.
Now is your chance to go on the record as supporting trusted, factual information by joining PolitiFact's Truth Squad. Contributions or gifts to PolitiFact, which is part of the 501(c)(3) nonprofit Poynter Institute, are tax deductible.
I would like to contribute
Says Charlie Bass forfeits right to equal cost for TV ads under FCC rules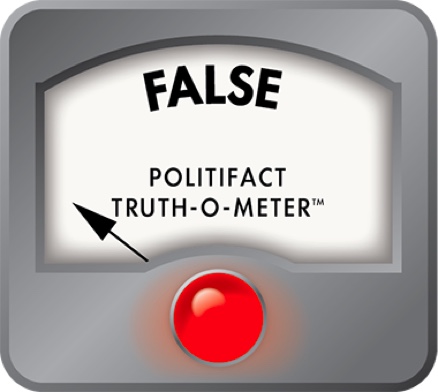 Ann McLane Kuster accused Charlie Bass of dirty campaign tricks and violating FCC rules
With the primary days away, some congressional campaigns are already focused on their future adversaries on the long road to Washington.

Democrat Ann McLane Kuster, looking to overcome incumbent Rep. Charlie Bass, R-NHto be the next U.S. representative for New Hampshire's 2nd Congressional District, cried foul when she saw a new ad targeting her as a "left-wing darling." She accused Bass of violating federal regulations with his ad, "Not Working for Us," which is running locally on WMUR.

Attack ads, like Bass', are subject to a specific set of rules, and when they are broken, the candidate is no longer entitled to the same ad rate as competitors, Kuster argued.

"Congressman Bass's campaign is in violation of a rule which states that within 45 days of the Primary Election, candidates must include 'a clearly identifiable photographic or similar image of the candidate' for a period of no less than four seconds at the end of advertisements," Kuster said in a news release emailed to New Hampshire reporters on Aug. 31. "Congressman Bass's ad, 'Not Working for Us,' fails to meet this basic requirement and includes no photograph or other image of the candidate for any duration at the end of the advertisement."

The lowest unit charge was established in the Federal Election Campaign Act of 1971 to protect candidates from excessive advertising costs -- charges no more than the lowest rates available to regular commercial advertisers.

It's ultimately up to the FCC to decide if its rules were broken, but PolitiFact New Hampshire decided to find out if Kuster was right about what the FCC rules say.

When to show face

Kuster's Campaign Manager Garrick Delzell said he had no comment on the situation, but emailed us portions of Section 315 of The Communications Act of 1934 and a letter to WMUR outlining the accusations against Bass' advertisement.

The Communications Act requires that broadcast stations charge candidates for federal office for advertising "during the forty-five days preceding the date of the primary runoff election and during the sixty days preceding the date of a general or special election, in which such person is a candidate, the lowest unit charge of the station for the same class and amount of time for the same period," said Paul Burkett, Kuster for Congress treasurer, in a letter to WMUR.

"A candidate loses this right to preferential pricing, however, if a candidates makes 'any direct reference to another candidate for the same office, in any broadcast using the rights and conditions of access under this Act, unless such reference meets requirements of subparagraphs (C) or (D).'"

In other words, Kuster argues that because Bass' ad is directed at her, it had to meet certain requirements.

OK, so let's look at those subparagraphs. In this case it's C, which deals with television broadcasts. It says that at the end of a TV broadcast, two things must appear simultaneously:
     (i) A clearly identifiable photographic or similar image of the candidate; and
     (ii) A clearly readable printed statement, identifying the candidate and stating that the candidate has approved the broadcast and that the candidate's authorized committee paid for the broadcast.
Kuster is right that Bass' ad doesn't contain a photo of Bass during the last four seconds of the broadcast.In the ad, Bass' image does appear, but it's during the first two seconds of the spot. In addition, the first words people hear is "I'm Charlie Bass and I approve this message." During the last four seconds of the commercial, it displays the words, "Approved and Paid for by Bass Victory Committee," and there'sno picture of Bass.

According to Kuster, that means "the Bass Victory Committee and Charlie Bass are no longer entitled to benefit from the lowest unit charge."

We called the Federal Communications Commission.

Know your opponent

The extra photo requirement relies on the idea that Kuster and Bass are running for the same office. Cut and dried, right?

Well,as it turns out, the section of the Communications Act that Kuster cited does not even apply to her race against Bass -- at least not yet.

When Congress adopted Section 315, commonly referred to as the "equal opportunity" or "equal time" provision, it required opposing candidates receive the same treatment -- that, if one candidate for an office gets air time, his opponent "for that office" is entitled to equal air time at the same cost, according to the FCC's "The Law of Political Broadcasting and Cablecasting: Political Primer 1984."

But the term "for that office" requires some careful distinction. Which candidates are actually  opponents, and whether stations are required to afford them "equal opportunity" under Section 315, depends entirely on the election.

"The FCC for many years interpreted Section 315 to mean that before the primaries or the nominating conventions take place, only those candidates who seek the nomination of the same party for the same office are entitled to opportunities equal to those of each other, since only they are opponents at that point," according to the Primer.

In other words, the primary and the general election are considered two separate races. Opponents in a primary are candidates of the same party running for the nomination to run in the general election. Even if Bass and Kuster consider themselves opponents at this point, the FCC views it differently.

In Bass' case, his opponents are Gerard Beloin, Will Dean, Miroslaw Dziedzic and Dennis Lamare until the primary on Sept. 11.

No Democrats have filed to run against Kuster in the primary, but under FCC rules, she still wouldn't be Bass' opponent until the general election in November.

The content of Bass' "Not Working For Us" advertisement -- which has been running for more than a week -- does not deal with "equal opportunity" issues or violate Section 315 because, according to the FCC, Bass' opponents are the Republicans running against him in the primary, not his presumed Democratic opponent in the general election.

For its part, WMUR doesn't see anything wrong with the ad -- or what they are charging Bass for it.

"At this point, it's the opinion of our FCC attorney that the spot we're running is legal and the rates we're charging the campaign are fine as well," said Jeff Bartlett, WMUR's President and General Manager.

"From the FCC's point of view, that's fine," he added, referring to the image of Bass. "You can run it at the beginning or the end. There's no regulation compelling us to do anything about it, because the FCC, which regulates us, says they can run it either place."

Even if Bass and Kuster were currently considered opponents and Bass was found in violation of the rules, WMUR could still give him the lowest ad rate anyway, according to an opinion published by the Federal Elections Commission.

(It's worth noting, the Federal Election Commission has its own set of rules ensuring candidates identify themselves in TV ads and the Bass advertisement passes those bars too — his image can appear at the beginning or the end.)

Our ruling

Kuster says Bass' "Not Working for Us" TV ad forfeited its right to WMUR's lowest rates because it violated FCC rules.

The rules Kuster cite only apply to advertisements about Bass' Republican opponents in the primary. Until Kuster and Bass are direct opponents for the Second Congressional District general election race, her accusation is moot.

Moreover, even if Bass did violate the rules, WMUR is still free to charge him the lowest rate.

We give Kuster a False.
YouTube, "Bass for Congress -- Annie Kuster -- 'Not Working' for any of us," accessed Sept. 4, 2012.

"Bass Campaign Violates FCC Rules," Ann Kuster campaign press release, Aug. 31, 2012.

Letter to WMUR from Kuster for Congress, Inc. Treasurer, Paul A. Burkett, Esq., Aug. 31, 2012.

Phone and email correspondence with Kuster Campaign Manager Garrick Delzell, Sept. 4, 2012.

Federal Communications Commissions, "Statutes and Rules on Candidate Appearances & Advertising," accessed Sept. 4, 2012.

Phone and email correspondence with Federal Election Commission spokeswoman Julia Queen, Sept. 5, 2012.

Phone and email correspondence with Federal Communications Commission, Sept. 5, 2012.

Phone interview with Jeff Bartlett, WMUR President and General Manager, Sept. 4, 2012.

Fuliani v. FCC, March 15, 1995, accessed Sept. 5, 2012.

Kay v. FCC, BulkResource.org, Oct. 28, 1970, accessed Sept. 5, 2012.

Federal Communications Commission, "The Law of Political Broadcasting and Cablecasting: Political Primer," 1984.

Federal Election Commission, "Campaign Guide: Congressional Candidates and Committees 2011," August 2011.

Federal Election Commission, ADVISORY OPINION 2004-43, Feb. 14, 2005.

Political Advertising, KoeppelDirect.com, accessed Sept. 5, 2012
Browse the Truth-O-Meter
More by Maryalice Gill
Support independent fact-checking.
Become a member!
In a world of wild talk and fake news, help us stand up for the facts.