Stand up for the facts!
Our only agenda is to publish the truth so you can be an informed participant in democracy.
We need your help.
I would like to contribute
Says Rush Limbaugh made it clear he'd rather see the country fail than President Barack Obama succeed.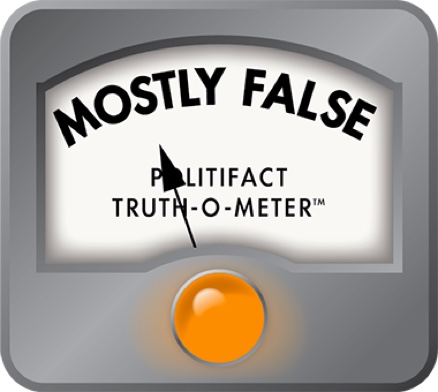 Mark Strama says Rush Limbaugh made it clear he'd rather see the country fail than President Barack Obama succeed
Texas state Rep. Mark Strama brought up conservative talk-show host Rush Limbaugh while speaking over breakfast to Texas delegates at the Democratic National Convention, the Austin American-Statesman noted in a Sept. 5, 2012, news blog post.

Strama, D-Austin, said Barack Obama's success in turning out new voters in 2008 led to Republican operatives dedicating themselves to making sure that never recurs.

"That's why you have Rush Limbaugh making it clear he would rather see the country fail than this president succeed," Strama said.

A reader suggested that Strama mangled Limbaugh's statement. We decided to check.

Given that Limbaugh is a conservative radio personality, it's not surprising he would dart Obama. And he has repeatedly said he hopes Obama fails as president, though he also has indicated there were ways for Obama to succeed.

Limbaugh's original comment along these lines aired shortly before the Democrat's January 2009 inauguration. During the Jan. 16, 2009, episode of his program, Limbaugh noted that other "people on our side of the aisle" had expressed hopes that Obama succeed. In contrast, Limbaugh said, "I've been listening to Barack Obama for a year and a half. I know what his politics are. I know what his plans are, as he has stated them. I don't want them to succeed. If I wanted Obama to succeed, I'd be happy the Republicans have laid down. And I would be encouraging Republicans to lay down and support him.

"Look, what he's talking about is the absorption of as much of the private sector by the U.S. government as possible, from the banking business, to the mortgage industry, the automobile business, to health care. I do not want the government in charge of all of these things. I don't want this to work."

Limbaugh then said that in response to a request that he write about his hopes for Obama, he was thinking of replying: "I hope he fails," words he repeated later in the segment after talking about how liberals treated Obama's predecessor, George W. Bush. "Were the liberals out there hoping Bush succeeded or were they out there trying to destroy him before he was even inaugurated? Why do we have to play the game by their rules? Why do we have to accept the premise here that because of the historical nature of his presidency, that we want him to succeed?" Limbaugh said.

Web searches led us to additional instances of Limbaugh saying he hoped Obama -- and his policies -- would fail.

For a Fox News program aired Jan. 21, 2009, Limbaugh was asked by commentator Sean Hannity if he wanted Obama to succeed. Limbaugh replied that while he was hearing many Republicans say so, he had suspicions about Obama's plans.

Limbaugh: "Now if he turns out to be a Reagan, if he adds Reagan to his recipe of FDR and Lincoln, and if he does cut some taxes," references to Ronald Reagan, Franklin Delano Roosevelt and Abraham Lincoln.

Hannity: "Yes."

Limbaugh: "If he does not eliminate the Bush tax cuts, I would call that success. So yes, I would hope he would succeed if he acts like Reagan, but if he's going to do FDR, if he's going to do the new New Deal all over, which we will call here the Raw Deal, why would I want him to succeed?"

Limbaugh then said that if Obama was going to implement a "far-left" agenda -- including "nationalized" health care -- that would be the "end of America as we have known it because that's then going to set the stage for everything being government owned, operated or provided. Why would I want that to succeed? I don't believe in that. I know that's not how this country is going to be great in the future, it's not what made this country great.

"So I shamelessly say, no, I want him to fail, if his agenda is a far-left collectivism, some people say socialism, as a conservative heartfelt, deeply, why would I want socialism to succeed?"

Limbaugh revisited his hope that Obama fail in a Feb. 13, 2009, segment of his program about the Democratic-steered economic stimulus plan; a February 2009 appearance before the Conservative Political Action Conference; a May 10, 2011, segment focused on Indiana Gov. Mitch Daniels; and a June 4, 2012, segment in which he suggested a critical listener was distorting his original point.

Limbaugh said at the CPAC meeting: "What is so strange about being honest about saying I want Barack Obama to fail if his mission is to restructure and reform this country so that capitalism and individual liberty are not its foundation? Why would I want that to succeed?"

Nowhere did we find an instance of Limbaugh saying he'd rather see the country fail than the president succeed.

By email and in a telephone interview, Strama told us he deliberately has not said that Limbaugh used those precise words.
But the conclusion that Limbaugh wanted the country to fail is self-evident, Strama said, especially because Limbaugh initially piped up before Obama had even been sworn in at a time the economy was in freefall. Saying that this analysis is his inference, Strama said: "If you get 100 people who share my view of politics, they would all agree with me."

By email, Strama said: "Limbaugh's remarks must be judged in this context. It is one thing to disagree with the president's policies. It is another thing altogether to root for the failure of those policies -- with all the associated misery that such failure would cause -- so that your party can win an election that is four years away. If a Democrat had hoped Bush's Iraq policy failed, with the consequences such failure would hold for our troops, it would be reprehensible, almost treasonous. Given the economic conditions in January 2009, hoping for the failure of the American government's policies at that time was also reprehensible and almost treasonous."

More broadly, Strama wrote, unless "you believe that policy has no consequence to the well-being of our people and our country, it is logically impossible to hope a president's policies fail while hoping the best for our country." In a follow-up email, Strama said it is possible to oppose a policy and still wish the country to succeed, but Limbaugh's focus on Obama failing so Republicans could recapture power -- at the expense of national difficulties -- crosses a line.

We emailed Limbaugh and did not hear back.

Our ruling

Strama said Limbaugh made it clear he'd rather see the country fail than Obama succeed.

Limbaugh has been clear about hoping Obama and his policies fail. Far as we can tell, though, he has not said he would prefer that the country fails, though Strama openly infers as much.

Our sense is this statement contains an element of truth, but it's otherwise speculative. We rate it Mostly False.
Transcripts, Rush Limbaugh show, Jan. 16, 2009; Feb. 13, 2009; May 10, 2011; June 4, 2012 (accessed Sept. 6, 2012)

Transcript, interview of Rush Limbaugh, "Rush Limbaugh's Shocking Words for President Obama," Fox News, Jan. 22, 2009

Video snippet, ""I Want OBAMA to FAIL !" : RUSH LIMBAUGH | CPAC Convention 2009," Feb. 28, 2009 (YouTube post)
Emails and telephone interview, Mark Strama, Austin, Sept. 7, 2012
Browse the Truth-O-Meter
More by W. Gardner Selby
Support independent fact-checking.
Become a member!
In a world of wild talk and fake news, help us stand up for the facts.