Stand up for the facts!
Our only agenda is to publish the truth so you can be an informed participant in democracy.
We need your help.
I would like to contribute
Says Ted Cruz "has pledged to eliminate" the U.S. Department of Education, which would end federal aid to college students.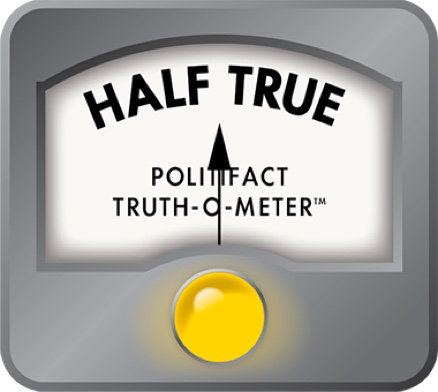 Paul Sadler says Ted Cruz pledges to shut down Department of Education, which would shutter federal aid to college students
Paul Sadler, the Democratic nominee for a U.S. Senate seat from Texas, casts his Republican opponent, Ted Cruz, as stumping on extremist ideas.

And in a Sept. 26, 2012, press release, Sadler zeroed in on what he called Cruz's desire to eliminate federal aid to college students. The release says Cruz has pledged to eliminate the U.S. Department of Education, "which would result in the loss of many programs used by Texas students."

In the release, Sadler says: "The Department of Education includes federal student aid. If we eliminate it, then we truly make college education unaffordable for a large segment of our population in every single country, every single city, every single town."

After asking Sadler spokeswoman Donna McDonald for the basis of Sadler's claim, we looked for evidence of Cruz wanting to kill the agency, including its oversight of federal college student aid.

Cruz has often called for eliminating several agencies including the education department.

As noted in a May 6, 2012, Houston Chronicle news article, Cruz said at the Texas Capitol that day: "We need to eliminate unnecessary and unconstitutional agencies like the Department of Education ... the Department of Commerce, the Department of Energy, the National Endowment of the Arts. ... I would most like to eliminate the Internal Revenue Service."

Later, in an Aug. 5, 2012, interview with Chris Wallace of Fox News, Cruz did not object when Wallace said, "You want to abolish (the) Education, Commerce and Energy departments" as well as the Transportation Security Administration and IRS.

And in an interview posted Sept. 2, 2012, by the Daily Caller, a conservative-leaning news website, Cruz said: "I think we should shrink the size and power of the federal government by every and any means possible. What does that mean? That means eliminating unnecessary or unconstitutional agencies. The first agency I would eliminate would be the U.S. Department of Education. I think education is far too important to be governed by unelected bureaucrats in Washington. I think it should be at the state level, or even better, at the local level where parents have direct influence over the education of our kids."

So, Cruz wants to wipe out the department, which originated in 1867 but did not become a Cabinet-level agency until 1980.

And what does the agency do? It "establishes policy for, administers and coordinates most federal assistance to education," according to information on a department website. In 2007-08, department expenditures affected approximately 55 million students (pre-K through grade 12) in some 100,000 public schools and 34,000 private schools, the agency says, while providing grant, loan and work-study assistance to about 10 million undergraduate students.

By telephone, Sadler told us Cruz's saying he'd eliminate the department naturally means he would abandon all its functions -- including student aid.

Sadler also pointed out a Sept. 25, 2012, El Paso Times news article quoting Cruz as saying he favors shutting down the agency and others. But it also quotes Cruz as saying that vital department functions such as teacher training would be pulled into other agencies.

Minutes after we interviewed Sadler, he called us to point out a fresh news post by the Dallas Morning News on its Trailblazers blog. According to the Sept. 26, 2012, post, Cruz had just dismissed Sadler's contention that eliminating the education department would jeopardize college student loan programs.

"Of course not," the News' post quotes Cruz as saying. "Student aid is critically important. … In my life, education opened doors for my parents and for me that never would've been opened."

According to the post, Cruz said federal aid for college students should be wrested from the department and sent to the states as block grants. "We should take the funding, give it to the states and put the states in the position to make the decisions how to have the greatest impact in their communities," Cruz said.

It would be unfair to consider information that came to light after Sadler made his claim. We won't do so. Unfortunately, we failed to find any previous accounts of Cruz speaking to the department's role in college student aid.

To our inquiry, Cruz campaign spokesman James Bernsen told us by email that Cruz has "repeatedly made clear that he would not eliminate the funds to support a federal student loan program," preferring to give states "more freedom to adopt policies at the local level."

More broadly, Bernsen said, the "elimination of a federal (agency) does not mean that critical divisions of the agency must be eliminated."

We asked for evidence of Cruz's repeated clarity about student financial aid, as described, and fielded none.

Our ruling

Sadler said Cruz wants to eliminate the U.S. Department of Education and that federal college student aid would vanish as a result.

Cruz has been clear about wanting the agency gone -- and we also see the rationale behind saying, or speculating, that killing the department would end all its functions, including the provision of college aid. However, there is no record of Cruz confirming or even discussing that desire before the day Sadler issued this press release. Also, Cruz was recently quoted as saying he would preserve vital department functions such as teacher training, an indication he doesn't favor dropping everything the agency does.

We rate Sadler's claim as Half True.
Paul Sadler campaign, press release, "SADLER RECOGNIZES VALUE OF FEDERAL STUDENT AID; DENOUNCES OPPONENT'S ANTI-STUDENT AGENDA." Sept. 26, 2012
Houston Chronicle, news article, "Pauls, Cruz fire up tea party rally," May 6, 2012

Telephone interviews, Paul Sadler, Sept. 26, 2012

El Paso Times, news article, "U.S. Senate candidate in El Paso: Ted Cruz makes push for smaller government," Sept. 25, 2012

Dallas Morning News, Trail Blazers blog post, "Cruz waves off Sadler's claim he'd gut federal college loans," 1:26 pm Sept. 26, 2012

Email, response to PolitiFact Texas, James Bernsen, communications director, Ted Cruz campaign, Sept. 26, 2012
Browse the Truth-O-Meter
More by W. Gardner Selby
Support independent fact-checking.
Become a member!
In a world of wild talk and fake news, help us stand up for the facts.