Stand up for facts and support PolitiFact.
Now is your chance to go on the record as supporting trusted, factual information by joining PolitiFact's Truth Squad. Contributions or gifts to PolitiFact, which is part of the 501(c)(3) nonprofit Poynter Institute, are tax deductible.
I would like to contribute
Says the government has "gotten the TARP money back plus a profit."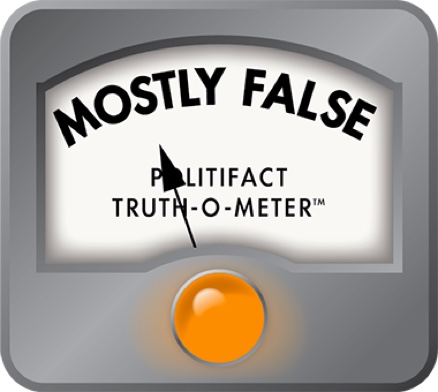 Bill Clinton says TARP turned a profit
The financial crisis of 2008 spawned some new terminology -- "too big to fail" and the Troubled Asset Relief Program.

TARP, as it's more commonly known, is the $700 billion in government money set up to rescue banks such as Goldman Sachs, Citigroup, Bank of America, and a host of other financial entities, big and not so big.

There were dire predictions on TARP's final cost to taxpayers. The Congressional Budget Office said it could top $350 billion. But the payback was higher than expected, which former President Bill Clinton mentioned during an interview on The Daily Show. Describing the atmosphere at the height of the financial crisis, Clinton said, "Everybody was all hands on deck and they did a lot of things, including the unpopular TARP bill to keep us from falling into a depression. By the way, you have gotten the TARP money back plus a profit."

This is something the former president has said before, so we decided to see if it is correct.

It isn't.

"The point about coming out ahead is wrong ," said Paul Kiel who has covered the bailout for the investigative news site ProPublica. "But TARP won't be as much in the hole as people feared."

Clinton is right only if you look just at the money that went to banks. According to the latest update from the Treasury Department, $245 billion went out the door to banks and $266 billion came back. The $21 billion gain came from dividends and gains when Washington sold the shares it held.

But TARP went beyond banks. The government put $80 billion into General Motors, Chrysler and GM's financial subsidiary, GMAC. Another $68 billion went to the insurance company, American International Group, AIG. On a much smaller scale, $5 billion has been used to help homeowners avoid defaulting on their mortgages and other housing market assistance.

This is where Clinton's statement goes off track. The government still has plenty of money tied up in GM, GMAC and AIG. Between the three, taxpayers are looking at about $57 billion outstanding.

Once you account for the profit made on the banking side, TARP is $34 billion in the hole.

That is a fraction, about 10 percent, of the original estimate. Where TARP ends up is of course a matter of educated guesswork, but most analysts expect the loss to decline further. In March, the Congressional Budget Office predicted the total lifetime cost would be $32 billion. Kiel thinks it could drop below $20 billion. Kiel is bullish on AIG.

"It's extremely likely that all the AIG money will come back," Kiel said, "and it could even be positive."

In 2010, Congress capped the program at $475 billion. Looking ahead, the greatest uncertainty lies with the housing foreclosure program within TARP. The government has barely dipped into the $45 billion available and there's over a year left for people to apply. Whatever is spent will not be repaid.

Our ruling

Former President Clinton said government got the TARP money back plus interest.

That is correct for the money that went to banks. It is incorrect for TARP as a whole. The program remains about $34 billion in the red.

We rate the statement Mostly False.
The Daily Show, Bill Clinton - extended interview, September 20, 2012

The Daily Show, Bill Clinton -extended interview, September 16, 2010

ProPublica, Bailout Tracker, September 26, 2012

Interview with Paul Kiel, reporter, ProPublica, September 27, 2012

U.S. Department of the Treasury, Daily TARP update, September 26, 2012

U.S. Department of the Treasury, Troubled Asset Relief Program (TARP): Monthly Report to
Congress, August 2012

Congressional Budget Office, Report on the Troubled Asset Relief Program, March 28, 2012

Congressional Budget Office, Troubled Asset Relief Program, April 17, 2009

U.S. Department of the Treasury, TARP Housing Program, July 13, 2012

U.C. Berkeley - Bancroft Library, Slaying the dragon of debt,

Real Clear Markets, Why TARP has been a success story, March 28, 2011

CNN, T stands for TARP -- and trouble, November 7, 2008

PolitiFact, Barack Obama: "In the first round of repayments" from financial institutions that received TARP money, "the government has actually turned a profit.", June 10, 2009
Browse the Truth-O-Meter
More by Jon Greenberg
Support independent fact-checking.
Become a member!
In a world of wild talk and fake news, help us stand up for the facts.