Stand up for the facts!
Misinformation isn't going away just because it's a new year. Support trusted, factual information with a tax deductible contribution to PolitiFact.
I would like to contribute
"Pasco County has the second highest population of homeless in all of Florida."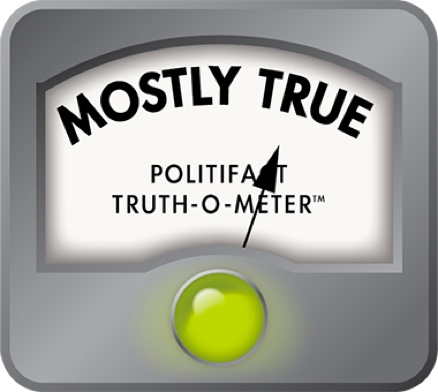 Pasco County has second highest homeless population in Florida, advocate claims
For Tampa Bay residents, the state's homeless crisis hits home harder than you may think.
Discussion of a measure that would allow people applying for or renewing driver's licenses or motor vehicle registrations to make $1 donations to homeless outreach programs sparked an interesting claim from a Pasco County resident.
"Pasco County has the second highest population of homeless in all of Florida," said Brian Anderson, a homeless advocate from Hudson, on April 9, 2013, before the Senate Rules Committee.
Anderson, 30, is a 10-year Army veteran who moved to Hudson in May 2012 to attend Saint Leo University and study social work. He said he just received approval from the Pasco County Commission to hold a "Stand Down" event for homeless veterans transitioning into civilian life at Veterans Memorial Park in September 2013.
"We have an epidemic," he said of homelessness.
PolitiFact Florida was skeptical of Pasco being the No. 2 county in Florida for homelessness. Wouldn't the number of homeless people be higher in counties with substantially more people, such as Miami-Dade, Broward and Palm Beach?
To find out, we consulted the 2012 report of the Florida Council on Homelessness, which makes recommendations to the governor and Legislature for addressing the prevalence of homeless adults and children in Florida. The latest report, submitted June 2012, says families with children are the fastest growing segment of the homeless population.
In 2012, local homeless coalitions counted 54,300 homeless people living in shelters or on the street on one day and one night in January.
Before we get into the data, we'll stress that the totals are imperfect. Not every county, especially rural counties, has the resources to spread out and tally homeless residents.
Still, the report offers the best snapshot we have of how to count the homeless.
The homeless count is required every two years by the U.S. Department of Housing and Urban Development in order to receive grants for addressing the homeless problem. Using the 2012 report, we found the homeless counts for the biggest counties in the state. In the chart below, we added in the county's estimated 2012 population as a point of comparison using U.S. Census Bureau data.
| | | | | |
| --- | --- | --- | --- | --- |
|   | 2009 | 2011 | 2012 | Est. 2012 pop. |
| Broward | 4,154 | 3,801 | 3,801 | 1,815,137 |
| Duval | 3,244 | 4,284 | 2,533 | 879,602 |
| Hillsborough | 7,473 | 7,336 | 7,336 | 1,277,746 |
| Miami-Dade | 4,333 | 3,777 | 3,817 | 2,591,035 |
| Orange | 2,281 | 2,872 | 2,281 | 1,202,234 |
| Palm Beach | 2,147 | 2,148 | 2,148 | 1,356,545 |
| Pasco | 4,527 | 4,442 | 4,502 | 470,391 |
| Pinellas | 4,163 | 3,971 | 3,890 | 921,319 |
| Statewide | 57,687 | 56,771 | 54,972 | 19,317,568 |
Hillsborough County, by a large margin, has the most homeless residents. In second, over more populous counties, is Pasco, at 4,442 residents in 2011 and 4,502 residents in 2012. (Not all counties count the homeless in even years, so some 2012 numbers are repeated from 2011.)
Count George Romagnoli, manager of Pasco County's Community Development Division, as a skeptic. He can't understand how counties five times bigger than Pasco have lower homeless populations.
"It just doesn't make sense for a county with a population under 500,000," he said. "It's a hard statement to comprehend."
For the most part, Pasco's homeless live in the woods, Romagnoli said. Law enforcement advised volunteers not to go as far back into the woods to conduct their count in 2013 because of a couple recent murders, so Romagnoli expects the county's 2013 total will be lower.
Rep. Mike Fasano, R-New Port Richey, said he has noticed an increase in people reaching out to his office in recent years because they lost their house. "It's surprising to me," he said when told about the state's high homeless count.
The higher-than-expected figure may have more to do with how aggressive local coalitions and their volunteers are in getting accurate figures, said Tom Pierce, executive director of the state's Office on Homelessness. The coalitions need to do the legwork to figure out where the homeless are in advance of the biennial count, he said.
A more accurate way to describe the figure may be "reported homeless population."
"It's obviously fraught with its own limitations, but it's the best we've got," Pierce said.
As for Miami-Dade, the county has been effective getting more homeless people into permanent housing units. Miami-Dade gets more money from the federal government because it raises more money for homeless initiatives from a 1 percent sales tax on food and alcoholic beverage purchases at restaurants and bars. Miami-Dade passed the tax in 1993.
"Our community has had no political will to advance that," said Lesa Weikel, Homeless Coalition of Hillsborough County spokeswoman.
She wanted to dispute a myth that homeless people come to Florida from other states because of the warm weather. In 2009 and 2011, volunteers asked homeless people in what state did they become homeless. In 2009, 88 percent said Florida. In 2011, it was 90 percent.
Pasco County has many programs aimed at curbing the homeless program, such as offering hotel vouchers for families, placing people in jobs suited for each person's abilities and criminal record, and offering bus rides to work, said Rev. Jim Campbell, president of the Coalition for the Homeless of Pasco County.
Our ruling
A homeless advocate named Brian Anderson came to Tallahassee to support a bill that would allow people at the DMV to check a box indicating they wanted to donate $1 to homeless programs. Anderson, of Hudson, evoked his home county in his plea, saying "Pasco County has the second highest population of homeless in all of Florida."
Anderson accurately cites the state's 2012 county-by-county homeless population report. However, there is enough skepticism about the count itself that we think it's best to proceed with caution.
As such, we rate the statement Mostly True.
Florida Council on Homelessness 2012 report, submitted June 2012
Interview with Rep. Mike Fasano, April 9, 2013
Interview with George Romagnoli, manager of Pasco County's Community Development Division, April 9, 2013
Interview with Tom Pierce, Office on Homelessness executive director, April 9, 2013
Interview with Lesa Weikel, Homeless Coalition of Hillsborough County spokeswoman, April 9, 2013
Tampa Tribune, "County's eye-opening problem: 'There's no place to go,'" Aug. 14, 2011 (accessed via Nexis)
Interview with Brian Anderson, April 10, 2013
Interview with Rev. Jim Campbell, April 10, 2013
Browse the Truth-O-Meter
More by Katie Sanders
Support independent fact-checking.
Become a member!
In a world of wild talk and fake news, help us stand up for the facts.