Stand up for the facts!
Our only agenda is to publish the truth so you can be an informed participant in democracy.
We need your help.
I would like to contribute
Says his budget provides "the highest state funding level in history" for education.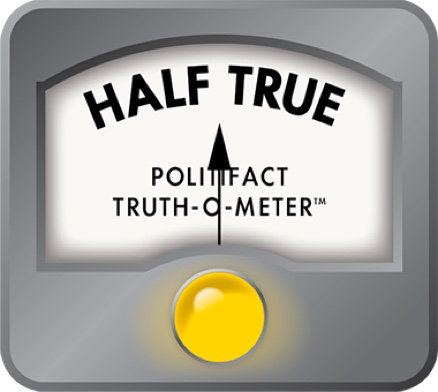 Rick Scott says his budget proposal has "the highest state funding level in history" for education
Gov. Rick Scott trumpeted his "Florida Families First" budget as providing record-breaking money for schools, including $2,500 raises for teachers.

"This total includes $10.7 billion in state funding for Florida K-12 schools, the highest state funding level in history," Scott said in a Jan. 31, 2013, news conference about his 2013-14 budget recommendations.

The crowd of teachers and university presidents huddled around Scott applauded his comment. We thought it merited another look.

Overall education spending vs. state spending

Scott was very careful to specify state funding for education would be higher than ever in his proposed budget. But schools are funded by more sources than the state. The complex school-funding formula includes local taxes and, in recent years, federal stimulus dollars, too.

Scott's press team directed us to a breakdown of state and local school funding for the past 10 years. It does not include federal stimulus funding.The blue bar represents state funding, the green bar represents local funding, and the orange horizontal line at the top represents per-pupil funding.

Looking at education spending this way excludes $1.78 billion in economic stimulus money Florida received to bolster its 2009-10 and 2010-11 budgets, so spending in those years should actually appear slightly closer to Scott's new proposal.

Let's take a closer look at the education spending Scott proposed. He wants the state to spend $18.47 billion for education during the 2013-14 school year. Again, the state's share of that would be about $10.7 billion.

So if the Legislature passes a budget that precisely mirrors Scott's education proposals, the state's share of education spending would be its highest since 2007-08, when it was $9.71 billion. In terms of the state's actual dollar investment, Scott is right that it would be the highest.

However, total state and local education spending in Scott's budget would be $280 million smaller than the 2007-08 budget signed by Gov. Charlie Crist.

What's in the $1.2 billion increase from last year's education spending? About $480 million would go toward teacher raises and $300 million would go toward the unfunded liability of the state's retirement system. There's some debate as to whether the pension funding should be considered part of an education increase, but a couple experts told us it's reasonable because past calculations of the state's per-pupil funding have included the cost of teacher wages, part of which goes to the retirement system.

Breaking it down per student

Of course, there are other ways of looking at state education spending. One is to look at spending per student.
As a whole, counting state and local funding, per-pupil funding under Scott's new budget would be $6,799. That's short of what it was before the economic recession, when per-pupil funding peaked in 2007-08 at $7,126. So back then, the state had fewer students and was providing more money for each. Now we have 85,000 more students, according to DOE numbers, but less money for each one.
But if you only look at the state's per-pupil level of $3,941 in Scott's new budget, it does exceed funding levels for the past 10 years in terms of actual dollars.
And inflation?

We'll close with a point about inflation. When adjusted for inflation, does Scott's budget still stand up as the state's biggest education investment?

We used a Consumer Price Index calculator from the Bureau of Labor Statistics to compare Scott's proposal with state spending on education for the past 10 years. (BLS has not released CPI data for January 2013, so the comparisons use 2012 inflation rates.)

The takeaway is that state spending on education, when adjusted for inflation, would not be significantly different than it was from 2004 to 2007.

Still, even the Florida Education Association, the state teachers union that sued Scott over the 2011 merit pay plan, conceded the state has never invested more, and that it is reasonable to consider the proposed $300 million contribution to the state's retirement system as part of the $1.2 billion increase for education.

"Added money spent on public schools always helps grow our economy," said FEA President Andy Ford in a statement. "We look forward to the governor's strong advocacy of this proposal."

Our ruling

Scott said his budget "includes $10.7 billion in state funding for Florida K-12 schools, the highest state funding level in history."
Floridians hearing this statement might think that means education funding for Florida schools has never been higher. That's not the case.
Actually, Scott is referring only to the state government's specific contribution to overall spending. Scott drums up the state share as an historic investment, and it is in terms of actual dollars.
But there are also local and federal dollars that fund Florida schools. When you consider those, Scott's overall recommendation for education spending is still short of what Florida students received before the economic crash. It's about the same as it was under Gov. Jeb Bush when considering inflation. 
Scott's claim is partially accurate, but it leaves out important details that would give a different impression. We rate this claim Half True.
Gov. Rick Scott's Florida Families First budget news conference, Jan. 31, 2013

CPI Inflation calculator

Email interview with Amy Baker, Legislature Office of Economic and Demographic Research, Jan. 31, 2013

Interview with John Tupps, Scott spokesman, Jan. 31, 2013

Email interview with Cheryl Etters, Department of Education spokeswoman, Jan. 31, 2013

Email interview with Amy Baker, Florida's chief economist, Jan. 31, 2013

Email interview with Mark Pudlow, Florida Education Association, Feb. 1, 2013

Florida Department of Education, historical state funding summary, received Feb. 1, 2013

Interview with Ben Wolf, Department of Management Services, Jan. 31, 2013
Browse the Truth-O-Meter
More by Katie Sanders
Support independent fact-checking.
Become a member!
In a world of wild talk and fake news, help us stand up for the facts.