Stand up for the facts!
Our only agenda is to publish the truth so you can be an informed participant in democracy.
We need your help.
I would like to contribute
Wisconsin's laws "ranked the worst in the world for mining investment."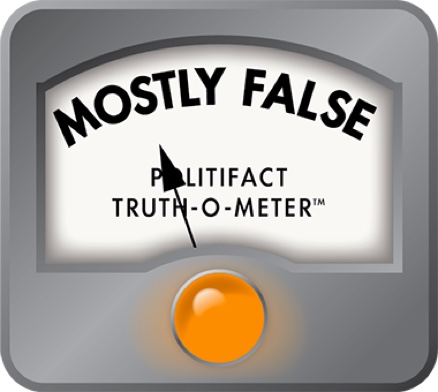 Wisconsin regulations ranked "worst in the world" for mining, business group says
With the prospect of thousands of jobs being created in northern Wisconsin, Republican legislators and business leaders are once again leading a push for changes to the state's mining laws.

Gogebic Taconite has continued to express interest in spending $1.5 billion to open an iron ore mine in far northwestern Wisconsin. Before it proceeds, the company wants lawmakers to write new laws specifically for iron mining that would relax some environmental rules and provide greater certainty about the regulatory process.

A bill to accommodate Gogebic narrowly died in 2012 and with Republicans back in control of both houses and the governor's office, a renewed campaign to secure passage is under way. Wisconsin Manufacturers and Commerce, the state's largest business group, has aggressively pushed for the bill's approval.

In interviews and public hearing testimony, the group's chief lobbyist, Scott Manley, has spent months trying to put Wisconsin's mining laws into perspective. At a Jan. 23, 2013, public hearing before a joint legislative committee considering mining legislation, Manley had this to say about the need for mining legislation:

"A recent survey of 500 mining companies throughout the world by the Fraser Institute … found alarming evidence that Wisconsin's environmental regulations and regulatory framework discourage investment in mining jobs.

"For example, of the 79 states and countries analyzed in the survey, Wisconsin's environmental regulations ranked the worst in the world for mining investment.  Eighty-five percent of the respondents characterized Wisconsin's environmental laws as either a 'strong deterrent to investment' or 'would not invest due to this factor.' The Fraser Institute survey diagnoses a significant problem with Wisconsin's mining laws."

Manley has made similar statements in the past, including a Nov. 30, 2012, interview with talk show host Charlie Sykes, and in a Nov. 24, 2012, Milwaukee Journal Sentinel opinion piece.

So, is Wisconsin really worst in the world for mining investment?

Let's start with the study.

Since 1997, the Fraser Institute, an independent Canadian think tank, has taken a look at the state of the mining industry around the world. The group says it conducts "an annual survey of metal mining and exploration companies to assess how mineral endowments and public policy factors such as taxation and regulation affect exploration investment. Survey results represent the opinions of executives and exploration managers in mining and mining consulting companies operating around the world."

The survey Manley cites is Fraser's 2010-11 report. The results were gathered between Oct. 19 and Dec. 3, 2010. That time frame overlapped the election for governor won by Republican Scott Walker, but  was well before discussion on mining legislation heated up.

There have also been two reports issued since then -- and those reports don't include Wisconsin. So, Manley is picking an outdated report to make his point.

What's more, it is a survey. The results are determined by whoever chooses to respond. It is not scientific. So, the conclusions you can draw from it are limited.

In the survey in question, Fraser sent it to 3,000 mining and exploration firms and executives, and received responses from 494, or about 16.5 percent.

All told, the responses addressed the economic and political climates for mining in 79 regions around the world. That underlines how the results are dictated by who responded, not by any effort to represent all states or countries in a proportional way. Nor does it require any particular knowledge of how one state's regulations compare to, say, another country's regulations.

The findings, when listed as the top 10 and bottom 10 geographic regions, were pretty grim for Wisconsin.

"The bottom 10 scorers are Indonesia, Zimbabwe, Wisconsin, Madagascar, India, Guatemala, Bolivia, DRC (Congo), Venezuela, and Honduras," the report said. "Unfortunately, except for Wisconsin these are all developing nations which most need the new jobs and increased prosperity mining that can produce."

The report included two comments about Wisconsin. In each case, the respondent is described only in vague terms.

"Make everyone do without any mining products for a month or a year in Wisconsin. Outlaw all mining materials.
— Producer company with more than US $50M revenue, Senior management"
           
"Wisconsin properly evaluates the economic impact of mineral development to job growth and economic stability.
— Consulting company, Consultant"

So how did Wisconsin wind up so low on the list?

Fraser conducts its surveys anonymously, and keeps most of the raw data secret. However, there are indications that few of the responses pertained to Wisconsin. And the responses received about Wisconsin were strongly negative about the economic and policy climate for mining in the state.

Some examples:

-- One key question -- asking for a rating for regions that had the "most/least favorable policies toward mining" -- received only 13 responses about Wisconsin. That is based on a  raw number (one of the few provided) that was included in a spreadsheet accompanying the report. Wisconsin received no "most favorable" votes, and 13 "least favorable."

That compares with 116 responses for Quebec, deemed the most favorable region, and 68 for Venezuela, the least favorable.

-- Fraser dropped Wisconsin from its two subsequent surveys, for 2011-12, as well as the soon-to-be-released 2012-13 study, according to the group's survey coordinator, Alana Wilson. Regions are dropped when there are fewer than 10 respondents for that area.

-- Asked about "uncertainty concerning the administration, interpretation and enforcement of existing regulations," 88 percent said Wisconsin's situation was negative for investment in mining, while 12 percent said state rules were either a mild deterrent or no deterrent to such investment.

In short, the responses about Wisconsin were heavily negative and appear to have come from as few as 13, or 2.6 percent, of the 494 responses received by Fraser in 2010. (A spokesman said executives from Gogebic did not participate in the survey.)

Manley said in an interview he was unaware of the details about the Fraser survey, other than that it was sent to about 3,000 mining industry officials. He said he didn't know about the small sample size or that Wisconsin was dropped from subsequent surveys.

"The people that they are asking are the people who are interested in making that investment or not" in mining, Manley said. "I can't think of another survey that has the breadth of taking the pulse of the mining industry."

Manley said the survey results were consistent with the situation in Wisconsin, at least in terms of mining regulations, and history.

He said that the current state law, in effect since 1998, amounts to a "mining moratorium" because it sets unreasonably high standards for establishment of a new mine. Also, he said, only one mine has received a permit under the existing state law. Dating to 1974, the Flambeau mine near Ladysmith that operated for a short time and is now closed. (Lead miners were active in the 1800s, including some before the state was established. Besides Flambeau, other mines operated but not under modern regulations.)  

Manley said the Fraser report puts Wisconsin in the same group as developing countries and "from our standpoint it underscores the need for reform."

Our rating

WMC says Wisconsin is among the "worst in the world" for mining investment, according to a study by a Canadian think tank. To be sure, the state landed in the bottom 10, along with numerous developing countries and no other U.S. states.

But the methodology behind the report illustrates the flaws in using it to make sweeping comparisons. A small number of people familiar with Wisconsin answered -- so small that the state was dropped from subsequent surveys.

We rate the claim Mostly False.
 
Testimony, Scott Manley, Wisconsin Manufacturers and Commerce, before a joint public hearing by the Wisconsin Legislature, Jan. 23, 2013

Telephone interview, Scott Manley, chief lobbyist, Wisconsin Manufacturers and Commerce, Feb. 4, 2013

Milwaukee Journal Sentinel, "State can't afford to squander this opportunity," Scott Manley op-ed piece, Nov. 24, 2012

Fraser Institute, "Survey of Mining Companies," 2011-12

Fraser Institute, "Survey of Mining Companies," 2010-11

Telephone interview, Alana Wilson, Fraser Institute, Feb. 1, 2013
Browse the Truth-O-Meter
More by James B. Nelson
Support independent fact-checking.
Become a member!
In a world of wild talk and fake news, help us stand up for the facts.