Stand up for the facts!
Our only agenda is to publish the truth so you can be an informed participant in democracy.
We need your help.
I would like to contribute
"Today, about 40 percent of guns are purchased without a background check."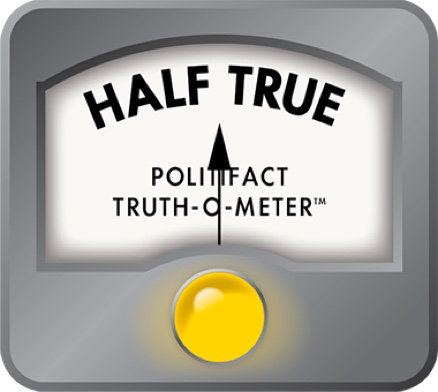 Kirsten Gillibrand says 40 percent of guns sold today escape background check
Gun control advocates are lining up behind President Barack Obama's call for a law requiring universal background checks on gun purchases.

"The background checks bill is vitally important," New York Sen. Kirsten Gillibrand said in an interview on MSNBC Jan. 24, 2013. It's "going to basically say you can't buy guns without getting a background check. Today, about 40 percent of guns are purchased without a background check."

If the figure sounds familiar, it's because gun control advocates are citing it with abandon. Obama mentioned it in the White House ceremony outlining his slate of new gun restrictions. A white paper by researchers at Johns Hopkins University asserts it without qualification. Indeed, it's a powerful claim: that 40 percent of guns are bought and sold in America with no paper trail, no fingerprint of the hands they fall into. Gillibrand is right that federal law does not require background checks on all gun purchases, contrary to what polls show most Americans support.

It's the 40-percent figure that's the sticking point.

We have examined this claim before at PolitiFact, when New York City Mayor Michael Bloomberg said in July 2012, "There's a loophole where you can sell guns without a background check … 40 percent of guns are sold that way" at gun shows and over the Internet. At the time we rated the claim Mostly True.   But since the Newtown, Conn., school shooting, we've heard the statistic repeated again and again, plus seen criticism of its use. So we've decided to take another look. We have since re-rated the Bloomberg fact-check to Half True.

The 1997 study

The original source of the 40 percent figure is a 1997 National Institute of Justice study by researchers Philip Cook of Duke University and Jens Ludwig of the University of Chicago, who examined data from a 1994 telephone survey about gun ownership. The survey, which sampled 2,568 homes, asked owners an array of questions, including how many guns were in the house, what they were used for, how they were stored and how they were obtained.

But it's important to note that of the 2,568 households surveyed, only 251 people answered the question about the origin of their gun.

But in those answers, Cook and Ludwig found that 35.7 percent of respondents reported obtaining their gun from somewhere other than a licensed dealer. (That has been rounded up to 40 percent.) Some people answered "probably" and "probably not" if they weren't entirely sure whether the seller was a licensed dealer. In some cases, where the respondent skipped the question about whether the gun came from a licensed dealer, the researchers made a judgment call. Ludwig said in an email that they mined answers to other questions (such as whether the gun was a gift) to guide them.

"Our approach ... was to be conservative in estimating what fraction of sales are in the primary market," Ludwig wrote. "Primary market" refers to guns sold by dealers in retail stores or pawn shops. The "secondary market" includes gun shows and other transactions where a background check is not required.

Some critics find fault with the 40 percent figure because it includes guns that are inherited or won -- in other words, transactions that could reasonably be assumed not to involve a background check.

The NRA, arguably the loudest voice of opposition to tighter gun controls, referenced the study in a recent blog post. The group does not dispute the method or findings of the study but says the 40 percent claim is a misinterpretation by gun control advocates.

We're confident that the study, conducted by respected researchers using the best available evidence, was reliable in its time. What's less clear: how reliable it remains today.

'I have no idea'

We asked Cook, the other study author, what he thought about the 40 percent figure being referenced so frequently since gun control lurched back to the forefront of the national debate.

"I've been amazed at how much interest there's been in it. It's been lying there dormant for 20 years," he said.

So is it still a current, reliable estimate of secondary market gun sales?

"The answer is I have no idea," Cook said. "This survey was done almost 20 years ago. … It's clear there are a lot of transactions that are not through dealers. How many, we're not really clear on it. … We would say it's a very old number."

Other scholars had similar views.

"I don't see how anyone could know that number," said James Jacobs, Center for Research in Crime and Justice at New York University School of Law.

Paul Blackman is a retired criminologist and former research coordinator for the NRA Institute for Legislative Action. "Personally, I think your safest bet is to say that no one knows, but that the vast majority of crime guns come from some other source than gun shows," he told us.

One expert, David Kopel at the University of Denver law school, said he doesn't think the figure was ever accurate because of what the survey actually asked.

"The study did not say whether there was a background check on the sale. It asked the buyer, do you think there was? So some buyers may have known, some may not have known," Kopel said. "All it measured was buyer perception, not whether a check actually occurred."

A stable market

We looked but couldn't find any more recent studies like Cook's and Ludwig's. Some gun control advocates blame a federal freeze on funding gun research for the lack of new data. But even absent that, some experts argue that little has changed about the gun market in the decades since the study was conducted.

"It's a fairly stable market. That is to say, gun stores have had their part, police supply stores have had their part, and then there are the gun shows and private dealings about which we know very little," said Robert McCrie, of the John Jay College of Criminal Justice. "To be sure, there has been this bump up in gun purchases, which we know from reports from gun stores and the companies like Smith & Wesson. There's the knowledge that the market has been more vigorous and probably that higher vigor has been reflected in gun shows and private sales in tandem."

His take: "The 40 percent seems about right."

Jay Corzine has attended and studies gun shows in Florida. The University of Central Florida professor says that based on his observation, no more than 15 to 20 percent of sales at gun shows happen without a background check. But when you add in other private sales -- neighbors selling to neighbors, ads in the paper, etc. -- the 40 percent figure is "probably accurate" and "a very good figure to use."

Gary Kleck, whose research has provided the foundation for less restrictive concealed carry laws, agrees that conditions in the gun market haven't changed much.

"I know of no affirmative reason to think that the methods of acquiring guns has significantly changed in recent decades, or that conditions have changed such that private (non-dealer) transfers have become more (or less) important. The laws regulating gun sales have not gotten significantly more (or less) strict since the 1994 Brady Act, so there's no strong basis for expecting fewer dealer sales or more non-dealer sales as a result of legal changes," Kleck, a professor at Florida State University, wrote in an email.

Kleck says the 40 percent estimate is "probably still reasonably valid today." But he further argues that this fact shouldn't guide new policy, because the problem is not how legal, background-checked purchasers are obtaining guns, but how criminals are.

Our ruling

Gillibrand claimed that "today, about 40 percent of guns are purchased without a background check."

She, and other gun control advocates who have cited that figure, correctly repeated the findings of a well-respected study about gun ownership. There's no question that many guns are bought and sold in America without the oversight of a background check.

But is 40 percent true "today," as Gillibrand said? Even the author of the original study says nobody knows. By mentioning the statistic as if it is current and accurate, Gillibrand revealed nothing of the fact that the figure is almost 20 years old. That's an essential detail that people engaged in the gun debate should know.

All this leads us to rate her statement Half True.
MSNBC transcript, Jan. 24, 2013, via Nexis

White House website, Remarks by the President and the Vice President on Gun Violence, Jan. 16, 2013

Johns Hopkins Center for Gun Policy and Research, "The Case for Gun Policy Reforms in America," October 2012

Gallup Politics, "Americans Back Obama's Proposals to Address Gun Violence," Jan. 23, 2013

PolitiFact, "Mayor Michael Bloomberg says 40 percent of guns are sold without a background check," July 25, 2012

National Institute of Justice, "Guns in America: National Survey on Private Ownership and Use of Firearms," May 1997

National Review, "Gun Sales and Background Checks: Obama's Bogus 40 Percent Stat," Jan. 17, 2013

FBI website, National Instant Criminal Background Check System fact sheet, accessed Jan. 18, 2013

Email interview with James Jacobs, director of the Center for Research in Crime and Justice at New York University School of Law, Jan. 18, 2013

Interview with Philip Cook, Duke University, Jan. 22, 2013

Interview with David Kopel, University of Denver, Jan. 23, 2013

Email interview with Gary Kleck, Florida State University, Jan. 22, 2013

Interview with Robert McCrie, John Jay College of Criminal Justice, Jan. 22, 2013

Email interview with Paul Blackman, retired criminologist and NRA researcher, Jan. 22, 2013

Interview with Jay Corzine, University of Central Florida, Jan. 23, 2013
Email interview with Jaclyn Schildkraut, School of Criminal Justice at Texas State University (San Marcos), Jan. 22, 2013

Email interview with Kimberly A. Vogt, sociologist at the University of Wisconsin-La Crosse, Jan. 22, 2013

NRA website, "Private Sales Restrictions and Gun Registration," Jan. 17, 2013

Washington Post, "The stale claim that 40 percent of gun sales lack background checks," Jan. 21, 2013

Washington Post, "Update: Obama claim on background checks moved from 'verdict pending' to 2 Pinocchios," Jan. 25, 2013
Browse the Truth-O-Meter
More by Molly Moorhead
Support independent fact-checking.
Become a member!
In a world of wild talk and fake news, help us stand up for the facts.