Stand up for the facts!
Our only agenda is to publish the truth so you can be an informed participant in democracy.
We need your help.
I would like to contribute
A study ranked Florida "No. 1 in government corruption" under Gov. Rick Scott.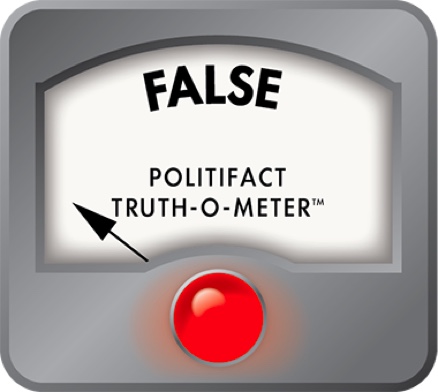 Florida Democrats link state's No. 1 corruption ranking with Gov. Rick Scott
Florida Democrats play up the significance of "one" in a Web video designed to get members fired up about taking on Republican Gov. Rick Scott in 2014.
A segment riffs off a clip of Scott saying, "Florida won't stop until we're No. 1."
The words "Um, right" appear on the screen, followed by a newspaper headline typed over Scott: "Study ranks Florida No. 1 in government corruption."
"No. 1 in government corruption," the text states. "Yep, Rick Scott, you're #1 alright."
Florida Republicans were not amused with the video for many reasons, taking particular issue with the corruption claim. (For the record, the clip of Scott was not of him talking about trying to make Florida No. 1 in government corruption.)
We decided to check it out. Is it fair for Democrats to link Scott with the report on corrupt government officials?
At issue is a study released by Integrity Florida, a nonprofit watchdog group, in June 2012.
From 2000 to 2010, the study found Florida led all states in total convictions of officials and staff who broke federal public corruption laws. Florida had 781 convictions, followed by more populous states California, Texas and New York. 
During that time, for example, four Palm Beach County commissioners and two West Palm Beach commissioners pled guilty to corruption charges over several years, leading to it being derided as "Corruption County."
Without getting into more of the nitty gritty of the report, we'll note it included a disclaimer key to our fact-check on page 2: "The public corruption conviction data included in this report is from a time period prior to Gov. Rick Scott taking office."
Integrity Florida included the line to discourage people from doing essentially what the Democrats did: misconstruing a correlation between the decade of corruption cases and Scott, who had been in office a year and a half when the report was released.
"We were concerned about that kind of interpretation," Integrity Florida executive director Dan Krassner told us.
The Florida Democratic Party stands by its video. Spokesman Joshua Karp directed us to a story by the Tampa Bay Times/Miami Herald about Scott promising ethics reform with an executive order on his first day in office but not following through. Scott had pledged his administration would develop a plan for implementing "all or certain" recommendations by a grand jury convened by former Gov. Charlie Crist.
"We feel that we have a strong case here given that the text of the ad is 100 percent true," Karp said, "and the fact is that Scott has not addressed the problems addressed in the report."
But the video does not get into that degree of detail. It also fails to mention that Scott did sign two ethics measures into law this year.
The laws give the state Commission on Ethics more power to investigate complaints referred to it, requires constitutional officers to go through four hours of ethics training and bans former legislators from lobbying state agencies for two years after leaving office, among other things.
One more note: Florida is not universally considered the most corrupt state.
A study by researchers at the University of Illinois at Chicago examined Department of Justice data for corruption convictions across the states from 1976 to 2010. The broadened time period meant Florida ranked No. 4 in total federal public corruption convictions (1,762 convictions), trailing New York, California and Illinois. Per capita, Florida ranked eighth.
Our ruling
The Democrats took too big a leap by blatantly linking Scott with a report about Florida being No. 1 for federal corruption convictions. The report specifically stated it was looking at the decade before Scott took office. The juxtaposition in the video is misleading, leaving viewers with the wrong impression.
We rate this claim False.
Florida Democratic Party video, "Rick Scott's days are numbered," June 16, 2013
Integrity Florida, "Corruption risk report: Florida's ethics laws," June 6, 2012
PolitiFact Florida, "Florida Gov. Charlie Crist says he has suspended 37 public officials," Jan. 29, 2010
Tampa Tribune, "Study ranks Florida No. 1 in corruption," May 31, 2013
Tampa Bay Times, "Rick Scott promised big ethics reform, but nothing has happened," March 7, 2013
Interview with Joshua Karp, Florida Democratic Party spokesman, June 18, 2013
Interview with Dan Krassner, Integrity Florida executive director, June 18, 2013
University of Illinois at Chicago study, "Chicago and Illinois, leading the pack in corruption," Feb. 15, 2012
Browse the Truth-O-Meter
More by Katie Sanders
Support independent fact-checking.
Become a member!
In a world of wild talk and fake news, help us stand up for the facts.