Stand up for the facts!
Our only agenda is to publish the truth so you can be an informed participant in democracy.
We need your help.
I would like to contribute
A proposed ban on hollow-point bullets and bullets that expand upon impact "essentially bans deer hunting."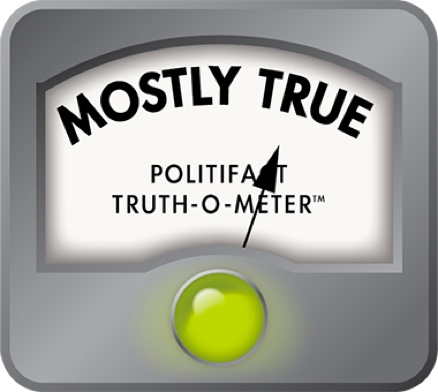 Talk show host Vicki McKenna says proposed rules on bullets would essentially ban deer hunting
In the months following the Sandy Hook school massacre, Wisconsin Democrats moved to restrict access to firearms and ammunition.

Those efforts included the drafting of a bill in the state Assembly by Reps. Frederick Kessler, Evan Goyke and Mandela Barnes, all Milwaukee Democrats.

Among other things, the bill would restrict sales and possession of hollow-point bullets, a type of ammunition that expands on impact and creates even larger wounds. Authorities said Adam Lanza, the Sandy Hook killer, used bullets designed to inflict maximum damage by breaking up in a victim's body. Kessler argued banning such bullets would give the victims of a mass shooting at least a chance of survival.

But that bill would have a far greater impact, said conservative talk show host Vicki McKenna on Feb. 18, 2013.

It would end deer hunting, a key part of the state's culture, said McKenna, whose show is aired in Milwaukee, Madison and LaCrosse.

"Democrats in Wisconsin want to fight crime by banning deer hunting," McKenna said.

She explained that the bill "proposed taking hollow-pointed ammunition off the shelves. Which essentially bans deer hunting because you can only use an expanding bullet to deer hunt."

That caught our attention. After all, the state sold more than 614,000 licenses as of the start of the gun deer season in November 2012. That's equivalent to a little more than 10 percent of the state's population.

So is McKenna right? Would Kessler's bill blow away the gun deer hunt? (We'll avoid picking nits and assume the bow hunting season would remain.)

We turned to the experts to learn more about bullets and Bambi.

The proposed legislation

According to the Legislative Reference Bureau: "This bill prohibits a person, with certain exceptions such as for law enforcement, from selling, transporting, manufacturing, or possessing any hollowpoint bullet, any bullet that expands or flattens easily in the human body, or any bullet with a hard envelope that does not entirely cover the core of the bullet."

That bans a lot of bullets.

But what does this have to do with deer hunting?

We asked Tim Lawhern, the state Department of Natural Resource's top official on such matters.

For years, state law required hunters of deer and others species to use hollow-point bullets, said Lawhern, administrator of the DNR's enforcement and science division.

The law was modified a couple years ago because more and more hunters were hunting with a different sort of ammunition -- often made of solid copper --  that also changed shape on impact, but was not a hollow point.

State law now says it's illegal to hunt deer with "non-expanding bullets."

Said Lawhern: "It must be the expanding type of ammunition."

The idea is that bullets that expand on impact do more damage, cause greater hemorrhaging, and the animal dies in a swifter, more humane manner, Lawhern explained.

So Kessler and company want to ban the very kind of bullets that hunters are required to use.

What ammo would that leave hunters with?

"Nothing," said Lawhern. "Archery. You could use archery equipment."

Banning hollow-point bullets "would have a negative impact on deer hunting," said George Meyer, former DNR secretary and executive director of Wisconsin Wildlife Federation.

"If they don't have any ammunition they could use, it certainly doesn't sound good if you're a hunter," Lawhern said.

Legions of hunters would have the same reaction about an expanding-bullet ban, he added.

"You'll have the largest army in the world saying, 'What, are you nuts?'"

A change in plans

Apparently they won't have to worry.

Shortly after word got out -- including on McKenna's show -- Kessler admitted he and the other lawmakers had shot themselves in the foot.

They're rewriting the bill to "remove any conflicts of law and provide exemptions that honor our state's great sporting heritage," Kessler said in a Feb. 19, 2013, statement, a day after McKenna's show on the subject.

The bill "was never intended to conflict with current laws or codes related to Wisconsin's rich hunting tradition and those who annually participate in it," Kessler said, adding that the draft bills "contained unintended oversights."

He added: "We will be working with the Legislative Reference Bureau, Legislative Council and the Department of Natural Resources to ensure that any future bill drafts are consistent with current sporting and hunting regulations."

Kessler said in an interview that he still wants to limit sales of hollow-point bullets, but with an exemption for hunters.

Such ammunition would be available "only to people who have licenses to hunt, who are on their way to hunt and it's hunting season, " Kessler said.

So let's bag this one.

McKenna said a proposal to restrict sale and possession of hollow-point and flattening or expanding bullets "essentially bans deer hunting."

McKenna's right on an important front. Deer hunters are required to use bullets that expand on impact -- including hollow points. And Kessler wanted to ban those very bullets. So it would leave gun hunters without bullets.

But she's wrong by suggesting that the Democrats were seeking to ban hunting.

Kessler admitted hunting never crossed his mind when the bill was drafted in an effort to protect mass shooting victims. The city slickers came up with a bill with a problem that stood out like a white tail between the cross hairs.

As it stood, the law would have banned the bullets. But it didn't ban hunting. We rate McKenna's statement Mostly True.
Vicki McKenna show, Feb. 18, 2013
Email Vicki McKenna, Feb. 19, 2013
Legislative Reference Bureau preliminary draft of LRB-0894
Press release, Rep. Frederick Kessler, Feb. 19, 2013
Voicemail, Rep. Frederick Kessler, (D-Milwaukee), Feb. 21, 2013, telephone interview, Feb. 26, 2013
Telephone interview, George Meyer, Feb. 19, 2013
Wisconsin Deer Hunting regulations, 2012
Slate.com, "As New Details Emerge of Horrific School Shooting, Officials Struggle To Figure Out Why," Dec. 16, 2012
Telephone interviews, Tim Lawhern, Wisconsin Department of Natural Resources, Feb. 26, March 6, 2013


Browse the Truth-O-Meter
More by James B. Nelson
Support independent fact-checking.
Become a member!
In a world of wild talk and fake news, help us stand up for the facts.