Get PolitiFact in your inbox.
"There is no clinical evidence that vaccinating healthcare workers protects patients."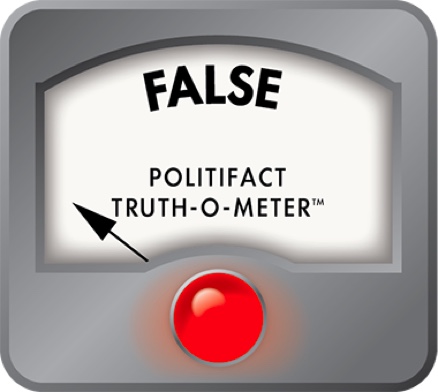 SEIU, District 1199, says there's "no clinical evidence that vaccinating healthcare workers protects patients."
The Rhode Island Department of Health and a union representing health-care workers in hospitals and nursing homes recently set aside their court dispute over state regulations requiring that the workers get flu immunizations.

The Department of Health required health-care workers to get immunized or, if they refused, to wear surgical masks when having contact with patients, in an effort to help reduce the spread of flu to patients. The SEIU Healthcare Employees Union, District 1199, in a suit filed in December, argued that the regulations violated due-process and collective-bargaining rights.

The union withdrew its suit as the flu season was winding down, saying it hoped to reach a compromise with the health department.

A March 5 Providence Journal story on the dispute prompted us to look at the union's complaint, where we found this claim: "There is no clinical evidence that vaccinating healthcare workers protects patients."

The debate over whether to mandate vaccinations for employees has been going on nationally for years. The federal Centers for Disease Control and Prevention estimated, from a survey it did, that across the health-care worker population, including doctors, nurses and others,  66.9 percent of workers were vaccinated for the 2011-12 flu season.

Several national health agencies, including the CDC and the American Medical Association, strongly recommend that all health-care employees get vaccinated.

We wondered whether there really was no evidence that vaccinating health-care workers protects patients.

We quickly found several relevant, peer-reviewed studies that indicated otherwise, though their findings were not uniformly the same and methodologies differed.

One was done by researchers at the Institute of Virology at the University of Glasgow and published in 2000 in The Lancet, one of the most respected medical journals in the world.

The study, which looked at health-care workers in 20 long-term elderly care hospitals in Scotland, concluded that vaccinations of health-care workers "was associated with a substantial decrease in" death among patients but that surveillance of those involved in the study "showed no associated decrease in non-fatal influenza infection in patients."

Another study, published in BMJ, formerly known as the British Medical Journal, was conducted at a chain of nursing homes in England. It said it found decreases both in deaths of nursing home residents and in "influenza-like illness" when more workers were vaccinated during the winter of 2003-04.

And a study published in the journal Vaccine in 2009 used computer modeling to simulate a flu outbreak. Its authors, four researchers from the Netherlands, said their model showed that health-care employee vaccinations reduce flu transmission.

We contacted the union to ask for data supporting its position and ultimately heard by e-mail from Bill Borwegen, the occupational health and safety national director for the SEIU in Washington, D.C.

"From a common sense standpoint, it would certainly seem to be a "no-brainer," Borwegen said of vaccinating health-care workers to prevent flu transmission to patients. "However there have been three systematic reviews of all of the epidemiological evidence ... and they have all concluded remarkably that there is no clinically proven connection."

Borwegen added that "of course we all should strongly promote voluntary flu vaccination for self-protection, but we also need to understand the limitations of the current vaccine."

He sent us links to three studies. One largely focused on the effectiveness of the vaccine generally and not on health-care workers.

But the other two were more relevant to the union's claim.

The most on point was a review published in 2010 by the Cochrane Collaboration, an organization of international experts that reviews medical research.

The Collaboration reviewed studies of whether vaccinating health-care workers protects elderly patients, including those that PolitiFact Rhode Island had reviewed.

Its review cited problems or inconsistencies with the studies and concluded that vaccinating health-care workers who care for the elderly "did not show any effect on the specific outcomes of interest, namely laboratory proven influenza,  pneumonia or deaths from pneumonia" among the patients. However, it said vaccinations did have an effect on influenza-like illnesses, hospital admissions and "overall mortality of the elderly."

The third study referenced the Cochrane findings and said there was a "paucity of evidence" to support mandatory vaccinations.

But one of the three authors of the Cochrane review -- Dr. Roger Thomas of the University of Calgary -- was quoted in the New York Times "Well" blog as saying:  "Not having evidence doesn't prove it doesn't work; we just don't know."

It's also worth noting that there is debate over the effectiveness of current flu vaccines. For example, an October 2012 study by the Center for Infectious Disease Research and Policy, at the University of Minnesota, asserted that coming up with more effective flu vaccine should be a priority.

Our ruling

SEIU Healthcare Employees Union, District 1199, said in its lawsuit that "there is no clinical evidence that vaccinating healthcare workers protects patients."

That's an unequivocal statement. But in fact, researchers found such evidence and published their findings in peer-reviewed studies in respected medical journals.

The fact that other researchers disputed the evidence doesn't mean the evidence doesn't exist. We'll leave it to the scientists to fight over how conclusive the evidence is.

But our judges rule this claim False.

(If you have a claim you'd like PolitiFact Rhode Island to check, e-mail us at [email protected]. And follow us on Twitter: @politifactri.)
BMJ, "Effectiveness of an influenza vaccine programme for care home staff to prevent death, morbidity, and health service use among residents: cluster randomized trial," 2006, accessed on March 12, 2013

Joint Commission, "Providing a Safer Environment for Health Care Personnel and Patients Through Influenza Vaccination," 2009, accessed on March 13

PLOS Medicine, "The Effects of Influenza Vaccination of Health Care Workers in Nursing Homes: Insights from a Mathematical Model," October 2008, accessed on March 12, 2013

Vaccine, "Modeling the effects of influenza vaccination of health care
workers in hospital departments," August 2009, accessed on March 12, 2013

Lancet, "Effects of influenza vaccination of health-care workers on mortality of elderly people in long-term care: a randomised controlled trial," abstract, 2000, accessed on March 12-13, 2013

The Cochrane Collaboration, "Influenza vaccination for healthcare workers who work with
the elderly (Review)," 2010, accessed on March 12, 2013

Center for Infectious Disease Research & Policy, University of Minnesota, "The Compelling Need for Game-Changing Influenza Vaccines," October 2012, accessed on March 13, 2013

Letter to the U.S. Department of Health and Human Services, from the presidents of the Infectious Diseases Society of America, the Pediatric Infectious Diseases Society and the Society for Healthcare Epidemiology of America, Jan. 13, 2012, accessed on March 14, 2013

The Providence Journal, "Union withdraws vaccine mandate for workers," March 5, 2013, accessed on March 11, 2013

The New York Times, "Well" blog, item by Roni Caryn Rabin, "Reassessing Flu Shots as the Season Draws Near," Nov. 5, 2012, accessed on March 13, 2013

Centers for Disease Control and Prevention, "Influenza Vaccination Coverage Among Health-Care Personnel -- 2011–12 Influenza Season, United States," Sept. 28, 2012, accessed on March 14, 2013

E-mail, Bill Borwegen, national occupational health and safety director, Service Employees International Union, Washington D.C., March 13, 2013

E-mail, Dara Chadwick, spokeswoman, Rhode Island Department of Health, March 14, 2013

E-mail, Heather Lasher Todd, public information officer, American Medical Association, March 14, 2013
Browse the Truth-O-Meter
More by Michael McKinney
Support independent fact-checking.
Become a member!
In a world of wild talk and fake news, help us stand up for the facts.