Stand up for the facts!
Misinformation isn't going away just because it's a new year. Support trusted, factual information with a tax deductible contribution to PolitiFact.
I would like to contribute
"We are already almost halfway to our 2010 goal of creating 700,000 new jobs in seven years."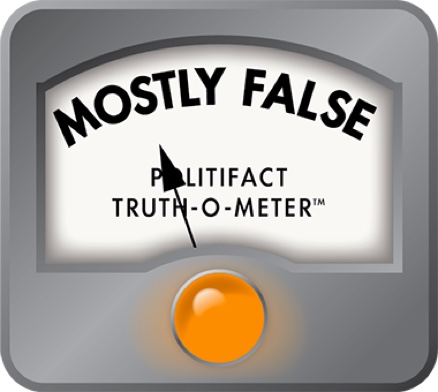 Gov. Rick Scott says he is almost halfway done with '700,000 jobs' promise
To hear Gov. Rick Scott tell it, his memorable campaign pledge to create 700,000 jobs in seven years is going right along schedule.
The novice politician, almost two and a half years into his first term, says things are looking bright for the Sunshine State as a result of investments in economic development and public education.
"Our unemployment rate has now dropped to 7.2 percent – well below the national average, and we are already almost halfway to our 2010 goal of creating 700,000 new jobs in seven years," Scott wrote in a letter explaining line-item vetoes in the 2013-14 state budget.
As much as we love belting Bon Jovi anthems -- WHOAAAAA, we're halfway there! -- it's premature to sing Scott's praises for fulfilling half of the jobs he promised in the centerpiece of his 2010 campaign.
Our qualm with this claim comes down to details about his pledge that he has since abandoned. These details that may not fit in a zippy campaign ad, but they do come straight from Scott's mouth.
The promise at hand is rated Stalled on the Scott-O-Meter despite the state adding 302,500 net jobs since December 2010. This factors in Scott's first month in office, January 2011. Excluding that month puts the jobs total at 285,100. The size of the state's employment pool in April 2013 is about the same as it was in July 2004, according to the U.S. Bureau of Labor Statistics.
Why is it Stalled? Because Scott told us in a debate and in press accounts that his 700,000 jobs would come on top of Florida's normal growth as it added jobs lost during the recession. State economists expected the state to add about 1 million jobs by 2017.
"It's on top of that," he told a reporter in 2010. "If you do these things, we're going to grow 700,000 more jobs."
So Scott needs about 1.4 million more jobs by 2017 to fulfill his original promise of 1.7 million jobs. Through 28 months in office, the state has added less than 20 percent of the jobs he needs to meet that mark.
Scott's press office has consistently disagreed with our analysis, saying Scott's campaign materials never qualified that 700,000 jobs would be on top of normal growth projections.
In a response to our inquiry about this claim, spokeswoman Jackie Schutz asked us to note the state's unemployment rate of 7.2 percent is below the national average of 7.5 percent for the second straight month.
That, for the record, is correct.
Our ruling
Scott said the state is "already almost halfway to our 2010 goal of creating 700,000 new jobs in seven years."
By his preferred measure since taking office -- 700,000 jobs regardless of normal growth -- he's in the ballpark.
By the measure he asked Floridians to hold him accountable to -- 700,000 jobs on top of 1 million jobs in normal growth -- he still has quite a long ways to go.
We rate his claim Mostly False.
U.S. Bureau of Labor Statistics data for state employment data, seasonally adjusted
Interview with Jackie Schutz, Gov. Rick Scott spokeswoman, May 20, 2013
PolitiFact Florida Scott-O-Meter, "Create 700,000 jobs," last updated March 21, 2013]
Scott veto message with 2013-14 budget, May 20, 2013
PolitiFact Florida, "Rick Scott changes the math for '700,000 jobs," Oct. 4, 2011
Browse the Truth-O-Meter
More by Katie Sanders
Support independent fact-checking.
Become a member!
In a world of wild talk and fake news, help us stand up for the facts.