Stand up for facts and support PolitiFact.
Now is your chance to go on the record as supporting trusted, factual information by joining PolitiFact's Truth Squad. Contributions or gifts to PolitiFact, which is part of the 501(c)(3) nonprofit Poynter Institute, are tax deductible.
I would like to contribute
"This budget also reflects the smallest state government workforce per 1,000 residents in Florida in this century."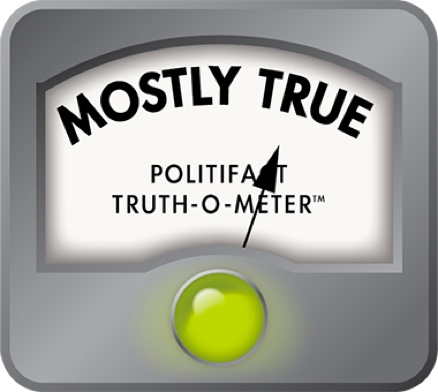 Rick Scott says budget sets record low for state workers per capita this century
When Florida Gov. Rick Scott announced he approved a $74.1 billion budget, he portrayed it as having plenty of goodies for everyone, from school teacher raises to hot meals for the elderly. But he also claimed that the budget was lean.
"This budget also reflects the smallest state government workforce per 1,000 residents in Florida in this century," Scott wrote in his May 20th veto and budget message. "The Florida Families First budget is one of our state's smallest budgets this century, when adjusted for population growth and inflation."
PolitiFact Florida has separately tracked Scott's 2010 campaign progress to reduce the state workforce by 5 percent -- we rated that Promise Kept earlier this year.
Here, we wanted to fact-check Scott's claim that the recently approved budget reflects the smallest state workforce in relation to population since 2000.
Scott's data
There are a few valid ways to measure the number of state workers. The U.S. Bureau of Labor Statistics compiles data on actual state workers while the state Department of Management Services annual workforce reports show both established positions (including vacant ones) and actual employees (some folks refer to that as 'heartbeats'.)
But here, Scott's office of policy and budget created their own chart by pulling together budget data. We did not review the full backup that shows all the details that went into the chart but we interviewed spokespersons in Scott's office who explained their methodology to PolitiFact. Here is how they arrived at their figures: They started with the state's general appropriations budget each year, which does not include the state university workers. Then they made some adjustments to provide apples to apples comparisons: Scott subtracted for vetoes -- his own and by recent past governors -- and by subtracting county health workers, who were not included in state budgets before 2009-10. Scott's office also added in positions that were included in separate bills not reflected in the general budget bill. That's how Scott's office arrived at a figure of adjusted positions.
Then Scott's office examined population data from the state's Office of Economic and Democratic Research. That data includes some projections so it sometimes has slightly different figures from the Census Bureau.
Let's look at Scott's figures:
| | | | |
| --- | --- | --- | --- |
| Year | Population (in 1000s) | Adjusted positions | Positions per 1,000 residents |
| 1999-2000 | 15,881.7 | 126,557 | 8 |
| 2000-01 | 16,228 | 124,843 | 7.7 |
| 2001-02 | 16,551.2 | 120,091 | 7.3 |
| 2002-03 | 16,892 | 117,869 | 7.0 |
| 2003-04 | 17,273.8 | 116,797 | 6.8 |
| 2004-05 | 17,677.3 | 116,317 | 6.6 |
| 2005-06 | 18,062.2 | 116,463 | 6.4 |
| 2006-07 | 18,378.2 | 113,634 | 6.2 |
| 2007-08 | 18,578.9 | 114,270 | 6.2 |
| 2008-09 | 18,671.4 | 112,867 | 6.0 |
| 2009-10 | 18,770.5 | 114,852 | 6.1 |
| 2010-11 | 18,879.1 | 113,202 | 6.0 |
| 2011-12 | 19,028.6 | 108,844 | 5.7 |
| 2012-13 | 19,218 | 105,023 | 5.5 |
| 2013-14 | 19,432 | 101,784 | 5.2 |
We spot-checked some of the math and the calculations were correct.
The ratio declined before Scott, too
Our task here is to fact-check whether Scott's claim about the declining state workers per capita was correct -- not whether or not that is the best policy or why the numbers declined. But we will briefly provide some background about the state workforce.
First, we'll note that the ratio of Scott's adjusted positions compared to population has declined under not only Scott, but also his predecessors Charlie Crist (Republican turned independent while in office, and now a Democrat) and Jeb Bush (Republican).
PolitiFact Florida fact-checked a claim by Alex Sink, Scott's Democratic opponent in 2010, who said at the time that "Compared to other states, Florida ranks last in the ratio of employees to residents: 118 per 10,000 compared to the national average of 216 employees per 10,000 residents. And Florida is dead last in the nation in state employee payroll expenditures per resident: $38 compared to the national average of $69 per resident." We rated Sink's claim True.
(The National Conference of State Legislatures did not have an updated ranking to reflect Scott's tenure.)
Since Scott took office, there have been about 60,000 staffers to leave because they quit, retired or for other reasons, and the state laid off 2,197 workers. (Those figures don't include state universities but do include temporary state workers who briefly work for the state.)  
One area Scott has targeted in the budget to save money is the state prisons. In January, his administration announced that it would outsource health care for more than 15,000 inmates including at prisons in Miami-Dade County. That has affected about 400 workers but about 97 percent were hired by the company, according to the state Department of Corrections.
We sent Scott's claim to Chris Lafakis, a senior economist at Moody's who studies Florida. (He used BLS data to examine Scott's claim.)
"He's right if you look at it in terms of state government workers per capita, but this is partially because of all the retirees that have flooded into the state. If you look at the state government share of total employment, it is low, but not at an all time low. .... This number has been steadily declining since the mid 1990s, and Scott has continued it on the downward trend," Lafakis told PolitiFact Florida in an email.
We also interviewed two professors of public administration at Florida International University -- chair Howard A. Frank and assistant professor Hai (David) Guo. Both said that Scott's claim may not tell the full story about the state's workforce.
Frank raised a question about how to factor in privatization efforts.
"Ideology aside, those employees are less burdensome in terms of direct outlays, but I suspect at least some are "quasi-governmental" if they are employed by entities that derive a significant part of their revenue from the state-local sector," he wrote.
Guo said that additional indicators of government size include the budget per capita and its growth and whether the state has shifted any responsibilities to local governments.
"The employee number of state government alone may not tell the whole story," Guo wrote in an email.
Our ruling
Scott said that the 2013-14 budget "reflects the smallest state government workforce per 1,000 residents in Florida in this century."
To get there, Scott's office examined budgeted positions and made certain adjustments including subtracting for vetoes. They also projected the state's population for 2013-14.
We think their assessment is largely fair, with some small caveats. First, there are other ways to measure both the state workforce -- either by using federal labor statistics, or other state data. And second, the size of the state workforce per capita has been declining for years.
Minor points, though. We rate this claim Mostly True.
Florida Gov. Rick Scott, Letter about budget and vetoes, May 20, 2013
Florida Gov. Rick Scott's office, Budget comparison, Fiscal years 2000-2014
Florida Department of Management Services, Annual workforce reports, 2002-2011/12
Florida Office of Economic and Demographic Research, "Demographic estimating conference executive summary," Feb. 7, 2013
Florida fiscal portal, Budget conference reports, 2012-2014
U.S. Bureau of Labor Statistics, State and metro area employment, Accessed May 21, 2013
Census, Population estimates, 2000-2010
Tampa Bay Times The Buzz blog, "Gov. Rick Scott's veto pen is back: $368 million in line-items slashed," May 20, 2013
Tampa Bay Times, "State contracts out inmate health care," Accessed in Nexis, Jan. 4, 2013
Nelson A. Rockefeller Institute at University at Albany State University of New York, "The depth and length of cuts in state-local government employment is unprecedented," January 2013
Tallahassee Democrat, "State workforce is shrinking," May 21, 2013
PolitiFact, "Alex Sink says Florida is last on two state employee measures," Sept. 14, 2010
PolitiFact's Scott-O-Meter, "Steady progress reduces state workforce 5 percent," Jan. 4, 2013
Interview, Ben Wolf, spokesman for Florida Department of Management Services, May 20, 2013
Interview, Jenn Meale, spokeswoman for Florida Attorney General Pam Bondi, May 20, 2013
Interview, Ann Howard, spokeswoman for Florida Department of Corrections, May 20, 2013
Interview, Jackie Schutz, spokesman for Florida Gov. Rick Scott, May 20, 2013
Interview, Melissa Sellers, spokeswoman for Florida Gov. Rick Scott, May 21, 2013
Interview, Chris Lafakis, senior economist at Moody's, May 20, 2013
Interview, Howard A. Frank, chair of public administration at Florida International University, May 21, 2013
Interview, Hai (David) Guo, assistant professor of public administration at Florida International University, May 21, 2013
Browse the Truth-O-Meter
More by Amy Sherman
Support independent fact-checking.
Become a member!
In a world of wild talk and fake news, help us stand up for the facts.