Stand up for the facts!
Our only agenda is to publish the truth so you can be an informed participant in democracy.
We need your help.
I would like to contribute
Says "we allow more people into America legally than all other countries on the planet combined."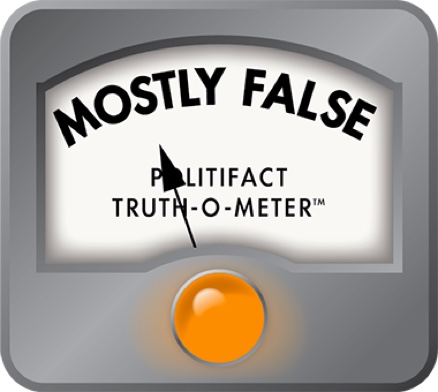 Does the U.S. admit more legal immigrants than the rest of the world combined?
You can't really escape the immigration debate these days. Even with a bipartisan proposal, there are detractors on both sides. Add to the list: Lars Larson, Oregon's very own conservative talk radio host.

Recently, Larson took his show on the road to Washington, D.C., to chat up politicians about the immigration reform debate and make it pretty clear he was having none of it. One of his guests, Oregon's sole Republican Rep. Greg Walden, was more measured in his comments -- he hadn't had a chance to read the just-released immigration proposal.

At the beginning of the interview, Walden pointed out that the United States was a country of immigrants, adding that's even true today.

"I would say this, I believe, and somebody will correct me if I'm wrong because everything gets fact checked, which is good, I think we allow more people into America legally than all other countries on the planet combined," he said.

He basically invited PolitiFact Oregon to go after that one -- so we did.

We sent the representative's office a note asking if they could provide us with a source for the claim. They did us one better and sent three sources.
The primary source was a fact sheet from the U.S. State Department, which notes "the United States accepts more legal immigrants as permanent residents than the rest of the world combined." It didn't offer any basis for the claim, but Walden's office provided one.

In a separate piece written for The New York Times, Jan C. Ting, a law professor at Temple University, meditates on the downside of high immigration and uses a very similar statistic. Specifically, in his piece, he notes that "If we count only those receiving comparable permanent residence and a clear path to full citizenship, the U.S. admits more legal immigrants than all the nations of the world combined."
We sent an email to see if he could expand on that. His reply:

"I'm comparing green cards to green cards, not H1-B temporary work permits or tourist visas, or illegal immigration. The first question to ask is how many countries in the world even issue green cards for permanent legal residence with a clear path to full citizenship? The answer is very few.  Most countries don't welcome immigrants at all."

Comparable countries to the United States, he said, are Canada, Australia and New Zealand. We checked with the immigration figures provided by the Organization for Economic Co-operation and Development. Ting was right. Together, Canada, Australia and New Zealand recorded about 530,000 permanent immigrants in 2010, compared to 1 million recorded in the U.S.

But we were curious about the broader world beyond Ting's definition, because people immigrate to other places, like to England, France, Germany. We understand that those countries don't have a green card system similar to the United States, but they do allow immigrants to become permanent residents. So we set out to check on those systems.

We went back to the OECD and asked if the organization broke down figures between permanent and temporary immigrants. And they did. Here they are:

The United Kingdom recorded more than 414,000 permanent immigrants in 2010; this figure does not include temporary workers, international students or tourists. Also in 2010, about 241,000 people were granted "settlement," which is akin to getting a green card in that a person has permission to reside indefinitely, and 190,000 immigrants were granted citizenship. India is the leading source of people moving to the United Kingdom.

Other countries record permanent immigrants -- Italy (330,000), Spain (300,000) and Germany (220,000) -- but they don't break down their data in the same way the U.K. does. Basically, immigration statistics are complicated and it's hardly an ideal, apples-to-apples situation.

One chart that OECD puts together, however, specifically addresses the idea of "permanent immigrants." The chart doesn't catalog the entire world's immigration figures, just specific OECD countries. That said, if you do some simple math, you find out that in 2010, the U.S. let in just over 1 million permanent immigrants. Altogether, the other 23 countries listed let in more than 3 million. That's more than the U.S. even if you were to include things like HB-1 visas and other temporary residents.

To be clear, we're not talking about countries like Qatar here, which let in a significant number of immigrants but give them few rights.

Of course, we wanted to make sure we were reading this chart right, so we sent an email to OECD policy analyst Jonathan Chaloff. He said our take on the information was accurate and offered some context:

"The million annual entries in the USA are green cards, which grant permanent residence. Similar permanent residence statistics are used for Canada, Australia, and New Zealand. Most other countries grant renewable temporary permits which eventually lead (usually after 3 to 8 years) to permanent residence. We classify such entries as "permanent-type" because in practice the long-term stay rates for recipients of these visas/permits are similar to those for 'permanent' immigrants to USA, Canada, etc."

Chaloff pointed out something else: The U.S. receives fewer "permanent-type" immigrants per capita than most other OECD countries. For that fact, he offered us a table which shows, indeed, the U.S. is in 18th place in that measurement.

By all means the United States is a wonderful country, and PolitiFact Oregon is intimately associated with persons who have immigrated to the U.S. and become citizens. But we're hardly alone.

Which brings us back to Walden's statement. The representative said that "we allow more people into America legally than all other countries on the planet combined." That's true only when specifically talking about a small group of countries that have a green-card-like immigration system that provides a path to citizenship.

We understand that this metric is in wide use -- by academics, opinion writers and, at one point, even the state department. We also appreciate that Walden was measured in his statement, saying "I believe" and "I think." He even invited fact checkers to look into the issue. But ultimately, none of that changes the fact that to focus on only four countries while making a statement about the entire world is misleading, even if it's not on purpose.

When we compare permanent immigrants in other countries -- green-card and permanent-type residents --  we find that Walden's statement is not accurate without significant context. We rate this claim Mostly False.
Greg Walden, interview on the Lars Larson Show, April 18, 2013

U.S. State Department, A Nation of Immigrants, December 2006

Central Intelligence Agency, The World Factbook

Face The Facts USA, For immigrants per capita today, U.S. is way down the list, March 22, 2013

OECD, Key statistics on migration in OECD countries, 2000-2010

OECD, Key information on migration policy and migration statistics by country," 2012 publication

Emails from Jonathan Chaloff, policy analyst, International Migration Division, OECD, May 10 and 17, 2013

Emails from Terry Mullins, migration unit, Office for National Statistics, United Kingdom, May 7-8, 2013

Jan C. Ting, Downsides of High Immigration, Oct. 16, 2011

E-mails from Jan C. Ting, May 3 and 8, 2013

E-mail from Andrew Malcolm, spokesman for Rep. Greg Walden, May 3, 2013
Browse the Truth-O-Meter
More by Ian K. Kullgren
Support independent fact-checking.
Become a member!
In a world of wild talk and fake news, help us stand up for the facts.