Stand up for the facts!
Our only agenda is to publish the truth so you can be an informed participant in democracy.
We need your help.
I would like to contribute
Says El Paso is the "safest city of our size in the nation."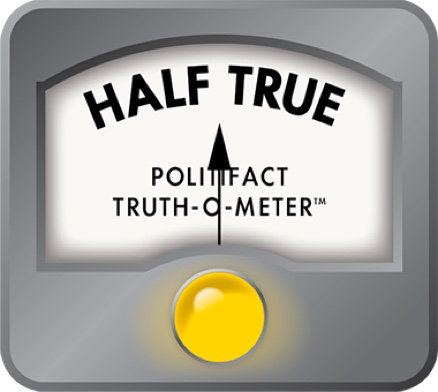 El Paso leader says El Paso "safest" city of its size in country
Questioning characterizations of the U.S.-Mexico border as unsecured, El Paso's county judge, Veronica Escobar, said: "When elected representatives from our own state make claims that our border is not secure, they are ignoring the facts. When you look at El Paso, Texas, for example, we are the safest city of our size in the nation."

Escobar, a Democrat, spoke during a May 22, 2013, telephone conference call with reporters organized to critique Republican U.S. Sens. John Cornyn and Ted Cruz of Texas for voting against a Senate committee-advanced overhaul of immigration laws. The conference call was run by the Reform Immigration for Texas Alliance, which describes itself as a "statewide network dedicated to building support for comprehensive immigration reform."

Escobar's reference to El Paso as the nation's safest like-sized city reminded us of Democratic state Sen. José Rodríguez's statement in September 2011 that El Paso had been named America's "Safest Large City" a year after San Antonio, Houston and Dallas had the nation's highest crime rates.

We rated that claim Mostly False; El Paso had low crime rates, but only a local press release had named it the nation's "safest" large city--and its police department dropped the label. Also, the other mentioned cities did not have the nation's highest overall crime rates; that was true only in comparison to a few huge cities.

Rodriguez had attributed El Paso's "safest" status to an annual report by CQ Press listing crime statistics for cities with a population of more than 500,000. Similarly, Escobar relied on the 2013 CQ Press rankings for her statement, her county aide, Ruben Vogt, told us.

By email, Vogt pointed out a Feb. 5, 2013, press release from the city of El Paso stating that for the third straight year, El Paso had the lowest crime-rate ranking among U.S. cities with populations over 500,000, according to the 2013 CQ Press report. Vogt also listed several news articles, including an Austin American-Statesman Feb. 8, 2013, story, that played up the CQ Press crime-rate rankings.

Indeed, El Paso, home to more than 660,000 residents in 2011, topped CQ's 2013 "Lowest Crime Rate" list for larger cities, which indicates that among 33 cities with 500,000 residents or more, El Paso had the lowest crime rate "ranking" based on FBI Uniform Crime Reporting data for 2011 as released in 2012. Trailing El Paso on the CQ Press list: San Diego, New York, Austin, San Jose, Calif., Los Angeles, Portland, Charlotte, Seattle and San Antonio. On the flip side, CQ Press said, Detroit had the highest crime rate "ranking," followed by Baltimore, Memphis, Philadelphia and Washington, D.C.; Houston placed 10th-worst by its ranking.

Neither El Paso's press release nor the CQ Press summary identified the border city as the nation's safest big city.

In CQ Press's case, that's on purpose, a spokeswoman told us by email. Before the report's 2009 edition, Marina Ilishaev said, CQ Press used "safest" and "dangerous" to describe those cities with the lowest and highest rankings by its analyses.

"Even though the rankings are still provided," she wrote, "these terms are no longer used because perceptions of safety and danger are just that—perceptions. The data analyzed here are reported crime and population, which together constitute only two factors considered when determining safety or risk of crime victimization."

"...We would add, as we do in our methodology section, that we mean by 'lowest composite reported crime rate' the largest deviation below the national median in six main crime categories, which are counted equally," she said.

Specifically, CQ Press says its crime-rate rankings were derived from totaling each city's violent crimes of murder, rape, robbery and aggravated assault as tallied by the FBI plus the number of property crimes of burglary and motor vehicle theft, all in 2011. Then it follows a "multistep process," CQ Press says, in which each city's reported crimes in each category are compared to nationally reported crimes per 100,000 population rate and "indexed to create a summary score and ranking across" the six areas of reported violent and property crime.

Its overall approach--particularly weighting each type of crime the same--concerns criminologists such as Alfred Blumstein, a professor at Carnegie Mellon University, who told us by telephone that the crime-rate rankings are "highly suspect as true indicators of safety."

By email, Mitchell Chamlin, a Texas State University criminal justice professor, said city-level crime rate comparisons are not particularly meaningful. "Crime is local," Chamlin wrote, and "most criminals work in a very small radius," typically smaller than a city.

Separately, the FBI has cautioned against using its statistics to develop rankings. In a 2011 online post, "Pitfalls of Ranking," the agency said: "Data users should not rank locales because there are many factors that cause the nature and type of crime to vary from place to place." Its Unified Crime Report "statistics include only jurisdictional population figures along with reported crime, clearance, or arrest data. Rankings ignore the uniqueness of each locale," the FBI said.

By telephone, Blumstein noted that anyone can estimate the relative safety in cities by calculating rates for each crime directly from the FBI's statistics.

At his nudge, we looked directly at the FBI statistics for 2011 to compare rates of violent crime, which includes murder, forcible rape, robbery, and aggravated assault, though we limited our focus to El Paso and nine other cities of 500,000 or more population listed in the 2013 CQ Press report as having the "lowest crime rate" rankings.

Results from our sampling:

--El Paso had the fourth-lowest violent crime rate in 2011, at 431 violent crimes per 100,000 residents. Austin (430), San Diego (388) and San Jose (335) had lower rates.

--El Paso had the lowest murder rate, 2.4 per 100,000 residents, followed by San Diego (2.9); Seattle (3.2); Portland (3.4); and Austin (3.5).

--El Paso had the second-lowest burglary rate of the cities, 281 per 100,000 residents, with New York (221) faring best. San Jose ranked third (441), followed by San Diego (444). Austin ranked seventh (873).

We shared our calculations with Sgt. Chris Mears, a spokesman for the El Paso Police Department, who speculated by telephone that a reason El Paso might have a higher burglary rate than New York is that more local residents possess cars and trucks. "How many people in New York drive their own vehicles around?"

Also, Mears said, El Paso's violent crime rate includes domestic violence incidents, which he said account for about half of the city's violent crime, an indication there is not much other violence.

Broadly, Mears said by email, if the crime-rate results "say statistically El Paso had less victims of crime than other large cities, one could argue for the time period in question El Paso was the safest large city."

Our ruling

Escobar said El Paso is the "safest city of our size in the nation."

This conclusion draws on the latest CQ Press crime-rate rankings, which suggest El Paso has the lowest crime-rate ranking of 33 cities with 500,000 residents or more, a conclusion drawing on 2011 crime statistics gathered by the FBI.
But "safest" is not that simple. The FBI advises against using its figures to rank cities. Also, CQ Press stopped attaching the "safest" label to its crime-rate rankings years ago, saying the label conveys a perception rather than a fact. It gave us pause, too, that in 2011, El Paso had higher violent-crime and burglary rates, according to FBI-collected figures, than at least one other large city.

We rate this claim as Half True.
Email, Ruben John Vogt, director of Public Policy, Office of the El Paso County Judge, May 23, 2013

Email (excerpted), Marina Ilishaev, senior marketing manager, SAGE Publications, May 23, 2013

Telephone interviews, Alfred Blumstein, J. Erik Jonsson University professor of Urban Systems and Operations Research, Heinz College, Carnegie Mellon University, Pittsburgh, May 23-24, 2013

Web post, "Uniform Crime Reporting Statistics: Their Proper Use," Federal Bureau of Investigation, January 2011 revision (accessed May 23, 2013)

Telephone interview, Sgt. Chris Mears, director of public affairs, El Paso Police Department, El Paso, May 24, 2013
Email (excerpted), Mitchell Chamlin, professor, School of Criminal Justice, Texas State University, San Marcos, May 28-29, 2013


Browse the Truth-O-Meter
More by W. Gardner Selby
Support independent fact-checking.
Become a member!
In a world of wild talk and fake news, help us stand up for the facts.