Stand up for the facts!
Our only agenda is to publish the truth so you can be an informed participant in democracy.
We need your help.
I would like to contribute
Gwinnett County government has made "significant cutbacks in staffing."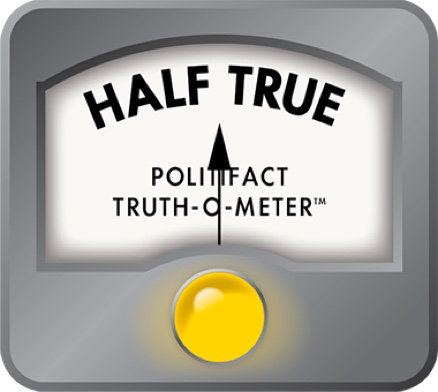 Gwinnett claim hurt by comparisons
Gwinnett County government is expected to collect $20 million more in general fund property taxes this year as a result of rebounding home values.
County commissioners could give the money back to homeowners by rolling back the tax rate an equivalent amount. But they've decided it's more prudent to leave the millage rate unchanged and put the extra money into projects that were put off during the worst of the Great Recession, such as a new roof for the main government complex.
They point out that even with the $20 million, the county will be collecting $40 million less than it did in 2009, when property tax collections were at their peak.
In recent discussions of the millage rate, Commission Chairman Charlotte Nash said county government has made "significant cutbacks in staffing."
A PolitiFact Georgia reader asked if Nash's statement could be truth-tested. We were  glad to oblige.
PolitiFact reached out to Joe Sorenson, communications director for Gwinnett County government, who provided data and documents back to 2008, when local governments were just starting to feel the fallout of the national economic down spiral.
Based on that information, here's what happened.
Gwinnett County government imposed a hiring freeze in 2008 and eliminated a net of 179 positions a year later.
The Planning and Development Department took the hardest hit. New building had stopped. Rezoning requests essentially had evaporated and, with them, the need for 84 of the department's 154 jobs.
Some other employees' jobs were cut. Another 202 workers, with a combined 4,400 years of experience and institutional knowledge, accepted retirement incentives to leave. The police and fire departments left 25 positions vacant, although some other critical jobs were filled, Sorenson said.
(The situation also was grim in Gwinnett's private sector. In the first three quarters of 2009, more than 18,000 jobs were eliminated. The local unemployment rate shot from 5.6 percent to 8.9 percent in a single year.)
The county's tax rate was increased in 2009, and some of the extra revenue was used in 2010 to increase staffing, primarily in public safety (48 new jobs in fire and emergency management services and 50 new police positions).
In 2011, the hiring freeze of 2008 was changed to a 90-day freeze on vacant positions. That policy remains in effect today and, by the county's projections, is saving $8.9 million a year.
The policy requires that vacant county jobs be held open for three months and only be refilled after their need is justified to the county administrator.
| | | | |
| --- | --- | --- | --- |
| Year | Population | Authorized Positions | Ratio per 1,000 residents |
| 2004 | 687,468 | 4,152 | 6.04 |
| 2005 | 710,978 | 4,391 | 6.18 |
| 2006 | 740,267 | 4,586 | 6.20 |
| 2007 | 764,129 | 4,797 | 6.28 |
| 2008 | 780,721 | 4,893 | 6.27 |
| 2009 | 796,276 | 4,714 | 5.92 |
| 2010 | 808,291 | 4,827 | 5.97 |
| 2011 | 824,941 | 4,815 | 5.84 |
| 2012 | 842,046 | 4,812 | 5.71 |
| 2013 | 855,459 | 4,825 | 5.64 |
Source: Gwinnett County Communications Department
This year, the county added one new position, for an authorized workforce of 4,826. That's 67 fewer workers than the 4,893 the county had in 2008, when the government was serving 90,000 fewer residents.
But can a 1.4 percent reduction in staff be called significant?
Nash told us that her comments related to the number of full-time county employees per 1,000 residents, which she county officials for several years have considered a more accurate measure of staffing levels.
"There is certainly validity to the general idea that service demands go up as the population increases," Nash said.
From 2008 to 2013, the number of authorized full-time county employees per 1,000 residents dropped from 6.27 to 5.64, a 10-percent reduction, she said.
"The significance of the 10 percent reduction is even greater when I look at the allocation of authorized positions across the organization," Nash said. "Authorized positions for Public Safety, Sheriff and the Judiciary grew by 124 positions from 2008 to 2013 while authorized positions for the rest of the county departments and offices shrank by 192 positions."
Officials at the Georgia Labor Department and the National Association of Counties provided data to help us see what's been happening in other governments across Georgia and the country.
The Labor Department data shows that in Georgia:
-- the number of people working in fulltime and part-time federal jobs increased by 1,900 or about 2 percent from 98,200 in 2008 to 100,100 in 2013, the latest year for which data is available;
-- the number of fulltime and part-time state workers dropped by 9,500, or 5.2 percent, from 183,500 in 2008 to 174,000 in 2013;
-- and in local governments, the number of fulltime and part-time workers dropped 21,500, or about 5 percent, from 429,200 in 2008 to 407,700.
Across the nation, counties cut 91,000, or 2.7 percent of their full-time works, going from 3.345 million workers in 2007 to 3.254 million workers in 2012, said Emilia Istrate, director of research and outreach for NACo.
In metro Atlanta, we also reached out to officials in DeKalb, Cobb and Fulton counties. Burke Brennan, spokesman for DeKalb County, sent us data showing that the number of full-time workers in the county fell 14.5 percent, from 7,309 in 2008 to 6,251 in 2014 and all workers, including temps and part-timers, dropped from 7,649 to 6,427 or about 16 percent.
Cobb County is down from 4,409 employees in 2008 to 4,213, or 4.4 percent, currently, said Robert Quigley, county spokesman. Meanwhile, the number of full-time employees in Fulton County has dropped about 18.3 percent, from about 6,327 in 2008 to 5,168 in 2014, according to data from the county's IT department.
Steve Anthony, a political science lecturer at Georgia State University who focuses on Georgia government policies and practices, said the staff reductions in Gwinnett cannot be called significant.
"Getting rid of 1 percent of what you have is not significant," he said. "The loss of personnel there was less than anywhere else, and significantly less."
Katherine Willoughby, a professor in the Department of Public Management and Policy at Georgia State's Andrew young School of Policy Studies, said, however, that even a small cut in staff can be tough.
"A 1.4 percent cut to the government workforce, especially in light of an increasing population, is very challenging," Willoughby said.
So where does that leave us?
Gwinnett County does have 67 fewer employees and 90,000 more residents now than it did in 2008. In better times, the county likely would have added 100 to 200 new employees a year to meet the demands of a growing population.
But it's probably a stretch to say the cutback in employees is "significant" given the downsizing that's occurred across the public and private sectors.
We rate her statement as Half True.
Charlotte Nash at the Gwinnett County Commission, July 15, 2014
Interviews and emails with Joe Sorenson, communications director, Gwinnett County government.
Interviews and emails with Ed Hall, Georgia Department of Labor.
Interview with Steve Anthony, political science lecturer, Georgia State University
Email with Katherine G. Willoughby, professor, Department of Public Management and Policy, Andrew Young School of Policy Studies, Georgia State University
Email with Robert Quigley, spokesman for Cobb County
Email with Ericka Davis, spokeswoman for Fulton County
Email with Burke Brennan, spokesman for DeKalb County
Email with Emilia Istrate, director of research and outreach, National Association of Counties
Browse the Truth-O-Meter
More by Nancy Badertscher
Support independent fact-checking.
Become a member!
In a world of wild talk and fake news, help us stand up for the facts.