Stand up for facts and support PolitiFact.
Now is your chance to go on the record as supporting trusted, factual information by joining PolitiFact's Truth Squad. Contributions or gifts to PolitiFact, which is part of the 501(c)(3) nonprofit Poynter Institute, are tax deductible.
I would like to contribute
The racial and ethnic makeup of the Gwinnett County Sheriff's Office mirrors the community it serves.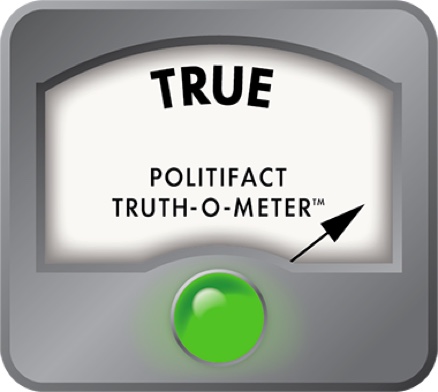 Conway's claim of a diverse department true
Gwinnett County Sheriff Butch Conway recently said publicly that the racial and ethnic makeup of his department mirrors the large and diverse north metro county it serves.
PolitiFact Georgia decided to take a look.
But first a little context.
The shooting of black teen Michael Brown by white police officer Darren Wilson in August 2014 prompted protests that roiled the Ferguson-St. Louis area for weeks.
Anti-police rhetoric has been on the rise since Brown's death and other highly publicized police-involved shootings.
Conway, who has been Gwinnett's sheriff for 19 years, weighed in on what some have labeled a "war on police" earlier this month, penning an op-ed piece for The Atlanta Journal-Constitution that denounced senseless violence against police officers. It also described those making allegations of police racism as 'hate groups' and "domestic terrorists with an agenda."
At a press conference on Sept. 16, Conway responded to critics of the piece and said he planned to meet with some who disagreed with his viewpoint or accused him of "burying his head in the sand" to racism in policing today. It was at that time that Conway also said that the racial and ethnic makeup of his department mirrors Gwinnett, the state's second largest county.
So what do the numbers show?
We contacted Shannon Volkodav, a spokeswoman for the Gwinnett County Sheriff's Office, to request supporting data on all department staff, as well as its leadership.
She provided a racial/ethnic breakdown of the department's current staff, which we compared with estimates from the U.S. Census Bureau on the population of Gwinnett County in 2014, the latest year for which information is available.
The Gwinnett County Sheriff's Office, with a 706-member staff, is 55.81 percent white, 35.55 percent African-American, 5.95 percent  Hispanic, 2.27 percent Asian/Pacific Islander and 0.42 percent Native American/Alaskan.
And the department serves an estimated 877,922 Gwinnett County residents, 58.1 percent of whom are white, 27 percent of whom are African-American, 20.5 percent of whom are Hispanic, 11.6 percent of whom are Asian/Pacific Islander and 0.8 percent of whom are Native American/Alaskan, according to the data we reviewed.
Conway said in a telephone interview that a diverse department has been something he's worked to achieve since first being elected sheriff in 1996.
He said the administration is not as racially and ethnically diverse as he would like. But he said that's a byproduct of the department and county having been predominately white well into the 1990s and senior administrators, most of whom have 20 to 25 years of experience, having risen through the ranks. (Whites make up 74 percent of front-line supervisors -- lieutenants, sergeants and corporals, according to department data.)
Ronald Weitzer, a professor of sociology at George Washington University who specializes in police and minority relations, said the situation is not unusual.
"It takes time for minority officers to move up through the hierarchy," Weitzer said. "It is also important that -- from the perspective of citizens who have contact with officers --  what matters is how diverse the department is on the ground."
"Average residents may never encounter the top leadership or know what their demographics are," he said.
The exception would be the chief of police, whose racial background would be known to the public, Weitzer said.
We wondered how the Sheriff's Office compared with Gwinnett County government as a whole.
Joe Sorenson, the communications director for the county, provided data showing that 73.96 percent of the county's workforce is white, 18.69 percent is black; 4.6 percent is Hispanic and 2.43 percent is Asian or Pacific Islander.
The county is working to increase its diversity, but it's not a quick process, Sorenson said.
Some of its efforts include recruiting police officers at historically black colleges and universities, including Florida A&M University, Bethune-Cookman and Albany State, Sorenson said.
Our ruling.
Conway said his department mirrors the community it serves in racial and ethnic diversity. Data we reviewed show the department is more diverse than Gwinnett County government as a whole.
African-Americans and other major ethnic and racial groups are represented in the department -- some groups are more proportionally represented in the department than others.
But Conway's overarching point stands up.
We rate his statement as True.
"Gwinnett sheriff issues scathing statement: 'All lives matter,'" The Atlanta Journal-Constitution, Sept. 15, 2015
Emails and phone calls to Shannon Volkodav, spokeswoman for the Gwinnett County Sheriff's Office
Phone interview with Butch Conway, sheriff of Gwinnett County
"Ferguson Police Tainted by Bias, Justice Department Says," By Matt Apuzzo and John Eligon, The New York Times, March 4, 2015
Ferguson Police Department Report: Investigation of the Ferguson Police Department by the Department of Justice. Reprinted in The New York Times on March 4, 2015
Ferguson: DOJ Condemns Racist, Profit-Driven Police & Court System, Democracy Now blog, Thursday, March 5, 2015
Investigation of Ferguson Police Department, Department of Justice
U.S. Census Bureau, Quick Facts, Ferguson, Mo.
U.S. Census Bureau, Quick Facts, Gwinnett County, Ga
"The Race Gap in America's Police Departments," By Jeremy Ashkenas and Heeyoun Park, The New York Times, April 8, 2015
Emails with Ronald Weitzer, a professor of sociology at George Washington University
Bio of Ronad Weitzer
Browse the Truth-O-Meter
More by Nancy Badertscher
Support independent fact-checking.
Become a member!
In a world of wild talk and fake news, help us stand up for the facts.