Stand up for the facts!
Our only agenda is to publish the truth so you can be an informed participant in democracy.
We need your help.
I would like to contribute
"There are only about 10 people in the United States Senate who have any real business experience."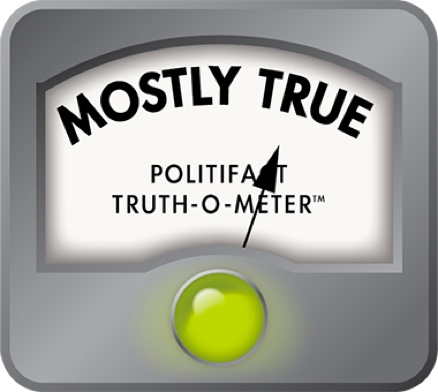 Perdue largely on target with claim about businesspeople in Senate
Republican David Perdue is hoping to parlay his achievements in corporate America into a six-year term as a U.S. senator from Georgia.
At virtually every campaign stop since he announced his candidacy last year, Perdue has stressed his leadership at well-known corporations, including Sara Lee, Reebok and Dollar General.
"There are only about 10 people in the United States Senate who have any real business experience," Perdue said during a recent campaign swing through Middle Georgia. "And with my 40-year career, I hope to add some value to the debate of how to break the gridlock between tax increases and spending cuts and get this economy going and put people back to work."
Perdue, 64, and Democrat Michelle Nunn, 47, are first-time candidates locked in one of this year's most closely watched elections. The outcome of the race will help determine which party controls the U.S. Senate for the final two years of Barack Obama's presidency.
Libertarian Amanda Swafford is also in the race, which will determine who succeeds retiring Republican U.S. Sen. Saxby Chambliss.
PolitiFact Georgia decided to ponder Perdue's point -- with 100 members in the U.S. Senate, could only one in 10 senators have a background in business?
We started with the Congressional Research Service and the Congressional Quarterly Roll Call Guide to the New Congress, two sources of detailed information on House and Senate members, including their average age, religion and education.
In the 113th Congress, 27 senators identified "business" as their occupation, according to the groups' data. But it's more complicated than that.
The law was the No. 1 occupation in the Senate (with 55 out of 100), followed by careers in public service and or politics (with 42 members listing that as their occupation), according to the data.
Here's the complication: There were two qualifiers to the data. In responding to a survey by Congressional Quarterly, some members of Congress listed more than one occupation, and members of Congress may not have been practicing their listed profession immediately before they entered Congress.
As for Perdue, he is using a number that campaign researchers gleaned by going through the biographies of all 100 senators, said Derrick Dickey, Perdue's spokesman.
"The occupational summary information available online was fairly generic and did not describe primary work responsibilities," Dickey said.
He said the campaign research zeroed in on senators who worked in the corporate world or had responsibility for a company's profit and loss margins.
"Some of the members' primary occupations are debatable, which is why we use the language 'about 10,' " Dickey said.
Perdue isn't the first candidate to make his business background a key campaign focus.
In 2010, businessman Ron Johnson unseated Russ Feingold, a three-term Wisconsin Democrat, in one of the most hotly contested Senate races of the midterms.
Political pundits said Johnson capitalized on the electorate's economic angst with an ad that pointed out that the 100-member Senate had 57 lawyers, including Feingold, but just one accountant and no manufacturers.
Johnson, who is an accountant and manufacturer, presented himself as a candidate with know-how to balance a budget and create jobs.
Larry Sabato, director of the Center for Politics at the University of Virginia, said that a candidate promoting himself as a businessman is trying to project the image of someone who is "practical, knows the value of hard work and knows how to balance a budget."
"In this particular case, though, I doubt Perdue has any occupational edge over Nunn," Sabato said. "Running a nonprofit requires some of the same skills, and the Points of Light foundation has the added advantage of being tied to a former GOP president -- no doubt one reason why Nunn stresses it."
So where does this leave us?
Perdue identified "about 10" business people in the Senate. His campaign research was more narrowly focused on people with responsibility for a company's bottom line.
But the overarching theme of Perdue's statement is correct. Members who are or consider themselves as business people are in the minority in the U.S. Senate. And that's according to his tally and official records.
We rate his statement Mostly True.
"David Perdue campaigns in Perry," WMAZ on Aug. 4, 2014
"Members of the 113th Congress: A Profile," Congressional Research Service
Interview with Derrick Dickey, Perdue campaign spokesman
Interview with Larry Sabato, director of the Center for Politics at the University of Virginia
Ron Johnson wins U.S. Senate seat with positive ad
Browse the Truth-O-Meter
More by Nancy Badertscher
Support independent fact-checking.
Become a member!
In a world of wild talk and fake news, help us stand up for the facts.