Stand up for the facts!
Our only agenda is to publish the truth so you can be an informed participant in democracy.
We need your help.
I would like to contribute
Mike "Martinez has voted to raise taxes and utility rates while ending free bus service for seniors."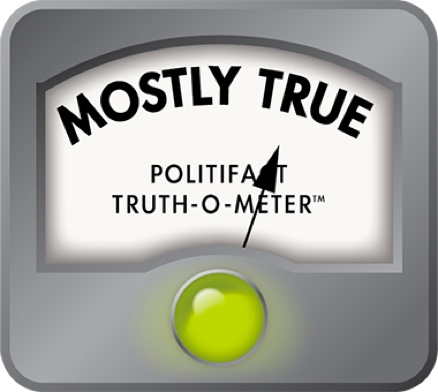 Adler says Mike Martinez voted to raise taxes and utility rates, also ending free buses for seniors
Austin voters should doubt mayoral aspirant Mike Martinez's commitment to an affordable city, his opponent in a Dec. 16, 2014, runoff maintains.
The narrator of a Steve Adler TV ad says that as an Austin City Council member, Mike Martinez "has voted to raise taxes and utility rates while ending free bus service for seniors." That statement is made against this visual backdrop:
Source: TV ad from Steve Adler, Austin mayoral candidate, "Mike Martinez Record on City Council," posted online Dec. 2, 2014.
Martinez has been a council member since June 2006. So it's no surprise he would have had a say on taxes and rates charged by the city-owned utilities, though unsaid here is that no single council member controls any such decisions; it's been a seven-member body, including the mayor.
Martinez also chairs the eight-person board overseeing Capital Metro, which provides local bus and limited rail service. So he could have voted on fares charged the elderly.
Let's recap Martinez's actions on fares, city taxes and utility rates.
Bus fares
To our inquiries, Adler's campaign didn't provide comprehensive backup for his ad claim. But by email, spokesman Jim Wick pointed out a September 2010 Austin American-Statesman news story stating the Cap Metro board voted to require bus riders 65 and older to pay 50 cents a ride or $15 for a 31-day bus pass, starting in 2011. The story also said the board was deciding to charge seniors and people with disabilities to ride buses for the first time since 1989.
For Capital Metro, spokeswoman Francine Pares told us by email Martinez has been a board member since June 2007 and chairman since January 2010. Pares also confirmed the board's decision to charge the 50-cent fares, though she said that change was adopted at the board's November 2010 gathering, which Martinez didn't attend, she said.
According to minutes of the Nov. 10, 2010, board meeting, the six members who were there unanimously approved a resolution authorizing higher fares in part, the resolution said, to generate additional operating revenues "while striving to meet growing demand for transportation options." Martinez and another board member were recorded as absent.
Pares told us the board in September 2013 approved another increase in senior fares, to 60 cents, effective in 2015. Generally, she said, senior citizens receive 50 percent off regular fares.
By phone, Martinez agreed he and fellow board members agreed to charge the fares for elderly residents. But that happened, he said, only after a state panel issued "marching orders" including a recommendation calling for Capital Metro to raise more money from fares.
In a 2010 report, the staff of the Sunset Advisory Commission recommended the authority charge a bus fare of 50 cents for groups currently riding free. The commission had said 30 percent of Capital Metro's passengers were riding for free and, it noted, the board had rejected proposed fares in 2008 and 2009. In its final July 2011 report on Capital Metro, the commission said: "While fare increases are difficult, requiring only a portion of its ridership to bear the burden of these increases is not equitable or sustainable, especially in bad financial times."
Martinez pointed out the sunset review occurred in keeping with legislation passed into law by the 2009 Legislature, which wanted Capital Metro to get its finances in order.
City taxes
On taxes, Wick of Adler's camp offered as backup news stories indicating that in 2009, Martinez said taxpayers would have to pay "a little more" in taxes and fees through 2010 to maintain services and in 2010, the council acting to raise the city's property tax rate from 42.09 cents per $100 of property value to 45.71 cents; the city tax on a median value home was expected to increase $52 to $843.
Wick followed up by emailing us a chart made by Adler's campaign indicating city property taxes on a median-valued home going up on Martinez's watch. For a non-campaign analysis, we turned to the Travis Central Appraisal District; the chief appraiser, Marya Crigler, emailed us a chart indicating city property taxes on a median-value homestead in 2007 were $715; in 2014, the comparable figure was $1,014. We converted the 2007 figure to 2014 dollars, using a federal inflation calculator. Upshot: Adjusted for inflation, city taxes on a median-value Austin homestead went up $278, or 34 percent, from 2007 through 2014, Martinez's council years.
Over those years, according to the district, the median taxable value of an Austin homestead went from $177,257 to $228,032. Adjusting for inflation suggests there was a nearly $18,800, 9 percent, increase.
Martinez agreed property owners paid more in taxes in his council tenure, results influenced by surging property values, he said. Still, he said, in five of eight years, council members voted to keep the city's property tax rate the same or to lower it. When the rate was raised, he said, the economy was in recession.
For another fact check, the city provided this chart of tax rates, which shows the council raised the rate three times in Martinez's tenure, most recently for 2013,  but cut the rate four times, most recently for 2014. In September 2014, the council left the 2014 rate intact for 2015.
Utility rates
In 2011, we found Mostly True a claim that Austin Energy, the city electric utility, was considering its first hike in rates since 1994. The base electric rate, covering staff, the electric system, power plants, vehicles and the like, hadn't changed since 1994. Meantime, residential customers were paying less for electricity than they once had, taking inflation into account.
On June 7, 2012, the council unanimously voted to raise the base rate, the American-Statesman reported. The news story said: "The complicated new rate structure will hit customers in different ways; generally speaking, the larger and more energy-hungry the home, the higher the percentage increase," effective October 2012. "A typical home, which uses an average of 1,000 kilowatt-hours a month over the course of a year, will see its monthly bill rise by $8, to $113, according to Austin Energy calculations. A home that uses a lot of electricity would see its monthly bill increase by $59, to $332," the story said.
How would Adler have voted?
We asked Wick how Adler would have voted on the bus fares, tax and utility rate hikes we confirmed. There's no simple answer, Wick said by email, but Adler favors free fares for senior citizens.
Our ruling
Mike "Martinez has voted to raise taxes and utility rates while ending free bus service for seniors."
Austin residents pay more in taxes and could be paying more for electricity thanks to council actions Martinez supported. He also backed a decision by the Capital Metro board to charge half fares to elderly bus riders who had previously not been charged, though Martinez hardly did this by himself; it's worth clarifying, too, that Capital Metro was under pressure to improve its finances and that Martinez missed the vote creating the then-50-cent fare.
We rate this statement Mostly True.
---
MOSTLY TRUE – The statement is accurate but needs clarification or additional information.
Click here for more on the six PolitiFact ratings and how we select facts to check.
Emails (excerpted), Jim Wick, campaign manager, Steve Adler campaign, Dec. 4-11, 2014
News stories, "Cap Metro to raise fares, cut services for disabled," Austin American-Statesman, posted online Jan. 24, 2010; "Austin City Council approves electric rate hike," Statesman, posted online June 7, 2012 (accessed Dec. 5, 2014)
Emails, Francine Pares, communications manager, Capital Metro, Dec. 5, 2014
Telephone interview, Mike Martinez, Austin, Dec. 5, 2014
Email, Bo Delp, deputy campaign manager, Mike Martinez campaign, Dec. 8, 2014
Meeting minutes, Capital Metro board, meetings of Sept. 24, 2010; Nov. 10, 2010; Sept. 23, 2013 (accessed and downloaded Dec. 8, 2014)
Report, "Capital Metro Transportation Authority," Texas Sunset Advisory Commission, July 2011 (accessed Dec. 8, 2014)
Chart, "City of Austin Tax Bill to Median Home," fiscal 2006 through fiscal 2014, Steve Adler campaign (received by email from Jim Wick, Dec. 8, 2014)
Chart showing tax rates and taxes on average and median value homesteads for Travis County government units, 1994-2014 (received by email from Marya D. Crigler, chief appraiser, Travis Central Appraisal District, Dec. 11, 2014)
Truth-O-Meter articles, "Kathie Tovo says Austin Energy considering first rate bump since 1994," PolitiFact Texas, May 10, 2011; "Austin-area activist says Austin has fastest-growing taxes of any major U.S. city," PolitiFact Texas, Nov. 28, 2014
Browse the Truth-O-Meter
More by W. Gardner Selby
Support independent fact-checking.
Become a member!
In a world of wild talk and fake news, help us stand up for the facts.