Stand up for the facts!
Our only agenda is to publish the truth so you can be an informed participant in democracy.
We need your help.
I would like to contribute
"We're trailing every other state in the Midwest in terms of job creation since January of 2011."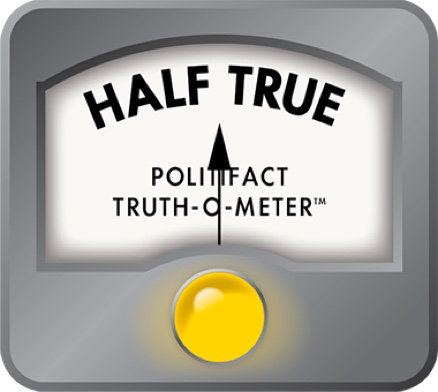 Mary Burke says Wisconsin trails every other Midwest state in job creation
Democratic candidate for governor Mary Burke says Wisconsin's job-creation record not only lags behind the national average, but ranks as worst in the Midwest since Gov. Scott Walker took office.
"I think we have to focus on what's going to create jobs here," Burke, the former state Commerce secretary, said Jan. 14, 2014 in Kenosha. "That's how you're going to get taxes down, if you grow the economy."
Burke added this, according to WITI-TV (Channel 6) in Milwaukee:
"You have to get the base larger in Wisconsin — and we haven't seen that.  We're trailing every other state in the Midwest in terms of job creation since January of 2011."
Wisconsin's national job-growth ranking of 37th was highlighted in December when quarterly jobs data through June 2013 was released. Other figures suggest that Walker, now in the final year of his term, is only about 40 percent of the way to his goal of creating 250,000 private sector jobs in his four-year term.
But is the state last among its neighbors?
When we asked the Burke campaign to back up its claim, it pointed us to a chart on the Capital Times website that tracks monthly job-creation data covering January 2011 -- Walker's first month as governor -- through November 2013, the latest available at that time the statement was made.
The chart showed Wisconsin's 4 percent growth rate trailing its four adjoining neighbors -- by a wide margin in two cases (Michigan and Minnesota), and by slim margins in the other two (Iowa and Illinois).
We confirmed Wisconsin's ranking by examining the data, which is reported by the U.S. Bureau of Labor Statistics as well as state of Wisconsin officials.
We're not done yet.
Regular PolitiFact readers know there is more than one way to paint by numbers on employment. There are two distinctly different sources of jobs data.
Burke cites the Current Employment Statistics figures, gleaned from a monthly survey of business establishments that provides estimates of employment, hours and earnings data by industry.
Those monthly figures are frequently cited by researchers and the media, but the are estimates subject to revision, sometimes quite large ones. They are based on surveys of about 3 percent of businesses but are valued for their timeliness.
The more accurate, if less timely, source of jobs data comes from the Quarterly Census of Employment and Wages, which is drawn from a census of 98 percent of U.S. businesses. The counts, though, lag behind real time by six to nine months.
How does Wisconsin fare under the quarterly data, which economists consider the most credible source of jobs data?
We looked at the data reported in December 2012, the latest quarterly data that can be directly compared to the numbers from December 2010, the baseline month just before the start of Walker's term in January 2011.
In the two-year period, Wisconsin's growth rate of 2.8 percent trailed Illinois (2.98), Minnesota (4.3), Iowa (3.4) and Michigan (5.99).
Wisconsin was not last at every measuring point along the way, but the bottom line growth rate trailed the pack.
Geography question
Burke's claim, though, raises the question of how to define the "Midwest."
She said "Midwest," but cited contiguous states as evidence.
The Journal Sentinel typically adds Indiana and Ohio into the mix in jobs stories.
The federal agency that reports the jobs data uses an even broader definition preferred by the U.S. Census Bureau. It adds Ohio, Indiana, South Dakota, North Dakota, Missouri, Nebraska and Kansas to the Midwest, with the states that touch Wisconsin.
In this broader region, Wisconsin no longer brings up the rear.
The quarterly data shows Kansas and Missouri with slower growth than Wisconsin over two years. And the less-reliable but more up-to-date monthly surveys put Ohio, Nebraska and Missouri behind Wisconsin.
Wisconsin fared somewhat better compared with its Midwest rivals early in Walker's tenure, but by late summer 2011 was lagging behind its adjoining states. Manufacturing hiring growth slowed to nothing in the one-year period ending June 2013.
We came across a couple of interesting side notes from the monthly data.
Among Wisconsin's contiguous neighbors, Minnesota and Iowa have rebounded to the best employment level they had in 2008, the year the Great Recession gained steam nationally. Minnesota, in fact, is actually a bit above that level; Iowa is right at it.
Wisconsin is still 1.6 percent off its 2008 high, while Illinois and Michigan are more than 2.5 percent shy of it.
We should note that PolitiFact Wisconsin uses a hybrid of quarterly jobs figures from 2011 and 2012 plus monthly jobs numbers from 2013 to provide a rough up-to-date gauge of progress toward Walker's 250,000 goal.
State Workforce Development officials point out that when applying that counting method to other states' job-growth, Illinois and Ohio come in with lower growth than Wisconsin since Walker's term began.
The Bureau of Labor Statistics notes that the monthly and quarterly numbers are separate survey tools and are not designed to be used in combination to compare states.
Our rating
Burke claimed that under Walker, private job growth is lowest in the Midwest.
The claim is accurate for adjoining states, based on either the monthly or quarterly jobs data.
But viewed another way, three states in the Census Bureau-defined "Midwest"  -- Ohio, Nebraska and Missouri -- show slower private job-growth rates than Wisconsin.
We rate her claim Half True.
WITI web story version of TV report on Mary Burke, Jan. 20, 2014
Milwaukee Journal Sentinel, "Midwest Scorecard," Dec. 18, 2013
Capital Times, "Interactive Data: Job Growth under Scott Walker," accessed Jan. 23, 2014
US Bureau of Labor Statistics, State and Metro Area Employment Hours and Earnings, accessed Jan. 27, 2014
US Bureau of Labor Statistics, Quarterly Census of Employment and Wages, Jan. 27, 2014
Milwaukee Journal Sentinel, "Employment debate requires closer look," May 26, 2012
Interview with Richard Jones, communications officer, Wisconsin Department of Workforce Development, Jan. 24, 2014
Email interview with Joe Zepecki, spokesperson, Mary Burke campaign, Jan. 22, 2014
Browse the Truth-O-Meter
More by Dave Umhoefer
Support independent fact-checking.
Become a member!
In a world of wild talk and fake news, help us stand up for the facts.