Get PolitiFact in your inbox.
Says Bill O'Reilly spoke 40 percent of the words in an interview with President Barack Obama.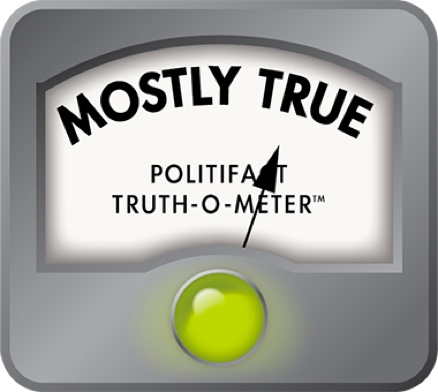 Milbank: O'Reilly said 40% of the words in Obama interview
At least among Fox News viewers, nothing boosts audience like taking President Barack Obama to task. The day after Fox News host Bill O'Reilly had an interview with Obama, O'Reilly picked up an additional 1 million viewers for his show The O'Reilly Factor.
The president sat down with O'Reilly right before the Super Bowl, and the tone of the conversation itself stirred up a flurry of reactions. Here's a small example from a moment when O'Reilly pressed Obama on the administration's response to the attack on the American compound in Benghazi, Libya.
O'Reilly: If (Ambassador to the United Nations) Susan Rice goes out and tells the world that it was a spontaneous demonstration...
Obama:  Bill...
O'Reilly:  -- off a videotape but your...
Obama:  Bill...
O'Reilly:  -- your commanders and the secretary of Defense know it's a terror attack...
Obama:  Now, Bill...
O'Reilly:  Just...
Obama:  -- Bill...
O'Reilly:  -- as an American...
Obama:  -- Bill -- Bill...
O'Reilly:  -- I'm just confused.
Obama:  And I'm -- and I'm trying to explain it to (you), if you want to listen.
No wonder that many observers described the interview as testy.
Washington Post columnist Dana Milbank called it "the roughest and nastiest exchange" of the three times that O'Reilly has interviewed Obama.
"He interrupted the president 42 times in 10 minutes," Milbank said on MSNBC's Politics Nation. Of all the words uttered in this 10-minute interview, 40 percent were uttered by O'Reilly."
We wanted to check Milbank's numbers. Not on the interruptions, but on the word count.
We pulled out our digital centrifuge and separated the O'Reilly and Obama utterances. According to our research, O'Reilly delivered 787 words to Obama's 1,484. This gave O'Reilly 35 percent of the conversation. That's a little lower than Milbank said but more or less in the same ballpark. We reached out to Milbank and did not hear back.
To satisfy our own curiosity, we decided to compare this with another one-on-one interview between the president and a journalist. A couple of days before Obama sat down with O'Reilly, he did the same with CNN's Jake Tapper.
We subjected that transcript to the same rigorous methods and found that Tapper spoke 23 percent of the time, leaving the president the other 77 percent. The precise word counts were Tapper -- 849 and Obama -- 2,886.
Milbank's point was that O'Reilly's interview was almost as much about O'Reilly as it was about the president. We don't know about that, but we can say that O'Reilly spoke about 50 percent more than Tapper did in his interview.
The topics in the two interviews differed greatly. O'Reilly brought up Obamacare, the Benghazi attack and the IRS scrutiny of conservative groups seeking tax-exempt status. Tapper focused on issues like immigration reform, legalization of marijuana, spying by the National Security Agency, and security at the Winter Olympics in Sochi.
O'Reilly had a second installment of his time with Obama that aired the night after the Super Bowl. Milbank's comment came on the same night, so we're counting only the segment that had aired publicly at that point.
For the record, in the second installment, O'Reilly asked the president about African-American children raised in single-parent households, school vouchers, the Keystone pipeline, a contraceptive coverage exemption for Little Sisters of the Poor, and veterans benefits.
Our ruling
Milbank said O'Reilly said 40 percent of the words during his interview with the president. That was a little high. By our count, 35 percent would be more accurate. O'Reilly spoke decidedly more than Tapper did in his time with Obama.
We rate the claim Mostly True.
Browse the Truth-O-Meter
More by Jon Greenberg
Support independent fact-checking.
Become a member!
In a world of wild talk and fake news, help us stand up for the facts.