Stand up for the facts!
Our only agenda is to publish the truth so you can be an informed participant in democracy.
We need your help.
I would like to contribute
Federal law requires residents to participate in the U.S. government's American Community Survey.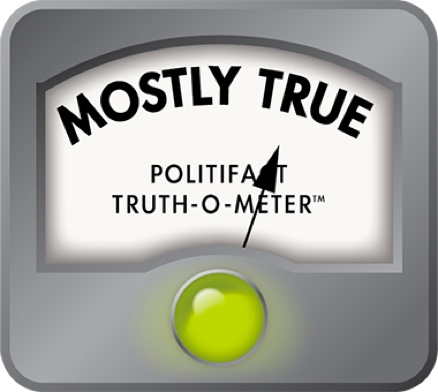 Americans must answer U.S. Census Bureau survey by law, though agency hasn't prosecuted since 1970
Bob Cole, who hosts Austin radio station KOKE-FM's weekday morning show, said on the air Jan. 7, 2014, that he couldn't believe the U.S. Census Bureau told him he was legally required to participate in a government survey.
"In a few days you will receive an American Community Survey questionnaire in the mail," the bureau said in a letter to Cole, which he said he received in late 2013 or early in the new year.  The letter said: "Because you are living in the United States, you are required by law to respond to this survey." Cole gave us a copy of a bureau envelope with this nudge outside: "Your response is required by law."
The ACS, sent annually in recent years to a sampling of more than 3 million U.S. households, collects detailed information on population and housing, helping to update the information gathered in every decennial census, the bureau says online. "Estimates from the ACS contribute to providing an important picture of America, and an accurate response to the ACS questionnaire is important," the agency says. "When used in conjunction with the most recently available decennial census counts, information from the ACS documents how we live as a nation, including our education, housing, jobs, and many other issues."
Cole asked us to verify that Americans are legally bound to fill out the survey. "I can see the validity of some of the questions," he said, others less so. The material he received said the bureau estimates it takes 40 minutes to complete. (See the 2014 questionnaire, which has more than 50 questions for each person in a household, here.)
Bureau cites statutes
The materials received by Cole included an FAQ with this question: "Do I have to answer the questions?"
"Yes," the bureau's reply states. "Your response to this survey is required by law (Title 13, U.S. Code, Sections 141 and 193). Title 13, as changed by Title 18, imposes a penalty for not responding. We estimate this survey will take about 40 minutes to complete."
That verbiage didn't lead us to any mandate, but a bureau web page singles out Section 221 of Title 13, which says that any adult refusing to answer a bureau survey shall be fined.
Specifically, the section refers to the U.S. Secretary of Commerce, who oversees the bureau, and says: "a) Whoever, being over eighteen years of age, refuses or willfully neglects, when requested by the secretary, or by any other authorized officer or employee of the Department of Commerce or bureau or agency thereof acting under the instructions of the secretary or authorized officer, to answer, to the best of his knowledge, any of the questions on any schedule submitted to him in connection with any census or survey provided for by subchapters I, II, IV, and V of chapter 5 of this title, applying to himself or to the family to which he belongs or is related, or to the farm or farms of which he or his family is the occupant, shall be fined not more than $100."
That's not entirely so; the fine for refusing to answer a bureau survey can be as much as $5,000, the bureau separately says online, citing Section 3571 of Title 18.
Individuals willfully giving false answers to the government face a fine of up to $500, Section 121 says. But it states that "no person shall be compelled to disclose information related to his religious beliefs or to membership in a religious body."
Unenforced mandate?
Our search for more information yielded a Jan. 9, 2013, commentary by David Whiting of the Orange County (Calif.) Register quoting a bureau spokeswoman, Jennifer Smits, saying that nobody had been fined for failing to participate to date. By telephone, bureau spokeswoman Stacy Gimbel Vidal told us that remains so; no fines have been levied. The bureau, she said, is "really not in the business of prosecuting people who don't comply."
On July 18, 2012, Andrew Reamer, a research professor at George Washington University, told a U.S. Senate subcommittee that the bureau had not prosecuted someone for not responding to a survey since the 1960 census. Not quite: Bureau spokesman Brian Lavin told us by email that no one has been prosecuted for failing to respond to a survey since the 1970 census.
In his testimony, Reamer also explained why the potential fine had escalated from the $100 set in law in 1929. He said that figure was superseded in the 1980s by a comprehensive law stipulating a fine of up to $5,000 for any criminal misdemeanor or infraction.
In 2012, Vidal told us by email, less than 8,000 of the nation's ACS recipients refused to respond; the survey had a 97 percent response rate and it has had a 97 percent to 98 percent response rate since being fully implemented in 2005, Vidal said by email.
"Because you care about your community, please fill out the form," Vidal said. "It has so many positive ramifications" related to spending and planning.
Bureau's appeal for participation
She elaborated in a follow-up email: "Responding to the American Community Survey is about helping national, state and local officials make informed decisions with timely and accurate data. Just as people are required to respond to jury duty, get a driver's license in order to drive, pay their taxes and report their income, they also have the obligation to respond to decennial census surveys.
"Most Americans asked to participate understand this responsibility and what's at stake for their communities – quality, current statistics that drive decision-making on investments and services in their communities," Vidal said. "Retailers, homebuilders, police departments, and town and city planners are among the many private- and public-sector decision-makers who count on these annual results to plan services and policies: from building roads and power plants to attracting jobs and planning emergency evacuations. These statistics also help determine how more than $400 billion of federal funding are spent on infrastructure and services, from highways to schools to hospitals."
Vidal wrote: "The survey is the only source of local statistics for most of the 40 topics it covers, such as employment, language spoken at home, education and selected housing costs."
Study of voluntary compliance
The idea of making responses voluntary has been explored. On May 20, 2012, the New York Times noted in a news analysis that the Republican-majority House had voted to kill the ACS, though the Democratic-led Senate wasn't expected to agree. Separately, the story said that if the survey were made voluntary, according to experts, the census would have to spend significantly on follow-up phone calls and in-person visits to get enough households to answer.
The story included a web link to a Sept. 27, 2011, bureau report stating that when the agency tested making the survey voluntary in 2002-03, the "mail cooperation" rate dropped by more than 20 percentage points. If the survey was made voluntary, maintaining its reliability would drive up costs by at least 38 percent, the report said. "Perhaps of greatest concern, the use of voluntary collection methods had a negative impact on traditionally low response areas that will compromise our ability to produce reliable data for these areas and for small population groups such as Blacks, Hispanics, Asians, and American Indians and Alaska Natives," the report said.
Our ruling
The bureau said federal law requires U.S. residents to answer the ACS.
Federal law mandates as much, but the bureau also doesn't seek to penalize individuals who fail to participate. The reality appears to be that recipients can refuse to comply.
We rate the bureau's warning, which lacks this additional information, as Mostly True.
---
MOSTLY TRUE – The statement is accurate but needs clarification or additional information. Click here for more on the six PolitiFact ratings and how we select facts to check.
https://www.sharethefacts.co/share/52b3264e-3119-4f17-aa7f-223afb27b15e
Interview, Bob Cole, host, "KOKE and Cole in the Morning," KOKE FM, Austin, Jan. 7, 2014
Emails and telephone interview, Stacy Gimbel Vidal, chief, Media Relations Branch, Public Information Office, U.S. Census Bureau, Suitland, Md., Jan. 7-8, 2014
Testimony, Andrew Reamer, research professor, George Washington University Institute of Politics, U.S. Senate Subcommittee on Federal Financial Management, Government Information, Federal Services and International Security, Senate Homeland Security and Governmental Affairs Committee, July 18, 2012, CQ Congressional Testimony (Nexis search)
News analysis, "The Beginning of the End of the Census?," the New York Times, May 19, 2012
Report, "Comparison of the American Community Survey Voluntary versus Mandatory Estimates," U.S. Census Bureau, Sept. 27, 2011 (accessed Jan. 7, 2014)
Email, Brian Lavin, spokesman, U.S Census Bureau, Jan. 8, 2014
Browse the Truth-O-Meter
More by W. Gardner Selby
Support independent fact-checking.
Become a member!
In a world of wild talk and fake news, help us stand up for the facts.