Stand up for the facts!
Our only agenda is to publish the truth so you can be an informed participant in democracy.
We need your help.
I would like to contribute
"I cut spending while serving in the state Legislature"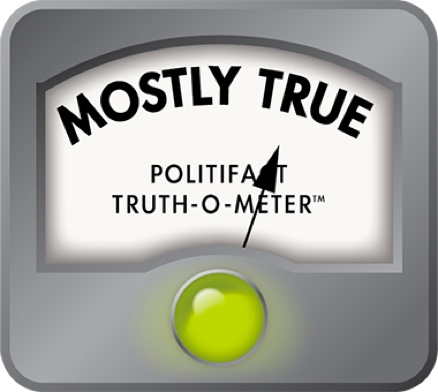 N.H. state Rep. Marilinda Garcia says she's "cut spending" as a legislator
The cornerstone for any Republican seeking to be the next U.S. Representative for New Hampshire's Second Congressional District is to come across as an authentic, fiscal conservative. And soon after Salem Republican state Rep. Marilinda Garcia announced that she would enter the Second District race, she touted her cost-cutting chops.
"I cut spending while serving in the state Legislature and will take that much-needed experience to Washington," Garcia, 30, declared in one of her first post-announcement statements on her Twitter account.
The Telegraph and PolitiFact New Hampshire sought to determine the accuracy of that statement.
State budget votes
Garcia was first elected to the New Hampshire House in 2006 and was a backbencher when Democrats took control of the 400-member body for the first time in nearly a century. Garcia lost her reelection bid in 2008, but quickly won her seat back in a 2009 special election.
Initially, Garcia served on the House Children and Family Law Committee, the panel that oversees divorce, adoption and custody but has essentially no direct impact on state spending matters.
Claiming to cut spending is a pretty broad statement, but we'll start with the major vote New Hampshire legislators take to increase or cut spending -- consideration of the state's biennial budget.
When Garcia was sworn in on Jan. 3, 2007, the state budget set by her fellow Republicans was $9.3 billion.
The subsequent $9.7 billion budget, called for a 4 percent increase for fiscal years 2008 and 2009 was written primarily by Democrats. Garcia voted against it.
The next $11.5 billion budget, also written by Democrats, called for a hefty 19 percent increase in spending for fiscal years 2010 and 2011. Garcia also voted against that.
And the next state budget, crafted by conservative Republicans, including Garcia, after the GOP took over the chamber, cut back spending by more than a billion dollars to $10.3 billion. That budget plan was the first reduction in absolute dollars since World War II. Garcia voted in favor of that budget.
Finally, the most recent $11 billion budget, covering fiscal years 2013 and 2014 and written by a Democratic majority, restored some of the cuts made in the previous budget. Garcia again voted no, though she said he didn't mind restoring cuts to higher education, public safety and programs for troubled children.
"I thought with existing recovery of revenues we could add back some of those items," Garcia said in response to our inquiry about her record of cutting spending. Instead, she said she voted against it because of the removal of the Certificate of Need program that approves all construction projects for hospitals.
"I wanted to see those health care reforms in place, but they got taken out, so that's why I voted against it," Garcia said.
Still, her budget votes while in the House are fairly consistent: She's voted against every budget that called for an increase in spending and supported the one that cut spending.
Other spending
Reviewing Garcia's entire, seven-year voting record and the bills she sponsored, Garcia consistently supported policies that would cut spending and taxes.
In 2011, she voted to cut the taxes on hotel room rentals and meals and tobacco. She endorsed making it easier for local governments to adopt spending caps and supported banning higher-education spending on New Hampshire Public Television.
Last year she opposed raising state taxes on gasoline and tobacco.
In addition, in 2011, Garcia voted for a bill to require agencies propose every two years how they would live with 10 percent cut in state spending.
And in 2012, Garcia voted in favor of business tax breaks totaling more than $10 million a year.
She did vote in favor of one bill that could have increased spending at the local level.
She voted for House Bill 1305 in 2012 that would have reinstated an exemption from property taxes for telephone and communication company poles and conduits. Critics said this could have led to raising local property taxes $5 million to $6 million statewide to make up the difference. The GOP-led House killed the bill 166-133, with Garcia on the losing end.
Does she deserve credit for cutting spending?
When politicians claim credit for something that happens on their watch, we consider whether that credit is justified before we give the statement a Truth-O-Meter rating.
In Garcia's case, she is a legislator, not an executive, so she can't unilaterally cut spending. And much of the time, she has been in the minority.
However, during the one session in which she served in the majority, she can make a plausible claim for deserving credit for lower spending.
In April 2011, then-House Speaker William O'Brien, a Republican, appointed Garcia to the House Finance Committee. She served on the committee when the state faced an $800 million budgetary hole caused by overly optimistic revenue projections. "We solved it not by raising taxes but by cutting in a responsible way," Garcia said.
At least one fellow Republican agrees. Former House Chief of Staff Gregory Moore said that "when it comes to budgets, there are three kinds of legislators: Those who believe in smaller government, those who believe in more government and those who are pragmatic on the question from issue to issue. From the outset, Marilinda Garcia came from the first camp."
Our ruling
Garcia said, "I cut spending while serving in the state Legislature."
Her voting record on the state budget -- which comprises any legislator's biggest impact on state spending -- show that Garcia voted against every budget that increased spending and voted in favor of the O'Brien budget that cut state spending for the first time since World War II.
We found two minor asterisks. Even though she voted against the most recent state budget, she didn't oppose it because it increased spending -- she opposed it because of how it treated a program that governs hospital construction and expansion.
And she supported a bill on telephone and communication company poles and conduits that would have had the effect of raising taxes. Still, there are few, if any, votes she's taken that would have increased spending or increased the size of government. 
On balance, we rate her statement Mostly True.
New Hampshire State Budgets, 2007-present, Comprehensive Annual Financial Report.
NH State Budget Trends, 2009-11.
US House-passed budget, 2013.
Voting Record Rep. Garcia: 2007-14, New Hampshire General Court web site.
Bills sponsored Rep. Garcia, 2007-14, NH General Court web site.
Interview with Marilinda Garcia:
Phone interview with former House Speaker William O'Brien, R-Mont Vernon.
Phone interview with former House Chief of Staff Gregory Moore.
Interview with State Rep. Peter Leishman, D-Peterborough.
Phone interview with Harrell Kirstein, communications director, New Hampshire Democratic Party.
Browse the Truth-O-Meter
More by Kevin Landrigan
Support independent fact-checking.
Become a member!
In a world of wild talk and fake news, help us stand up for the facts.