Stand up for facts and support PolitiFact.
Now is your chance to go on the record as supporting trusted, factual information by joining PolitiFact's Truth Squad. Contributions or gifts to PolitiFact, which is part of the 501(c)(3) nonprofit Poynter Institute, are tax deductible.
I would like to contribute
In Virginia, "Medicaid has grown by 1,600 percent in the last 30 years."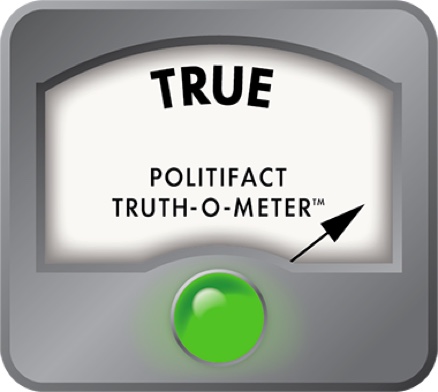 Speaker Howell says Virginia's Medicaid costs went up 1,600 percent over 30 years
House Speaker William Howell says Virginia should rein in the ever-rising costs of Medicaid rather than expand the program to cover 400,000 additional low-income Virginians.
Howell, R-Stafford, staunchly opposes Gov. Terry McAuliffe's goal to broaden the state's Medicaid program as part of Obamacare. The speaker, in a January 5 op-ed in the Free Lance-Star in Fredericksburg, wrote that Medicaid is rife with waste and fraud and in dire need of reform.
"Medicaid has grown by 1,600 percent in the last 30 years," Howell wrote.  
Howell was referring to the cost of Virginia's Medicaid program -- an expense evenly split between the federal government and the state.
We've heard the figure he cited before. Former Gov. Bob McDonnell used it repeatedly in explaining his reluctance to expand the program. Under Obamacare, the federal government would pay all the costs of the new enrollees' health care until 2016, and eventually, 90 percent from 2020 and beyond.
We wondered whether the 1,600 percent growth figure is correct.
Matthew Moran, a Howell spokesman, pointed us to data from the House Appropriations Committee showing the total of state and federal funds budgeted for Virginia's Medicaid program was $455 million in 1984 and projected at $8.1 billion this fiscal year. That's a 1,683 percent increase.  
We also sought Medicaid spending figures from the Virginia Department of Medical Assistance Services -- the agency that administers Medicaid, which now covers about 1 million Virginians. We got somewhat different numbers.
Craig Markva, a DMAS spokesman, said his agency estimates Medicaid costs increased by about 1,400 percent over the thirty-year period. Why are the numbers different?
Markva noted that DMAS was formed in 1985 -- one year after the starting date for Howell's claim. Prior to that, he said some Medicaid expenses were pooled with costs of other health programs in the state budget. DMAS estimates the 1984 Medicaid price tag was $531 million -- some $76 million above the committee figure the Howell used.
Either way, it's a huge increase. Markva said policy makers started using the 1,600 percent figure a few years ago and, back then, it was undisputedly accurate. Between 1980 and 2010, he said, DMAS estimates Medicaid rose by 1,650 percent.
What caused this tsunami?
Inflation played a big part. The 30-year figures cited by Howell and the House Appropriations Committee fall to a 694 percent increase in Medicaid costs when adjusted for inflation.
DMAS, in a report last June, said rising healthcare costs and greater use of services accounted for most of the increased costs in the state's medicaid program between 1990 and 2012.
Growing enrollments also pushed up costs, according to DMAS. There were 300,000 enrolled in the program in 1990 and that grew to 1 million in 2012.
Enrollments have risen for a couple of reasons, Markva explained.
"Some of this was simply population growth," Markva said in an e-mail.
Also contributing to the surge were federal laws that significantly expanded the population eligible for Medicaid, Markva said. The state contributed to the growth by transferring people with intellectual disabilities out of institutions and into the community homes where they require costly long-term care.
Markva said the annual cost per Medicaid enrollee was $1,617 in 1980, and that rose to $6,453  in 2010.
"This is a 453 percent increase or about 6 percent per year," Markva said. "Much of this increase is simply the same increase in health care cost that everyone experience over this time period. Some increase was also due to the creation and expansion of waiver programs, which bring into the program new members and new services, resulting in higher per person costs."
The rest of the nation has also seen large hikes in their Medicaid spending.
Total Medicaid spending among all states rose from $33.1 billion in 1985 to $398.4 billion in  2012, according to a report from the National Association of State Budget Officers. That's an 1,100 percent increase. Adjusted for inflation, it comes to a 332 percent rise.
Our ruling
Howell said the cost of Medicaid in Virginia "has grown by 1,600 percent over the last 30 years." We find no reason to quibble. The Speaker accurately cited budget figures kept by the House Appropriations Committee, a source that many around the Capitol -- including PolitiFact Virginia -- turn to for reliable data.
We rate his statement True.
Del. William Howell op-ed in the Free-Lance Star, "Commentary: A time for magical thinking: Responsible alternative must be found to expanding Medicaid," Jan. 5, 2014.
E-mails from Matthew Moran, spokesman for Del. William Howell, Jan. 6-9, 2014.
E-mails from Craig Markva, spokesman for the Department of Medical Assistance Services, Jan. 9-10, 2014.
Department of Medical Assistance Services, "Medicaid overview and financing," June 17, 2013.
Legislative Information System, House Resolution 129, Jan. 15, 2013.
Interview with Del. Patrick Hope, Jan. 16, 2014.
Interview with Michael Cassidy, president of the Commonwealth Institute for Fiscal Analysis, Jan. 9, 2014.
Commonwealth Institute for Fiscal Analysis, "Medicaid is far from broken," October 2013.
Department of Medical Assistance Services, "The Virginia Medicaid program at a glance," January 2013.
Richmond Times-Dispatch, "McDonnell looking at private option for uninsured," Oct. 22, 2013.
E-mail from Chris Lee, spokesman for the Kaiser Family Foundation, Jan. 8, 2014.
Urban Institute article in Health Affairs, "Enrollment is driving Medicaid costs -- but two targets can yield savings," September/October 2009.
Richmond Times-Dispatch, "The 29th Public Square, discussing government reform with Bob McDonnell," May 16, 2010.
National Association of State Budget Officers, "Examining Fiscal 2010-2012 state spending," page 46, 2012.
National Association of State Budget Officer, "The State expenditure report," July 1987.
Joint Legislative Audit and Review Commission, "Review of State spending: 2013 update," November, 2013.
JLARC, "Virginia compared to other states," 2013.
Centers for Medicare and Medicaid Services, "Medicaid per enrollee state estimates by state of residence - personal health care (dollars)," page 26, accessed January 16, 2014.
Centers for Medicare and Medicaid Services, Table 21, "Medicare and private insurance, per enrollee expenditures and annual percentage change calendar years 1969-2012," accessed Jan. 17, 2014.
Wall Street Journal, "Medical Price Inflation is at slowest pace in 50 years," Sept. 17, 2013.
Bureau of Labor Statistics, inflation calculator, accessed Jan. 17, 2014.
The Virginian Pilot editorial, "Hypocrisy in the Medicaid debate," April 14, 2013.
Browse the Truth-O-Meter
More by Sean Gorman
Support independent fact-checking.
Become a member!
In a world of wild talk and fake news, help us stand up for the facts.