Stand up for the facts!
Our only agenda is to publish the truth so you can be an informed participant in democracy.
We need your help.
I would like to contribute
Says children are coming into the U.S. in "staggering numbers" because President Barack Obama "has been promising amnesty."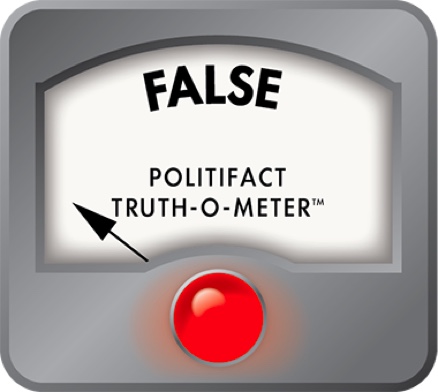 Ted Cruz incorrectly says Barack Obama has promised amnesty to illegal immigrants
U.S. Sen. Ted Cruz, R-Texas, recently emerged from observing Central American children being held at Lackland Air Force Base and declared related border crossings were surging because of a protective offer from President Barack Obama.
Children from Central American countries and others have established a record flow across the Rio Grande, we recently found.
Accounts have varied on why more are coming than before. For instance, a June 16, 2014, National Journal news story quoted Leslie Velez, a senior protection officer at the U.N. High Commission for Refugees, as saying its 2014 interviews of 404 children revealed many were fleeing violence and crime in their home countries.
Cruz, addressing reporters a week before Obama asked Congress for more money and authority to make it easier to deport recent border crossers, said a survey showed that 95 percent of the immigrants were saying "we are coming because we've been promised amnesty." We rated this Half True; the statistic was right, but the use of the word "amnesty" wasn't. The survey and respondents used the word "permiso," which is a notice given to unaccompanied children enabling them to stay in the country until their cases get a review. That doesn't amount to amnesty.
After mentioning such expectations of amnesty, Cruz went on to say: "That's the message that's being heard. And the reason these children are coming in staggering numbers is because the president has been promising amnesty."
Wait: Has the Democratic president been promising amnesty?
Defining amnesty
Before we get to Cruz's backup information, it's worth remembering how "amnesty" has been defined per illegal immigrants.
A legal dictionary defines amnesty as "a blanket abolition of an offense by the government, with the legal result that those charged or convicted have the charge or conviction wiped out. ... The basis for amnesty is generally because the war or other conditions that made the acts criminal no longer exist or have faded in importance.
Over the past few decades, the benchmark for amnesty for immigrants has been the Immigration Reform and Control Act of 1986. That measure, signed into law by President Ronald Reagan, permitted illegal immigrants to become legal permanent residents if they could prove they were in the country by 1982 and met minimal other requirements. The law was widely described as an amnesty program. Its failure to stem the flow of illegal immigration is one reason "amnesty" became a politically poisonous term.
In June 2013, the Democratic-majority Senate, with some Republican support, approved an immigration measure creating a pathway for some unauthorized residents to achieve legal status. It hasn't advanced in the Republican-steered House. Before the Senate action, PolitiFact rated as Half True a claim the Senate plan didn't give amnesty to unauthorized residents. The plan offers a multi-year pathway to legal status and eventually citizenship, yet applicants would face fines, background checks and waiting periods. Also, only individuals in the country by the end of 2011 would qualify.
Cruz cites Obama action in 2012
By email, Cruz spokeswoman Catherine Frazier said Cruz was referring to a 2012 Obama administration decision not to deport certain youths living in the country illegally and to the president's repeated praise of a stalled proposal (the DREAM act) that, if passed into law, would give children living here without legal authorization opportunities to seek legal residency and citizenship.
On June 15, 2012, Obama followed up on an announcement by Janet Napolitano, secretary of homeland security, by telling reporters: "Over the next few months, eligible individuals who do not present a risk to national security or public safety will be able to request temporary relief from deportation proceedings and apply for work authorization."
Napolitano had said the government would use "prosecutorial discretion" not to deport certain children living in the U.S. without authorization, specifying the policy would apply only to individuals who came to the United States before they turned 16 and before June 2007--plus there were other conditions.
"This is not amnesty," Obama said. "This is not immunity. This is not a path to citizenship. It's not a permanent fix. This is a temporary, stopgap measure that lets us focus our resources wisely while giving a degree of relief and hope to talented, driven, patriotic young people. It is the — it is the right thing to do."
Regardless of Obama's not-amnesty insistence, Frazier suggested his approval of the announcement sent an amnesty message far and wide. There "is nothing on paper that ends this policy," Frazier wrote. "It is indefinite until someone else comes in and decides to finally enforce the law. And he may say it's not amnesty, but we argue it is – his policies make it clear that people who have come here illegally are allowed to stay with no threat of deportation."
Frazier later singled out a June 2011, memo from the head of Immigration and Customs Enforcement urging agency officials to use discretion in deciding which apprehended violators of immigration law should be removed from the country, taking particular care with veterans, long-time legal permanent residents, minors, elderly individuals, pregnant or nursing women and individuals here since childhood, among particular people.
Outside experts
We asked outside experts if they were aware of Obama promising amnesty.
By telephone, Marc Rosenblum of the Washington-based Migration Policy Institute, a nonpartisan think tank that studies worldwide immigration, said a longstanding U.S. policy has contributed to unaccompanied children fleeing the violence-afflicted countries of Guatemala, El Salvador and Honduras for this country, but Cruz may have singled out the wrong president.
Rosenblum told us the Trafficking Victims Protection Reauthorization Act, signed into law by President George W. Bush in 2008, affirmed an existing policy requiring officials to enable unaccompanied children entering from countries other than Canada and Mexico to stay here long enough to seek asylum. Notably, Rosenblum said, the law requires such children to be placed in the least restrictive setting, which typically ends up being a family member already here.
"It's not that kids are responding to misinformation" about Obama's actions, Rosenblum said. "They're  responding to accurate information about what's happening to people who have come… Almost all of the children from Central America who are arriving are still here."
Cruz, Rosenblum said, is "correct U.S. policies are a contributing factor. He's just identifying the wrong policy."
By email, Frazier of Cruz's office didn't dispute the significance of the 2008 act, but she suggested it alone doesn't explain the spike in children coming from countries south of Mexico since Obama became president.
By email, Jessica Vaughan of the Center for Immigration Studies, a think tank that supports reduced immigration, said: "Most of the kids are coming because their parents made arrangements because they understand that the kids will be released to them with no questions asked, no risk to the parents or kids of enforcement.  The parents don't know about the legal issues, just the results, until the kid is provided with a lawyer to ask for asylum or special juvenile status. "
Vaughan said she doesn't view the notices given to children illegally entering the country freeing them to stay with relatives or others until a hearing as amnesty, because each child is offered only the opportunity to appear in court and argue why they should be allowed to stay legally. "They are not absolved, they are allowed argue for relief, which may or may not be granted," Vaughan wrote.
She added, though, that whether "or not this mass issuance of" notices to appear at hearings "turns into a de facto amnesty remains to be seen and depends on how aggressively the Obama administration manages these cases."
Our ruling
Cruz said children are coming into the U.S. in "staggering numbers" because  President Barack Obama "has been promising amnesty."
We suppose the government's 2012 declaration it wouldn't deport certain young residents already here by 2007 might be misinterpreted as an everlasting amnesty signal by some. But Obama hasn't offered amnesty to anyone.
Other factors in children streaming north from Central America include home-country conditions and a policy reaffirmed by Congress before Obama became president enabling unaccompanied children from places other than Canada and Mexico to settle here with family members or others while waiting for immigration cases to be heard.
We rate this statement as False.
---
FALSE – The statement is not accurate.
Click here for more on the six PolitiFact ratings and how we select facts to check.
Truth-O-Meter articles, "Rick Perry correct that record number of immigrants not from Mexico are being apprehended at border," PolitiFact Texas, June 18, 2014; "Ted Cruz says most people caught at the border are coming because of 'amnesty,'" PolitiFact Texas, June 29, 2014
News story, "Why 90,000 Children Flooding Our Border Is Not an Immigration Story," National Journal, June 16, 2014 (accessed July 2, 2014)
Emails, Catherine Frazier, press secretary, U.S. Sen. Ted Cruz, July 1-2, 2014
Transcript, "Obama's Speech on Immigration Policy," the New York Times, June 15, 2012 (accessed July 2, 2014)
Memo, "Exercising Prosetorial Discretion with Respect to Individuals Who Came to the United States as Children," Janet Napolitano, secretary of Homeland Security, June 12, 2012
Emails, Jessica M. Vaughan, director of policy studies, Center for Immigration Studies, June 24 and July 2, 2014
Telephone interview, Marc Rosenblum, deputy director, U.S. immigration policy program, Migration Policy Institute, Washington, D.C., July 2, 2014
Browse the Truth-O-Meter
More by W. Gardner Selby
Support independent fact-checking.
Become a member!
In a world of wild talk and fake news, help us stand up for the facts.